King's coronation flypast route 2023: What time is it and how can I see the Red Arrows?
6 May 2023, 14:03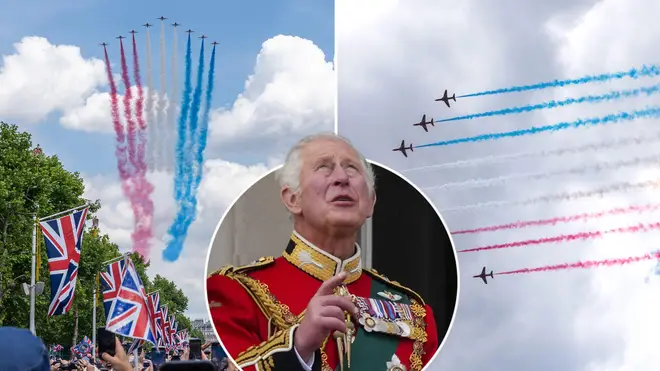 What time is the flypast on coronation day? Red arrows details revealed, including time and locations this bank holiday...
King Charles' coronation day service is over, but there is still a whole weekend of fun with millions of people getting ready to celebrate with friends and family.
But some lucky royal fans will get to witness something truly spectacular flying over them on the big day, if the weather holds out.
The flypast will see over 60 aircraft, including the iconic Red Arrows and historic Battle of Britain Memorial Flight, put on a spectacular show over London.
But where will the flypast fly over and how can I watch it? Here's what you need to know…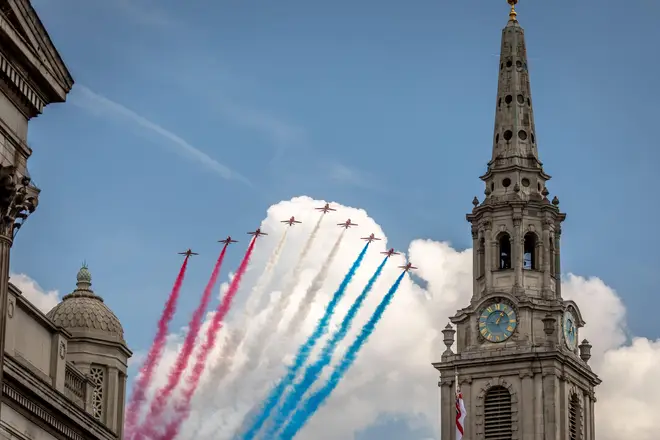 What is the King's Coronation flypast?
Aircraft from across the UK Armed Forces are soaring over areas of London during King Charles III and Queen Camilla's Coronation on Saturday 6th May.
The six-minute flypast will include more than 60 aircraft from all three services.
Taking part will be the Red Arrows, 16 helicopters, the Spitfires of the RAF Battle of Britain Memorial Flight.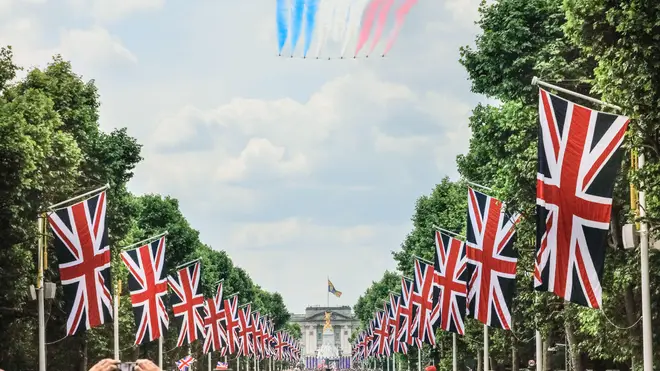 Also taking part will be the RAF's brand-new P-8A Poseidon maritime patrol aircraft, joint RAF and Navy crewed state-of-the art F-35B Lightning II jets, and transport aircraft from the RAF's Air Mobility Force.
It will also feature the first flypast involvement of the RAF's new Envoy IV CC1 aircraft.
King's coronation flypast route:
It will follow the King and Queen Consort's procession through London and the crowning ceremony at Westminster Abbey.
The flypast over the palace will be the main event, but it will also fly across Norfolk, Suffolk and Essex on the way to London.
Those in Surrey, Berkshire, Buckinghamshire, Oxfordshire, Gloucestershire and Wiltshire may also be able to catch a glimpse.
It will start in Area A between 1:15pm and 3pm, where it will fly over the the North Sea and Great Yarmouth, but this won't be below 17,500ft.
Area B consists of Thetford, Swaffham, while Area C will see it pass over Ipswich at around 2pm, but these may be harder to spot as they won't be below 7,000ft.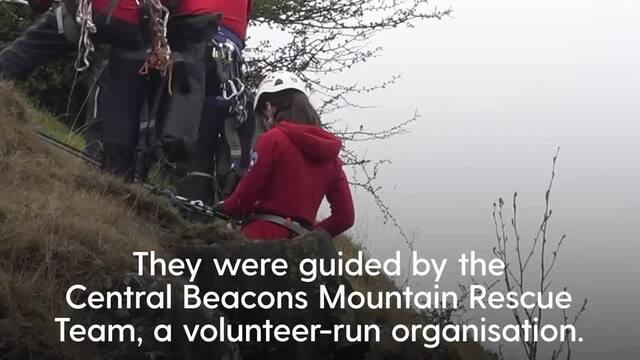 William and Kate abseil together off cliff in Brecon Beacons
The route is then split into areas which can be seen below:
Area D (between 2pm and 2.45pm) - Chelmsford, Colchester, Havering, Redbridge, Waltham Forest
The aircraft pass over Essex before entering London through Havering before going over Redbridge and Waltham Forest.
Area E (between 2.10 and 2.45pm) - Newham, Barking and Dagenham, Redbridge, Tower Hamlets, City of London, Westminster, Kensington and Chelsea, Greenwich, Hammersmith and Fulham, Ealing, Hillingdon, Lambeth
It will then head over the Mall and Central London via Stratford, passing Romford and then Ilford before heading towards Stratford.
The show will then fly over Central London and Buckingham Palace for 2.30pm at the end of the coronation ceremony before dispersing.
Many planes will then head over Kensington and Chelsea, Hammersmith and Fulham, Ealing and then Hillingdon on their way out west.
Area F (between 2.20pm and 3.00pm) - Croydon, Bromley, Sutton
Croydon, Bromley and parts of Sutton will start seeing aircraft from 2.20pm after they have dispersed from Buckingham Palace.
Zone G – (between 2:20pm to 3pm) - Oxford, Reading, Swindon
Zone H – (between 2:20pm to 3pm) - Cirencester
Zone I – (between 2:20pm to 3pm) - Tidworth
How to watch the flypast live
If you're not able to see the flypast in person, the moment the military aircrafts pass over Buckingham Palace will be broadcast live on TV.