Kylie Jenner's Handmaid's Tale party for BFF Anastasia Karanikolaou's birthday sparks outrage
10 June 2019, 11:46 | Updated: 10 June 2019, 14:07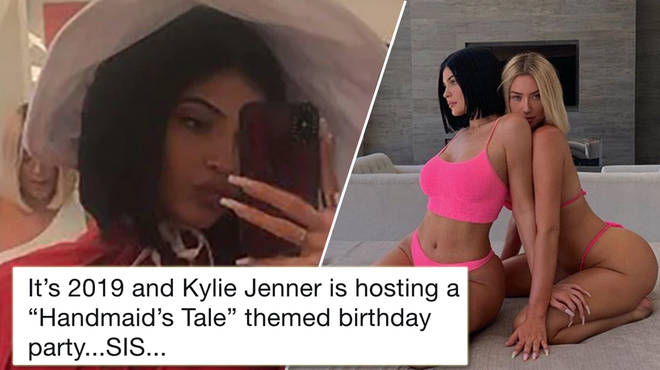 Kylie Jenner has received backlash after her and her pals dressed up as characters from The Handmaid's Tale for a birthday party.
Taking to Instagram on Sunday, Kylie Jenner posted a series of photos and videos on her Story, celebrating BFF Anastasia Karanikolaou's 22nd birthday.
Part of the elaborate celebration was a questionable Handmaid's Tale-themed party, which included a red marquee, handmaids' costumes, "praise be vodka" and "under his eye tequila".
The waiting staff were also dressed in Martha costumes, saying "may the Lord open" and other phrases from the Hulu show, while handing out beverages and food to the guests.
In one of the clips, the makeup mogul could be heard saying: "You know The Handmaid's Tale is my favourite show ever...so for Strassi's birthday...welcome to Gilead."
READ MORE: Kylie Jenner reveals daughter Stormi was hospitalised after allergic reaction
Given that Margaret Atwood's bestseller is about a dystopian society in which women's rights are completely stripped and handmaids are raped by their Commanders, purely to serve as child-bearing vessels, the reality TV star has received an onslaught of backlash and criticism for her "inappropriate" celebrations.
The public are especially offended, given the current political climate in the States around women's rights and abortion law.
One Twitter user reacted: "The fact that Kylie Jenner actually threw a "Handmaid's Tale" themed birthday party is so disturbing. I am actually dumbfounded."
Another added: "Kylie Jenner is having a party themed after the Handmaid's Tale.....so.....who's gonna tell her that her party is literally celebrating female enslavement for their biological reproduction??"
Kylie has yet to comment on the incident.