Arthur character Mr. Ratburn comes out as gay in the children's cartoon and fans love it
14 May 2019, 10:56 | Updated: 14 May 2019, 14:13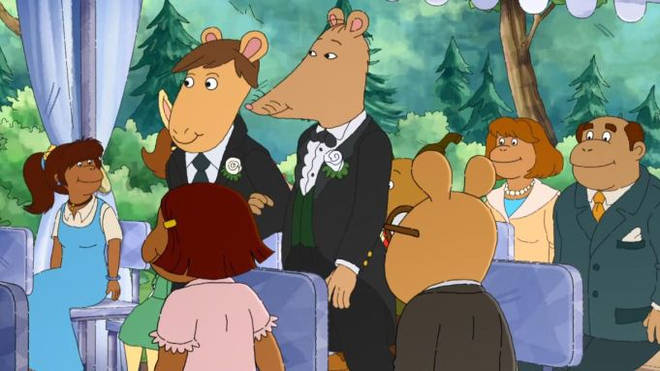 Mr. Ratburn is the first character in popular PBS cartoon Arthur to come out as gay.
The season 22 premiere of children's TV show Arthur made hearts melt earlier this week when beloved character Mr Ratburn got married to his boyfriend Patrick.
A brand new episode of the PBS animated series - titled "Mr. Ratburn & the Special Someone," - saw the kids' find out that their teacher was engaged.
The show starts with Mr Ratburn taking a call about flower decorations while preparing to hand out a quiz to his class.
School children Arthur, Buster, Muffy and Francine then set off to learn the identity of the mystery bride.
After spying on their teacher, the kids mistake Mr. Ratburn's bossy sister Patty as his fiancé, but things soon become clear when they attend the big day "in disguise" to find out the truth.
"If Patty is his sister," Arthur says, as Muffy adds: "then who is Mr. Ratburn marrying?"
READ MORE: Children left crying as horror movie shown instead of Detective Pikachu at cinema
The scene then shows Mr. Ratburn walking up the aisle with his soon-to-be-husband Patrick who gives the excited kids a wink as he walks past them. Arthur and Muffy then give each other a huge smile.
Later in the episode, Arthur and his friends chat about their teacher tying the knot, with Francine admitting: "Yep, it's a brand new world".
She then adds: "But there's one thing teachers should never, ever do."
"What?" Buster asks, to which she replies: "Dance."
And fans of the show - which began in 1996 - were quick to pick up on the scene, with one writing on Twitter: "big props for celebrating love and fearlessly exampling to a young audience all types of relationships."
READ MORE: Aladdin star Will Smith reveals son Jaden convinced him to take on the role as Genie - and admits following Robin Williams was "daunting"
"Shout out to @PBS for the representation. Just watched "Mr. Ratburn and the Special Someone," and im so here for it! #arthur #mrratburn," wrote another one.
While a third added: "I never thought I'd see the day that a PBS Kids show, especially Arthur, have a gay character. Way to go Mr. Ratburn! It's a good day to be alive.
Mr. Ratburn being gay is *my* Game of Thrones finale

— 𝚂𝚊𝚕 𝙼𝚊𝚝𝚝𝚘𝚜' 𝚃𝚎𝚝𝚑𝚎𝚛𝚎𝚍 (@salmattos) May 13, 2019
PSA: Mr. Ratburn from "Arthur" is gay. Do you know how amazing it is that someone who's been on the show from the start, someone who's a main character, is openly gay and getting married on a kids show? PBS Kids really is that bitch.
Plus, all his students are at his wedding! :') pic.twitter.com/aaxGwTE9is

— osmosis jones (@keeothrama) May 13, 2019
I never thought I'd see the day that a PBS Kids show, especially Arthur, have a gay character. Way to go Mr. Ratburn! It's a good day to be alive.

— TheDauphine (@TheDauphineofDA) May 14, 2019
Following the reaction, creators PBS have said the episode was pivotal in reflecting the "diverse communities" kids now grow up in.
In a statement to PEOPLE, the network said: "PBS KIDS programs are designed to reflect the diversity of communities across the nation. We believe it is important to represent the wide array of adults in the lives of children who look to PBS KIDS every day."