EastEnders fans horrified by Ben Mitchell's shock confession as Phil wakes up from his coma
7 August 2019, 13:29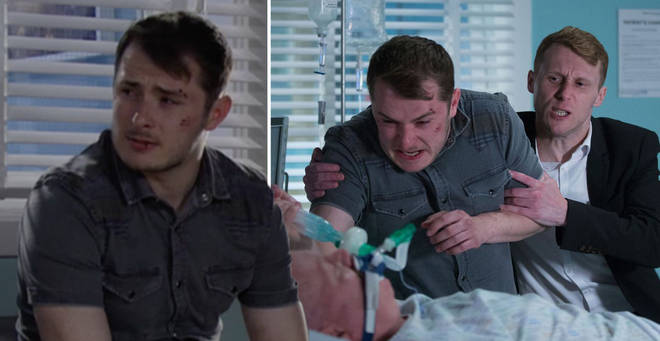 Phil Mitchell woke up from his coma last night, while his son Ben set about launching an evil new plot.
EastEnders fans watched Phil Mitchell (Steve McFadden) wake up from his coma during last night's dramatic episode of the soap.
After being battered over the head with a wrench by Stacey Fowler (Lacey Turner), the confused Albert Square hardman opened his eyes in a daze and demanded to know who had attacked him.
But it looks like his son Ben has an evil revenge plan up his sleeve and is set to use the circumstances to his advantage.
After first ordering the real culprits Stacey and husband Martin (James Bye) out of Walford, he succeeded in framing Keanu Taylor (Danny Walters) for the attack.
Read More: Here's every time EastEnders' Phil Mitchell has been attacked and defied death
And in Tuesday's instalment, Ben (Max Bowden) was caught trying to tamper with his father's life support machine by Jay Brown (Jamie Borthwick).
After an argument broke out between the pair, Jay looked horrified as Ben yelled: "Why can't he just die?!"
He then added: "Just a couple of a seconds and he's out of our lives forever. Look at yourself, mate. You're dressed for death!"
Read More: EastEnders fans go wild over Phil Mitchell actor's holiday photos with co-stars
"How can you say that? Can't you remember how we felt after Heather?" Jay replied.
In a shock confession, Ben cruelly hit back: "Killing her made me strong. Made me who I am."
Jay told Ben that he was "disgusted" by the comments, and he wasn't the only one, as one fan blasted on Twitter: "Ben's evil he can't blame Phil for everything like that!"
"Always knew Ben was proud of killing Heather. Vile creep," said another.
Later in the episode, the pair made up just in time to learn Phil had woken from his coma.
When his dad asked who was to blame for his state, Ben whispered menacingly in his ear that it was Keanu.
Will Phil believe him? Or will he remember what really happened?
Meanwhile, as Phil's storyline gets more complicated, off-screen actor Steve has been enjoying a holiday with his co-stars in Portugal.
The 60-year-old joined his on-screen son Max, 24, as well as Jamie, 25, and Danny, 26.
Taking to his Instagram page, Max shared a photo of the Walford residents looking relaxed as they hung out together in the Spanish seaside resort.
He wrote alongside it: "Living our best life in Majorca."