Blogger reveals five minute hair curling hack to rival Dyson's £400 Airwrap
6 November 2018, 13:16 | Updated: 5 December 2019, 17:10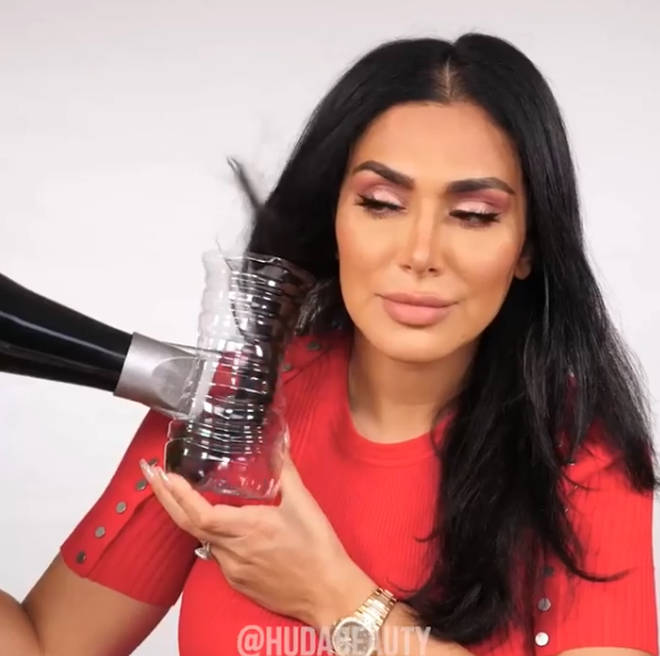 Instagram beauty blogger Huda Kuttan has revealed a clever way to curl your hair using just a plastic bottle.
The Dyson Airwrap has been hailed as the must-have beaut item for creating luscious curls in seconds without damaging your tresses with heat.
Now, beauty influencer Huda Kuttan, who amassed a huge fortune from her eponymous beauty range, has provided her followers with a clever trick to recreate the same style of curling using just a plastic bottle.
The short video sees the blogger cut a plastic bottle in half with a Stanley knife before making an incision along the side of the bottle wide enough to fit the nozzle of a hairdryer.
Read more: Mum shares geunis 'f**k it bucket hack to get kids to clean up toys!
Once the bottle has been a thick section of hair can then be placed inside it, before hot air into is funnelled into it via a standard hairdryer.
The cost-cutting technique could help beauty seekers save as much as £400 as the budget technique is a great alternative to Dyson's AirDryer.
The styler is being praised as revolutionary as it uses air instead of damaging heat to curl your hair.
The design is the result of more than six years of testing and uses a spinning motor to create an area of high pressure at the top of the styling barrel.