Mum shares genius 'f**ket bucket' hack to make her kids tidy up their toys
9 October 2018, 11:36 | Updated: 5 December 2019, 17:09
One potty-mouthed mum has come up with a genius way to keep her kids' toys neat and tidy.
Meet the mum who gives her kids two choices: "Put your toys away or I'll put them in the bin."
Jessica McGinty uses a system she has dubbed the 'f**ket bucket' in a bid to encourage her children to tidy their toys up once they're done playing with them.
Any toy that is left on the floor gets put in a 'f**ket bucket', and if the toy is still in the 'f**ket bucket' at the end of the day, it takes a one-way trip to the rubbish bin.
READ MORE: Mum questions if she should shave her six-year-old daughter's legs and back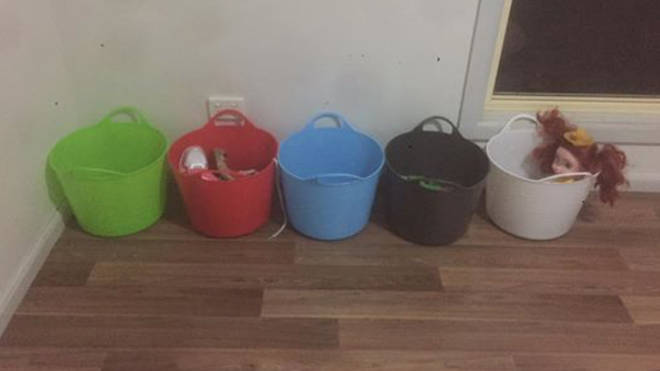 Jessica shared the parenting hack on her Facebook page, Mishmash Moments, and it soon racked up over 25,000 shares.
Alongside the image, she wrote: "Today I got the kids f**ket buckets.
"If they leave it laying around, it goes in their bucket. If it's still there at bedtime it goes in the bin because f**ket if I'm cleaning it up."
Whilst it has been pointed out that, essentially, you are still cleaning up after your youngsters, most parents are loving the idea.
One Facebook user wrote: "I need this!", whilst another added: "best idea ever!"
A third commented: "I'm getting this ASAP!"
Others also suggested using it, not just for parenting, but for messy housemates and partners.
A social media user tagged their partner, and wrote: "You'd have no work clothes left if I did this!"