Best kids Halloween costumes on the high street including unicorn, pumpkin, dinosaur and more
9 October 2018, 16:52 | Updated: 3 October 2019, 09:02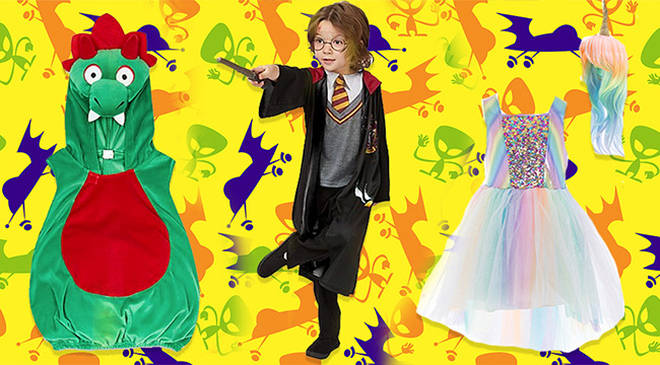 Halloween costumes for kids are all over the supermarkets now. Here's the best costumes available at ASDA, Aldi, Sainsbury's and more.
TU at Sainsbury's Pumpkin Outfit - £11

This pumpkin outfit is totally adorable.

Picture: Sainsbury's

This costume will make your little one the cutest pumpkin in the patch.

Suitable for children aged 0-4 years old, it comes with matching leggings and a super reasonable price tag.

Tesco Lumberjack Wolf - £12

This werewolf outfit comes with a mask so no need for face paint!

Picture: Tesco/Getty

Get your little ones practising his ferocious growls if he's going out trick or treating in this get up from Tesco!

Their werewolf outfit comes with a fun twist - a lumberjack style outfit - and it comes complete with a suitably scary mask.

George at Asda Skeleton Dinosaur - £10

This skeleton t-rex outfit is amazing.

Picture: Sainsbury's

Your little dinosaur fan can come dressed up in a suitably Halloween-ey version of a terrifying T-Rex.

Get them practising their growls and dino stomps, they'll look totally roar-some in this Asda creation.

Wilko Frankenstein Costume - £10

Your little one will look super scary in this Frankenstein costume.

Picture: Wilkinson

Wilko's Frankenstein costume is an easy peasy Halloween look for your little one - and no face paint required!

This costume comes complete with zombie mask and for a very reasonable £10 too.

Marks and Spencer Dinosaur - £14

This Dinosaur costume is more cuddly than fearsome!

Picture: M and S

Halloween costumes don't HAVE to be scary! Make your little one the cuddliest dino' in Jurassic Park with this cute outfit complete with dinosaur head hood.

TU at Sainsbury's Unicorn Outfit - £13

This unicorn costume is pretty and pastel.

Picture: Sainsbury's

Dress your child as the imaginary creature of the moment - a unicorn!

Who knew mythical horses could be so on trend? But thankfully Sainsbury's are stocking the outfit that will probably be one of the most requested this year.

Plus there's an adult version to match!

Tesco Unicorn Witch - £10.00

Tesco's unicorn witch outfit was designed by 8-year-old Saranne.

Picture: Tesco/Getty

Do you have an indecisive child that can't decide what they'd like to be? Why choose! Be a unicorn and a witch with this adorable outfit from Tesco complete with unicorn horn.

Plus, it was designed by 8-year-old competition winner Saranne Black so you know it will be hit with your little one.

George at Asda Harry Potter - £15

This mini Harry Potter outfit is magical!

Picture: Asda

Harry Potter costumes are shaping up to be the most timeless costume each spooky season.

Buy this reasonably priced Hogwarts uniform for Asda this year and reap the benefits of it's evergreen-ness all year round. Costume birthday party? Harry Potter! Halloween 2019? Harry Potter!

Wilko Monster Onesie - £8

How cute is this monster onesie?

Picture: Wilko

Heading out trick or treating with your little one this year and need something warm for them to wear?

Wilko have covered all bases with this scary, adorable and warm monster onesie! They'll be sure to score lots of candy in this amazing outfit.

Buy it online here.

Aldi Pink Skeleton - £4.99

This skeleton outfit is pretty and pink.

Picture: Aldi

This skeleton costume from Aldi has to be the biggest bargain of the bunch from Aldi.

The supermarket, notorious for its bargains, has a fantastic Halloween costume offering this year although all of it is sold out online.

Keep your eyes peeled in stores and you may get lucky!