Five tips to stay on budget when planning a wedding
7 December 2018, 11:53 | Updated: 7 December 2018, 11:56

Promoted by Experian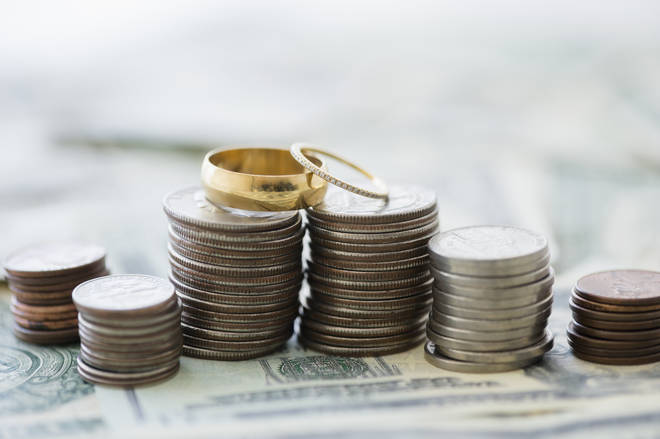 Getting married is a day you'll always remember... here's how to make sure it's not something you spend the rest of your life paying off.
As any engaged couple know, planning a wedding can be a daunting - and expensive - project.
Despite best efforts to keep things small, when planning a wedding it's not uncommon to see costs soar out of control, or for dream dresses, flowers and venues sacrificed for much cheaper versions.
However, it doesn't have to be that way.
Here are five tried and tested wedding budget tips and tricks that will help you stay on track when planning the best day of your lives.
Get a loan or credit card to cover wedding costs
A typical wedding can cost £20,000 - and that's not the sort of cash most people have lying in the bank.
Many couples take out a loan or credit card to pay for their big day, or sometimes the partner with the better credit score takes on the responsibility... although that means they are legally solely responsible for paying it back, too.
When taking out a loan, it's important to work out that you can make the repayments once the wedding is over and life has gone back to normal.
Get a wedding budget system
Whether you want to use a bespoke programme or app, or just an old fashioned Excel spreadsheet, watching every penny will stop costs spiralling out of control.
It will also allow you to keep track of due dates - and help you see if its really worth paying out all that cash for a jazz band.
Be aware of hidden costs and extras
Weddings can easily get rowdy - but while it might seem like no biggie to let things go on for an extra hour, or even 45 minutes, it can prove to be pricey.
Extending the party could mean you are paying caterers, bar staff, photographers, security and the venue itself an extra wad of cash. Is one more dance worth the cost?
Similarly, while a florist might give you a bouquet or display for free, they might expect paying if you go back with changes, and the same goes for hairdressers.
Other small costs that add up include stamps for invitations, marriage license fees and other bits and bobs you need in the run-up to the big day.
Plan to blow the budget
If you factor in an extra 5 percent of your budget for unexpected extras - an additional corsage, umbrellas if it rains, gown cleaning - you'll find it harder to overspend and throw your marital finances in to chaos.
Never underestimate the chaotic potential of a last minute repair, cleaning job or cab fare for an elderly relative.
Keep your money all in one place
Money is easy to manage if it is all coming and going from one account or credit card.
By keeping the wedding fund in a separate account, you can easily keep an eye on what is coming and going without getting it mixed up with your every day money.
Planning a wedding? Learn more from Experian here.
To find out more money saving tips worth knowing and to enter for your chance to win £25,000 thanks to Experian, click here.