How to eat vegan on the UK high street: McDonalds, Pizza Express, Nando's, KFC and more
21 December 2020, 15:30 | Updated: 4 May 2022, 15:12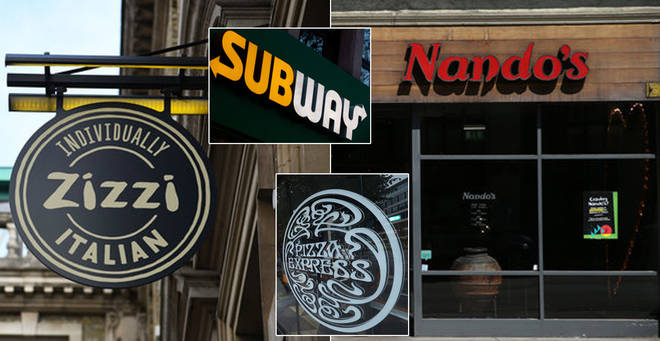 With many Brits signing up for Veganuary this January, we take a look at the chain restaurants offering vegan options.
Vegan diets are on the rise, and it's now easier than ever eat plant-based food at restaurants across the UK.
Whereas in previous years meat-free options were limited to a small garden salad or sad stuffed pepper, British chains are finally getting the message that the vegan diet is rapidly on the rise.
With Veganuary on the horizon, here are the vegan options in a number of popular high street chains.
McDonald's vegan options
While McDonald's previously hadn't caught up with the vegan hype, it was announced earlier this year that their ever plant-based meal would soon be on offer.
The veggie dippers meal - vegan nuggets served with chips and your choice of soft drink - launched on 2 January 2020.
Animal rights charity PETA said that the new addition to the menu was "the very definition of a happy meal".
The dippers are made from rice, red peppers, vegan tomato pesto and split peas, and they're fried in breadcrumbs.
Nando's vegan options
While Nando's stresses that it's 'not a vegan restaurant', it does have options that can be made so on its menu. The most popular is the sweet potato and butternut pitta - but you'll have to ask for it without mayonnaise.
It was also recently announced that Nando's would be launching plant-based chicken option, but these are cooked on the same grill as the meat versions.
Nando's also offer a vegan PERinaise, a plant-based twist on their popular PERinaise saunce.
Pizza Express vegan options
The popular chain is something of an industry leader when it comes to vegan options, and it offers a number of tasty plant-based pizzas on its ever-growing menu.
These include Vegan Giardiniera and Vegan Zucca - which come with vegan mozzarella.
Pizza Express also offer vegan desserts - a rarity for chains - including carrot cake and coconut sorbet.
Pizza Hut vegan options
Like the above, Pizza Hut also stock vegan cheese in their restaurants - and the chain has been catering for plant-based diets since 2017.
Options include All About Mushrooms, Hot 'N' Spicy Veg, and they even have vegan nuggets. You can also buy a vegan cheesecake to satisfy that sweet tooth.
Zizzi vegan options
Zizzi has a number of plant-based options - including vegan margherita with a choice of toppings and a delicious vegan lentil ragu.
For dessert, we'd recommend the sweet vegan calzone - folded dough filled with chocolate, banana, caramelised pecans and blueberries.
Slug and Lettuce
Slug and Lettuce have launched a HUGE new vegan menu, just in time for Veganuary!
You can now tuck in to a Smoky Soya Sloppy Joe Toastada with vegan bacon-flavoured crumb, Violife grated mature, onion, peppers and vegan mayo, lighter options including the Quinoa, Chickpea & Butternut Squash Salad, Smoked Cheeze and Beetroot Tart, a Quinoa Chilli Thai Curry, and a mouth-watering Moving Mountains B12 Burger, featuring a plant-based meat-free burger, layered with red pepper houmous, lettuce, smoky soya sloppy joe and Violife grated mature, all in a toasted sesame seed beetroot bun and served with vodka Bloody Mary dip with topped nachos.
You'll need more than one trip to try it all!
Subway vegan options
No longer are Subway fans just limited to the salad-filled veggie delight sub - they are now offering a vegan patty to offer a bit more bite in your sandwich. Make sure you opt for the Italian or Hearty Italian bread, as these are both vegan.
They also do a vegan meatless meatball marinara - which is a delicious plant-based version of their popular meatball sub.
Wagamama vegan options
Wagamama have been offering vegan options for years now, and the 'Vegatsu' (a vegan version of their famous chicken katsu) is a fan favourite.
JD Wetherspoons vegan options
The popular pub chain is a surprising haven for vegans - and even have their own vegan menu, featuring the likes of Sweet Potato, Chickpea & Spinach Curry and Teriyaki Noodles, as well as a vegan burger.
Greggs vegan options
Greggs vegan sausage rolls were surely one of the biggest stories of last year - and the bakery chain couldn't stop selling out of the pastries in the weeks after their release.
Their latest offering comes in the form of a vegan steak bake, a meatless version of their much-loved pastry.
The Real Greek vegan options
Fast-growing Greek chain The Real Greek boasts its own vegan menu featuring hot and cold mezze, souvlaki wraps, and a number of delicious sides and desserts.
Patty & Bun vegan options
All vegans know there's not much better than a good plant-based burger, and Patty & Bun's 'Pamela' comes complete with vegan bacon, mayo, patty *and* cheese.
Bella Italia vegan options
Bella Italia is another Italian chain that now serves vegan cheese - and there are a number of tasty options available. They even have a vegan dessert - the Cookie Dough Al Forno - which is cookie dough with a melting middle, that's topped with a delicious vanilla gelato and caramel sauce.
Yo! Sushi vegan options
The popular sushi chain has expanded its vegan range to include Shitake Mushroom Ramen, Pumpkin Katsu Curry and Inari Tofu Taco, as well as all their delicious veggie sushi options.
Byron Burger vegan options
Byron is another burger chain who are doing a great job of embracing veganism. They have a whopping three plant-based burgers - including The Truffker, Cali Cheese, and Beetnik.
The Truffler comes complete with a ridiculously delicious (and very unusual) truffle 'cheese' fondue.
KFC vegan options
KFC's original recipe vegan chicken burger has just launched in UK stores to rave reviews. The burger - which is a permanent fixture to the menu - is a meat-free version of the much-loved chicken fillet burger, and is available in stores nationwide.
Costa Coffee vegan options
Costa Coffee introduced the incredible Vegan Smoky Ham & CheeZe Toastie in January- meaning they're one of the few chains to offer plant-based toasties.
They also offer a variety of vegan cakes.
Honest Burger vegan options
Honest Burger has always been hugely popular with vegans due to their Moving Mountains burger, which tastes disconcertingly like the real deal.
And the burger chain has knocked it out the park again with their new Bacon Plant - made with THIS vegan bacon.
Pho vegan options
Pho have also added THIS plant-based meat to their menu, with the addition of their - THIS Isn't Chicken curry and Hot & Spicy THIS Isn't Chicken Pho - and both dishes could easily be mistaken for the real thing.
Itsu vegan options
Itsu sells a range of Eastern-inspired food such as sushi and noodles, and they are increasingly providing excellent vegan options in their range.
The latest of these comes in the form of their vegan meatless meatball rice bowl, which is made from Meatless Farm 'meat'. They are currently on a mission to make 50 per cent of their menu plantbased - so their latest offering is a huge step in the right direction.
If you want to get your hands on some amazing vegan Pho, Delicious Pho in Spitalfields in London is a Southern Vietnamese fast-food chain which originally took off in Canada.
The menu has a tofu and veg option, all created with deep, hearty, homemade broths. The restaurant also serves vegan rice options, spring roll starters and other noodle dishes.
You can also get your hands on different flavours of vegan bubble tea, all made with dairy free milk.