Guests furious after they're charged for live music at restaurant
18 July 2023, 07:49 | Updated: 18 July 2023, 11:42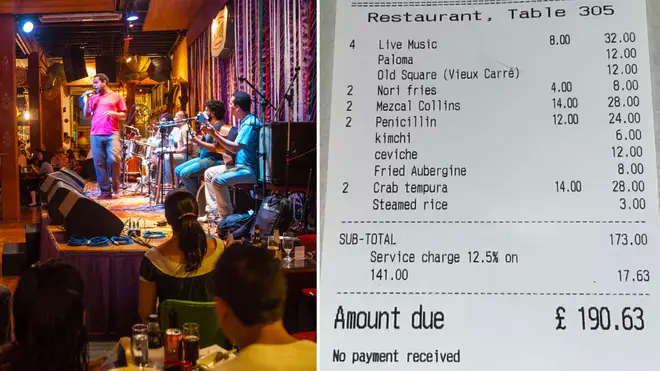 Customers dining at a bar were outraged after they were charged an extra fee for 'live music'.
A group of friends has complained about their meal after they were asked to pay an extra charge for live music.
In a Reddit post which has now been deleted, the anonymous person explained their partner and her friends had gone to a nearby restaurant for food.
But when the group received their bill at the end of the night, they noticed a surcharge of $8 (£6) each for live music.
They wrote: "GF and her friends were charged for live music at a restaurant. Is this a new thing? Never come across this before."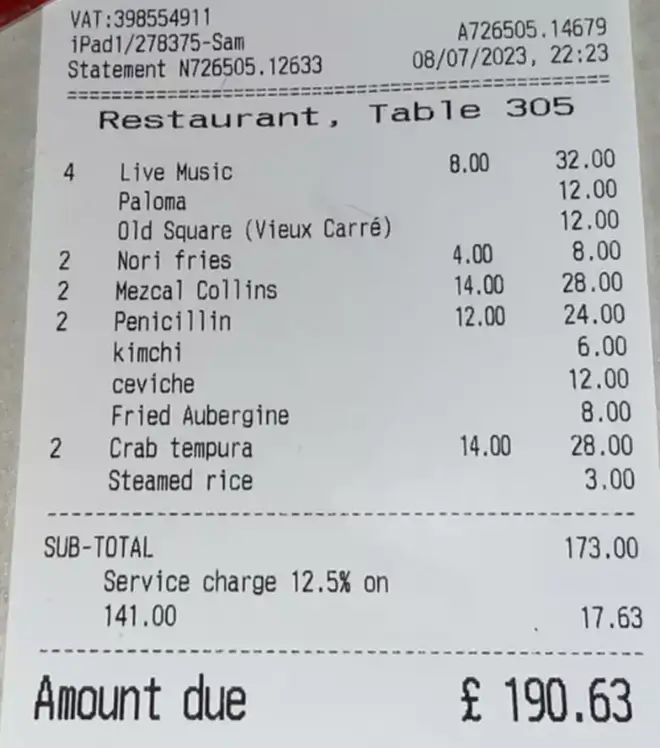 Posting a picture of the receipt, it shows four charges for 'live music' at a rate of $8 each, so $32 in total.
The bar hasn't been named in the post, so it's hard to verify the claims, but that hasn't stopped other users commenting.
"Nope not paying that unless I knew about it up front and then would happily pay it," said one person.
Someone else said: "Sounds like someone couldn't afford live music and put the bill to the customers."
Another asked: "Why do people go out anymore?", while a fourth commented: "Plus the service charge?"
But there were some people who defended the bar, saying it is likely a form of 'cover charge' which many establishments add for entertainment.
One person said: "Restaurants and bars have been charging for live music since before I was born.
"But they usually call it a cover charge and collect it at the door, or call it an event and sell tickets or admission.
"I've never seen any place slip it into the bill like a hidden service fee. Seems kinda scummy."
Someone who worked at a bar added: "We did this at a restaurant I worked at. We had music every night and the menu stated there was an 8-dollar cover charge per person when there was music playing.
"The money went right to the musician(s). Nobody ever complained, the key was having signs everywhere."