Holly Willoughby weight loss and fitness: the This Morning presenter's diet and exercise routine
11 February 2019, 15:41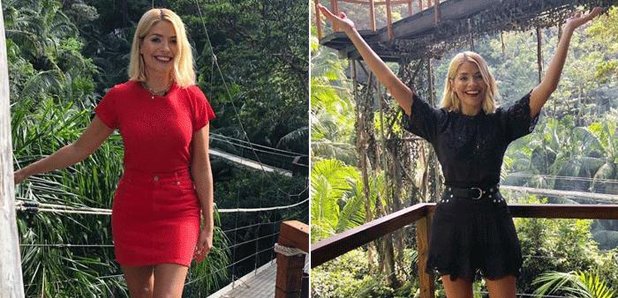 This Morning's favourite presenter has swapped morning TV for the I'm A Celeb jungle and has continued to impress viewers with her slimmed-down body since her exercise and diet overhaul.
Holly Willoughby and her weight loss has been making headlines for much of the past year, with many fans taking a huge interest in the This Morning presenter's figure.
So how did Holly lose weight and get so toned? It's thought the This Morning presenter, after the birth of her third child Chester, decided it was time to get in shape which she did through a variety of exercise and healthy diet changes.
Here's everything you need to know about Holly's weight loss and diet and exercise regime:
Read more: How tall is Holly Willoughby in feet? Details revealed as she hosts alongside Declan Donnelly

Holly Willoughby exercise
It's claimed the queen of curves Holly has been keeping trim thanks to a brand new workout regime which has seen her burn as much as 600 calories and hour.
The This Morning presenter has been keeping very mum about what she's been doing to keep in shape but now an insider has dished details on the mum-of-three's regime.
Insiders revealed to Now: "Holly loves kickboxing and finds it an easy way to stay trim. She even has a kickboxing bag in her spare room, so she can work out at home.
"It's no secret that kickboxing is a high energy sport and is great for keeping toned. You can expect to burn around 500-600 calories in an hour of boxercise but it depends on your fitness levels."
Holly is also believed to be a big fan of pilates for strengthening and building her core muscles.
Holly Willoughby diet
The beautiful TV presenter has always remained tight-lipped on diets as she believes weight loss is a personal journey for everyone.
However, there are a few reports suggesting some healthy tips she's learned along the way for example, she has been ensuring she is able to look her best by sticking to a diet packed full of vegetables.
The insider added: "Holly does eat fish and occasionally chicken but it's mainly veggies. She watches her carbs and is conscious not to overload on the bad stuff."
Holly Willoughby's weight loss journey
Holly is famously quiet about her weight loss, but she did once open up about her ability to work on her body now her kids are a bit older.
Speaking on Lorraine, Holly said:
"I think you sort of get – the children are a little bit older, so I've got a little bit more time for myself and I'm always one of those people that if you feel happy and healthy that's all that matters."