UK lockdown 2020: Home furnishings and gadgets to make isolation more comfortable
4 May 2020, 09:42 | Updated: 30 March 2021, 08:12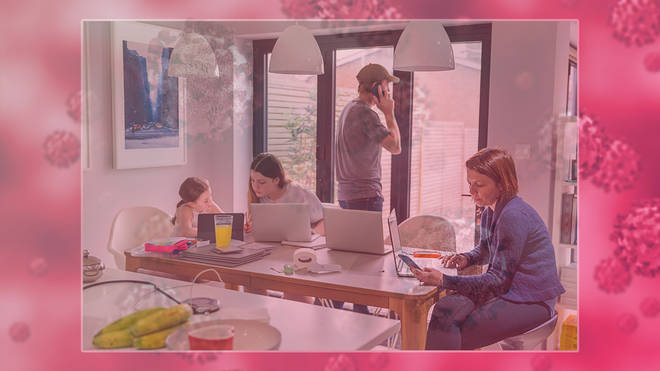 COVID-19 has seen huge changes sweep across society - but if you are looking for some inspiration how to make some small but noticeable adjustments to your home, these will spark some inspo...
Lockdown means we are all spending more and more time at home - and you might be wondering what you can do to make your surroundings a bit more pleasant and comfy, after all we are indoors for the long haul!
From tech to furniture, lighting to luxuriously soft blankets and cushions, these products are all available now - and can be ordered online for delivery so you don't need to step a toe out of quarantine.
Scented candles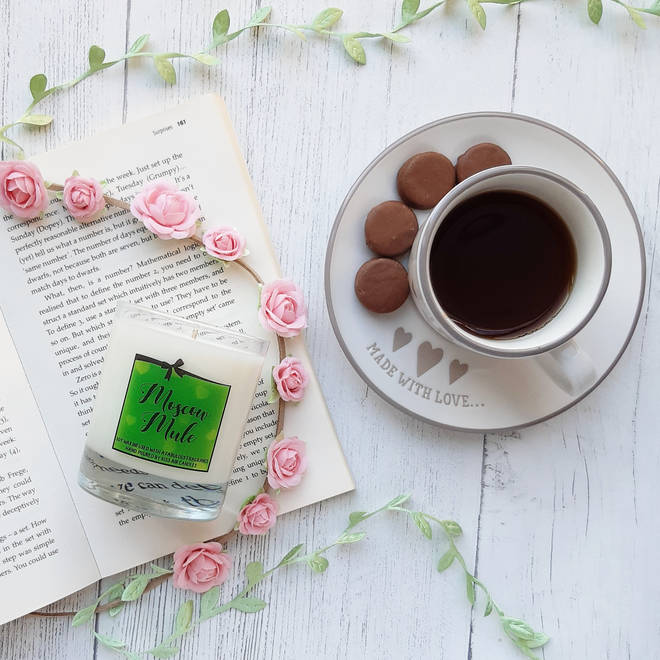 Never underestimate the power of a beautiful aroma to put you in a better state of mind.
Kiss Air candles have twenty different scents, from the sea to your favourite cocktail. Prices start from £2.
Colourful rug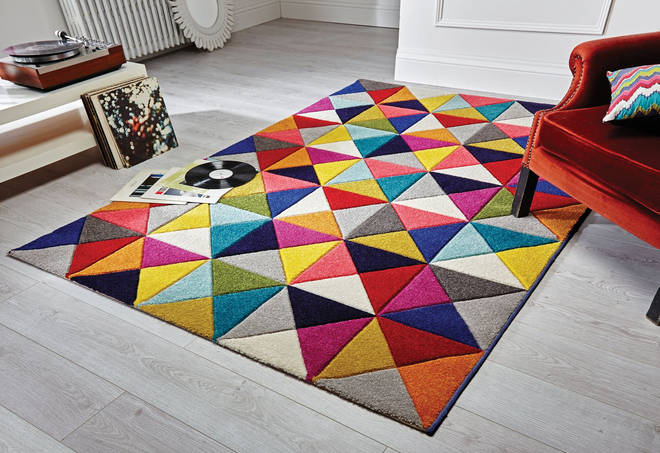 The Rug Seller stock a selection of brightly patterned rugs that will add a splash of colour to your living room or bedroom.
With some priced under £50, they'll be delivered straight to your front door.
Squishy pillows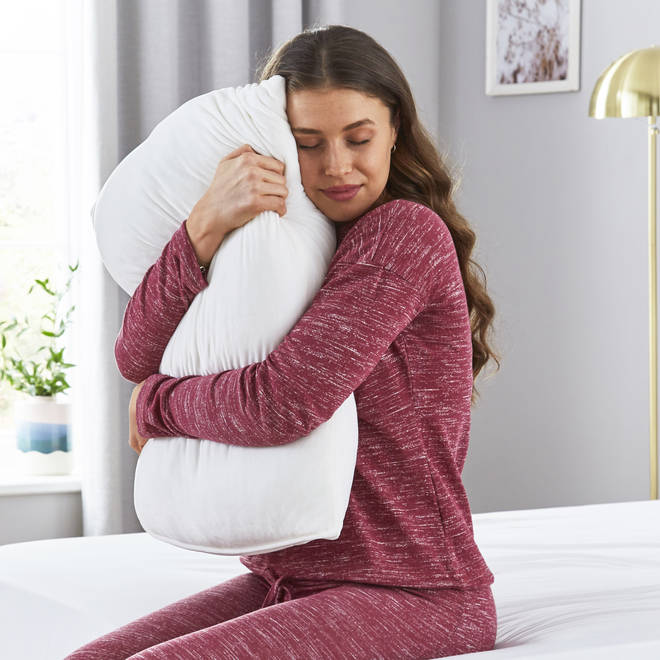 Sleep experts Silentnight have released a new Squishy Pillow which they claim you can feel 'hug you back'.
Perfect for isolators craving a hug from friends or family, it also promises to give you an ultra-comfortable and supportive snooze. Priced £15.99.
Wireless Phone Charger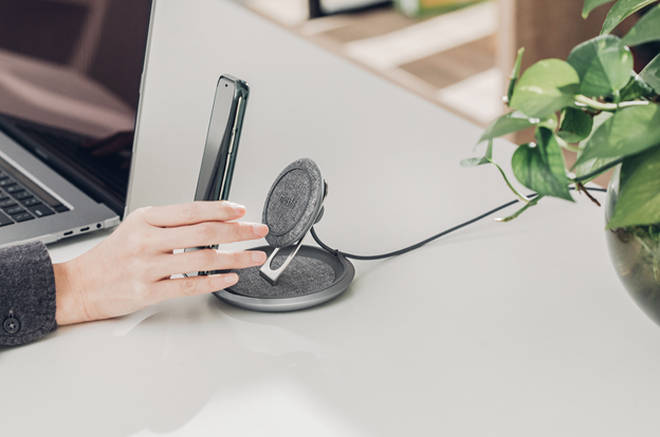 Now you're spending more time working from home, you'll most likely spend more time on your phone. The result? Your battery life will be disappearing faster than you've noticed before.
This is where the Moshi's Lounge Q comes in handy. The charger's stylish design makes it the perfect complement to any minimalist desktop, workstation or nightstand. Unlike other charging stands with a fixed charging coil, Lounge Q features an adjustable-height design which means the charger will accommodate phones of any size, in either portrait or landscape mode. This makes it suitable for those using iPhone, Samsung, Google, and more.
Priced at £69.95, the charger will fit in perfectly with your new home office.
Pom pom throw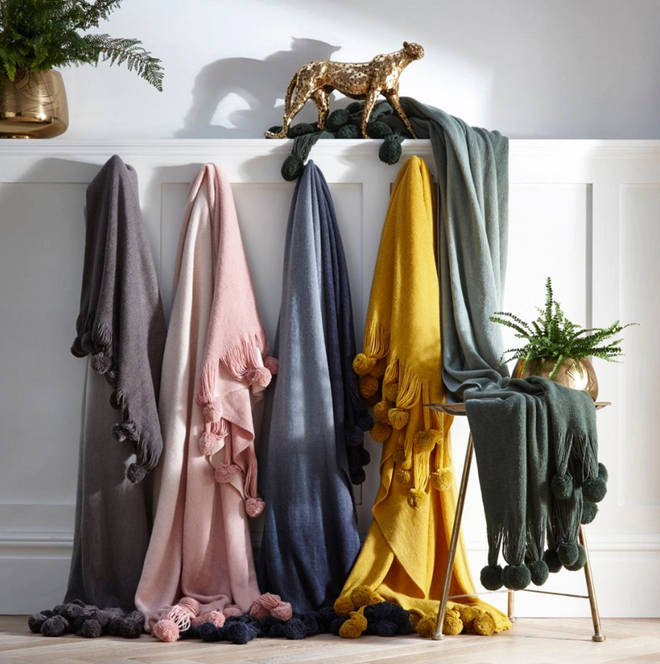 Whether you're spending more time in your living room or bedroom at the moment, this soft and stylish throw will bring a touch of luxe comfort to your quarantine.
Priced £35 from Kaleidoscope, there are four colours to choose between.
VAX cleaning appliances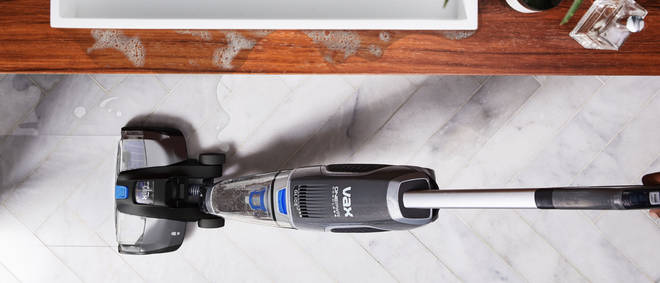 The VAX GLIDE all-in-one hard floor cleaner kills 99.9% of bacteria and takes the chore out of cleaning hard floors by helping you to save time because it vacuums, washes and dries all at the same time.
Its innovative cleaning technology means no more spreading dirty water around your house with a mop and bucket or floor wipe.
Once you've finished washing your hard floors, itsmess-free auto-clean system rinses the machine, leaving it ready for use.
VAX GLIDE costs £249.99 and includes 1L of the VAX ONEPWR Solution, and additional brush roll worth over £30 and free delivery.
As well as the Glide, VAX's new product, VAX BLADE 4 cordless vacuum cleaner is an amazing addition to any cleaning cupboard.
It features VAX's best engineered brushless motor to-date, controlled by its VAX CoreTM Technology that works in synergy to produce a cordless vacuum that outperforms the UK's top three best-selling cordless vacuums, and has the cleaning performance of the best-selling corded uprights.
It's super lightweight at 3.1kg and ergonomically designed, with its battery fully charged in just three hours, with up to 45 minutes high performance cleaning time, enough to clean your whole home.
Its 2-in-1 design also means a simple click of a button converts the VAX BLADE 4 from upright handstick to handheld, making it versatile to clean floors and above the floor surfaces and furnishings.
Surround sound system
If weeks of being locked in at home has unleashed your inner cinephile, or you've become a hardcore boxset binger, then you might want to invest in a a top notch speaker system.
AO.com has different set-ups to suit all budgets, but the LG Surround 3D Multiroom Home Cinema System (£289) is definitely one that you will enjoy for years to come.
It is made up of freestanding tall speakers and satellite speakers to form rich, high quality surround sound, and comes with a Blu-Ray player so you can take your viewing to new high definition levels.
As it is bluetooth enabled, you can also play music and podcasts from your tablet or smartphone.
Gaming Headphones
If you need to keep the noise to a minimum with more of the family around than before, then this gaming headset will help you immerse in the action on your favourite gaming console.
Compatible with both Xbox and Playstation set-ups, the E900 PRO combines 7.1 virtual surround sound and immersive audio to produce an exceptional acoustic gaming experience for all types of gamers.
All this added tech will allow you fully immerse yourself in the action, without becoming a nuisance to the rest of your household, or even your neighbours!
You can buy it here for £42.99.
Remote control tracker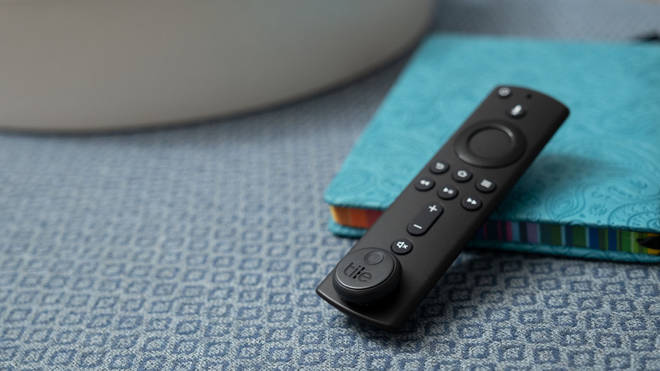 It doesn't matter if there is one or five people sat watching TV, there is going to be a moment where no one can find the remote.
Avoid wasted viewing minutes (yes even though they're sort of limitless at the moment) and stressed out rows by sticking Tile's nifty blueprint tracker on to your remote.
Already over 100,000 people are using Tile to help find lost remote controls, 100,000 to help find headphones and 71,000 to help find toys. It is a small, waterproof tracker with 3-year battery life and an adhesive back meaning you can stick it on pretty much anything you want to keep hold of in and outdoors.
You can buy two for £34.99.
Mini projector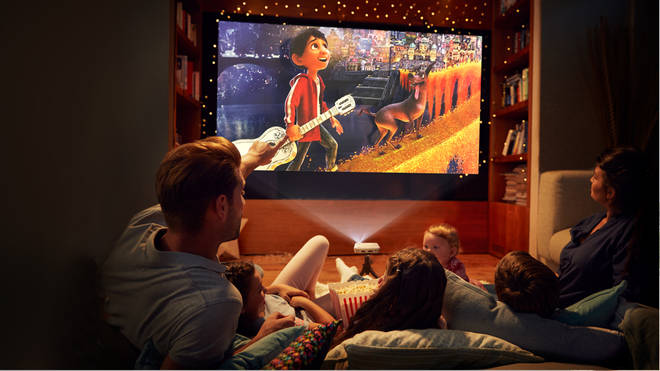 The KODAK LUMA 350 Portable Smart Projector is a pocket-sized gadget that lets you stream clear images and videos in stunning 4K anywhere you go and on to any surface.
The LUMA 350 is the latest model in KODAK's range, and is priced at £399.00. If that is out of your budget, the LUMA 75 and LUMA 150 projectors are equally lightweight allows you to set up your own cinema at home, perfect for whiling away the lockdown hours with family or co-isolators.
New sofa
If you have ended up with extra people quarantining at yours and you're struggling to fit everyone on the sofa - or you've realised that yours isn't suited to longterm lying-down-and-watching-TV - then you might be interested in this genius product from British brand Swyft.
Their stylish sofas come in luxe fabric finishes, and whether you've ordered an armchair (£595) or a three-seater Model 01 (£995) it comes as a flat pack piece of furniture.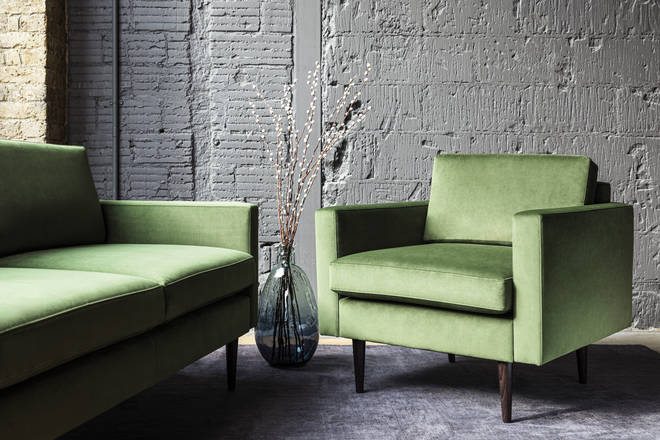 It comes direct to your door in a series of easy to carry boxes that are a sinch to take upstairs and carry around corners, no dramatic moments asking 'will it fit?'
Perfect for people in flats, or who need a fuss-free solution to feeling just a little too snug with their fellow isolators, they promise to get your new armchair or sofa to you within 48 hours.
Desk topper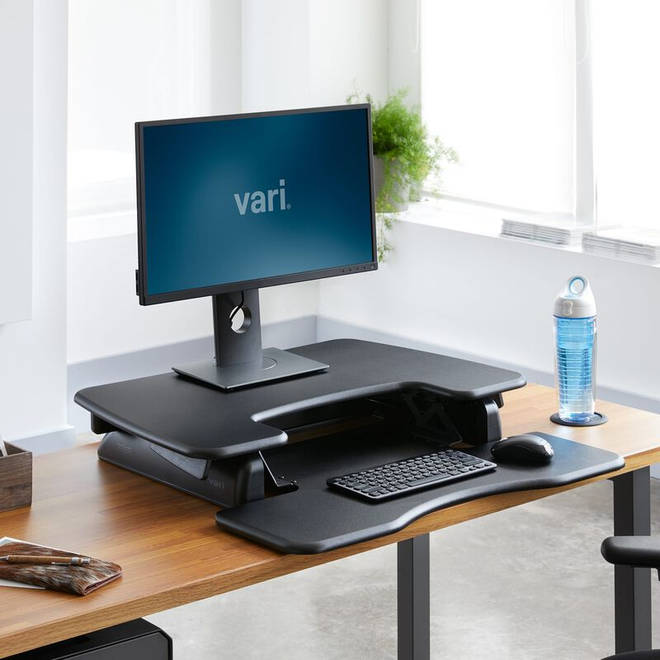 The VariDesk adjustable-height desktop converter is designed to help those with back pain work more comfortably.
From better posture to better productivity, this 30" standing-desk solution - costing £275 - is an easy and effective way to change the way you work.
New kettle and toaster set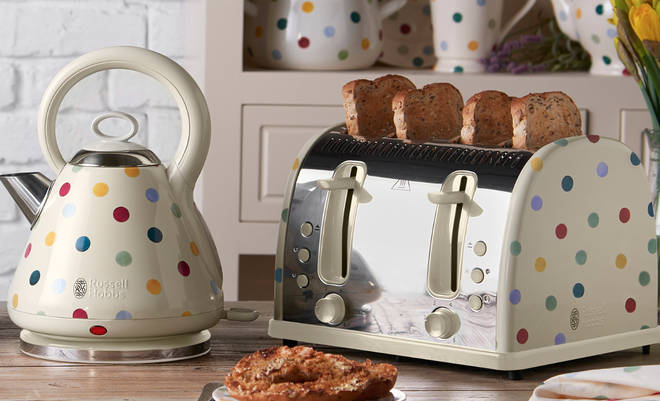 In these uncertain times, we don't know about you, but we've been making lots of cups of tea.
If you're spending a lot of time in your kitchen and are looking for an update, there's no easier way than adding a colourful kettle and toaster set from Russell Hobbs' Emma Bridgewater collection.
The polka dot set will add a pop of colour to any kitchen, and will give you something to smile about as you prepare your breakfast from home every morning.
Buy now: Russell Hobbs and Emma Bridgewater Polka Dot Kettle, £79.99
Buy now: Russell Hobbs and Emma Bridgewater Polka Dot Toaster, £69.99/£79.99
Cosy new bedding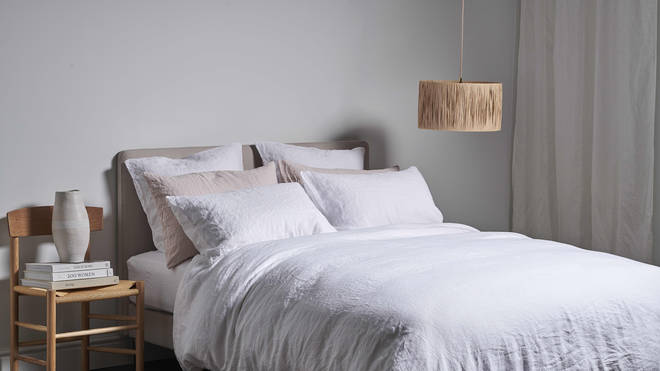 Nothing will set your mind at ease and help you relax like new bed sheets, especially amid the current lockdown.
Bedfolk is the only place to go for the cosiest and most luxe bed sheets on the market, including their new 100% natural linen bedding range.
The new linen range, pictured above, will help you get a good nights sleep and allow you to switch off from the world for a while.
Bedfolk also have their cotton sheets, which come in three styles; relaxed, classic and luxe.
Buy now: Bedfolk Linen Double Bedding set, £179 (pictured)
Buy now: Bedfolk cotton bedding bundle, £79
Microwavable Boots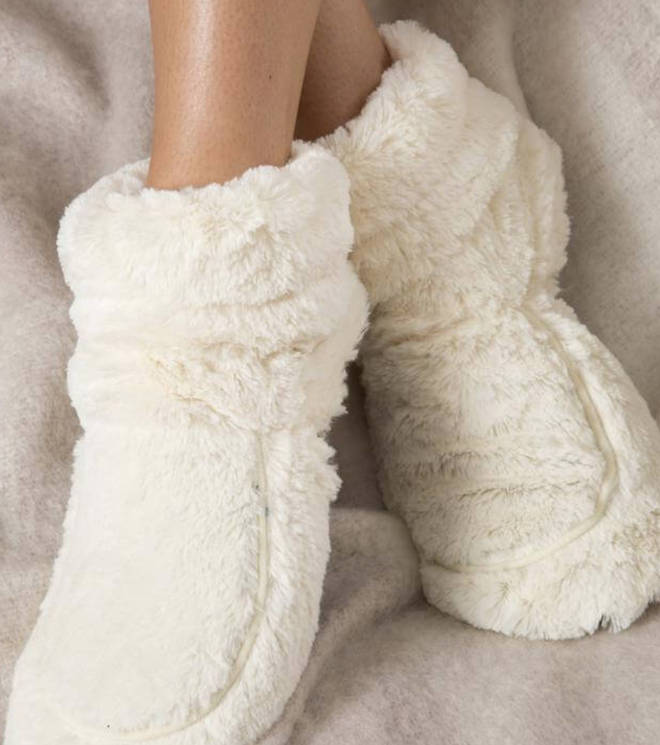 While it may technically be Spring, the weather says otherwise, and with the public spending more time inside, it's important our working-from-home ensembles are as comfortable as possible.
While slippers are nice, they're nothing compared to these microwavable boots from Prezzy Box.
Experience ultimate cosiness and comfort by popping them in the microwave, and then slipping on your cold feet – bliss.
Buy now: Cozy Microwaveable Boots, £19.99
Pet bed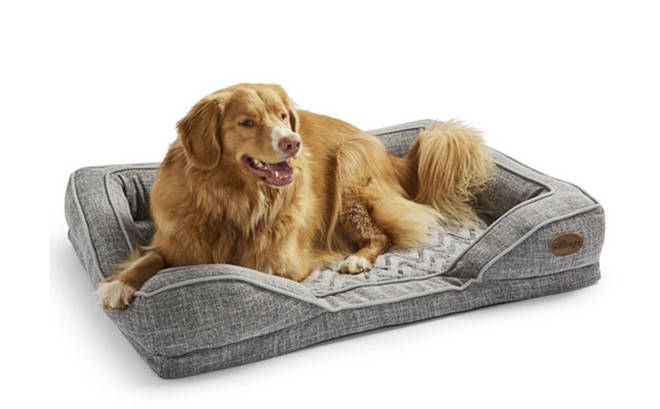 If you and your family have had to commandeer the dog or cat's spot on the sofa, then they might be feeling a bit put out.
Silentnight's team of comfort experts have now turned their hand to pet beds, which come in small, medium or large, with prices from £29.
The one pictured above is a special orthopaedic model for older pets - meaning they will find it even easier to spring in to action when you break lockdown boredom with yet another walk around the block.
Click here to buy now and see the others in the range
Gorgeous dinner candles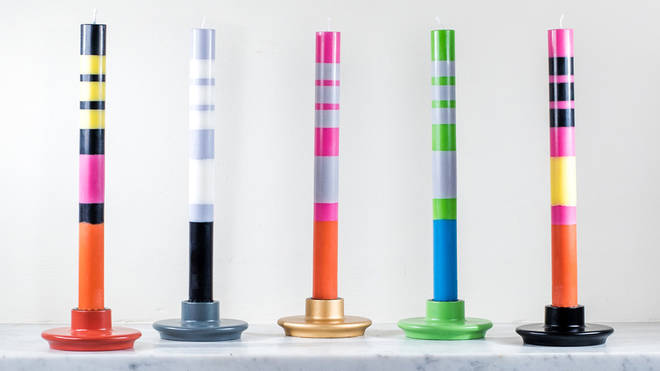 A chance discovery of an old colour dictionary in a charity shop began a journey to re-establish long forgotten brand. British Colour Standard, which was first established in 1931.
They use an array of British Colour Standard colours including Opaline Green, Old Rose, and Gull Grey.

All the candles are designed in the UK but made to fair trade standards in Indonesia, and start from £12 for four.
Click her to buy now from Britishcolourstandard.co.uk
A paint update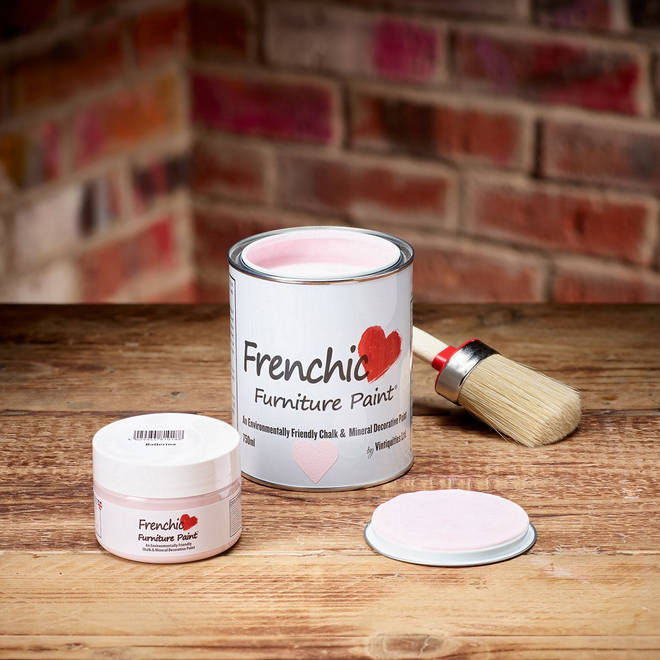 Everyone's been sprucing up their homes in different ways, but if you're done with buying new items for the house and would rather switch up what you already own, why not give it a fresh lick of paint?
If you stock up on some sanding paper you could give your boring wooden tables and chairs a bright pop of paint that'll make your home seem like an entirely new space.
Frenchic is all the rage at the moment, especially with DIY pros, and their paint comes in a huge range of colours as well as being super affordable.
Click to shop now on FrenchicPaint.co.uk
A cosy rug
There's nothing that brightens up a living room or bedroom more than a fashionable rug in the centre of the room.
It can transform a space completely and it doesn't have to cost the world either.
Dunelm have a seemingly endless range of rugs, with a size and style to fit everyone's tastes.
Click to shop now on Dunelm.com
Some new lamps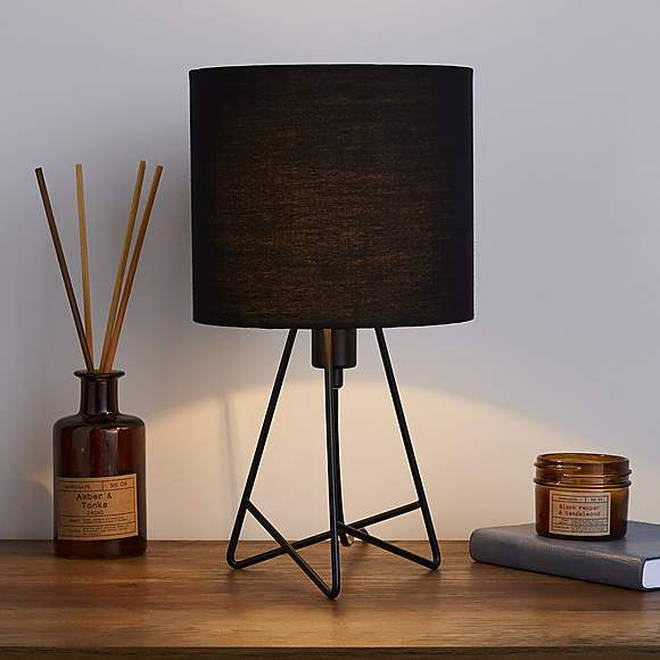 Mood lighting is everything, and a few lamps in every room is a great way to ensure you're able to relax or unwind properly.
Dunelm currently has a huge sale on-site where you can check out their stylish lamps, with many going for under £10.
Click to shop now on Dunelm.com
Shark anti-hair wrap vacuum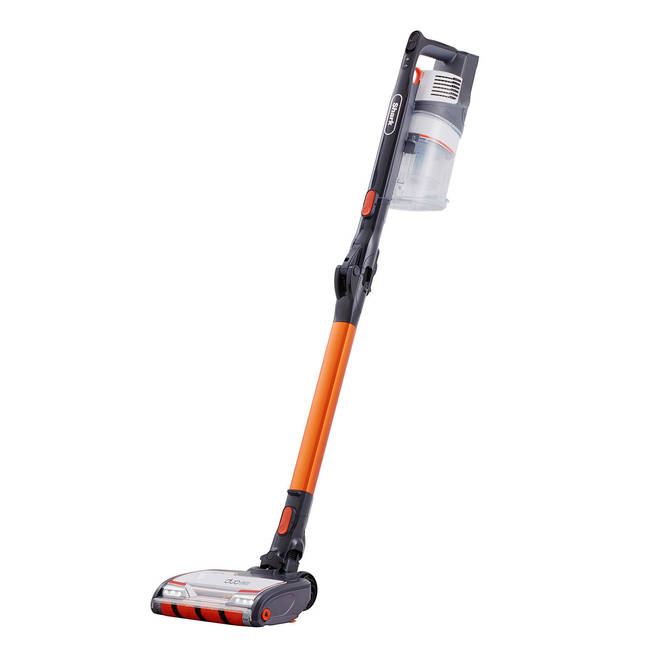 We shed way more hair thank you'd think, and our vacuums definitely know it!
Picking tangled up hair out of your hoover is one of the most annoying things ever, and Shark's new device tackles this head-on with its amazing technology.
For £349.99 the Shark Anti Hair Wrap Cordless Stick Vacuum Cleaner with Flexology will allow you to enjoy up to 40 minutes run-time, charging the removable battery wherever suits you.
You can glide from carpets to hard floors with Shark's signature DuoClean floorhead and their amazing Anti Hair Wrap Technology actively removes hair from the brush-roll as you clean.
Their other feature, Flexology, bends so you can reach, store and charge the device anywhere.
You can also switch to handheld to easily clean stairs, sofas and in the car.