Breastfeeding pump advert slammed for comparing mums to cows
1 October 2018, 17:12 | Updated: 1 October 2018, 17:16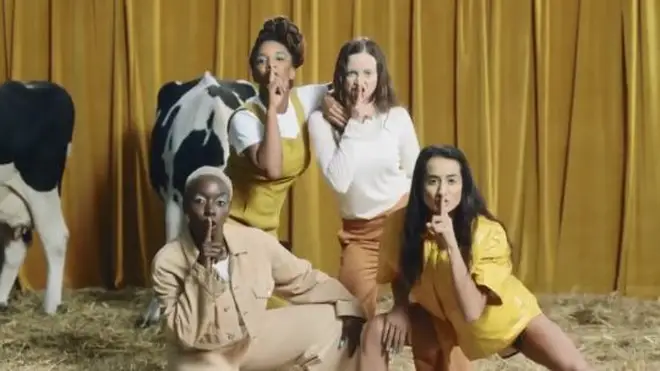 Tech company Elvie have raised eyebrows with their latest campaign.
Tech company Elvie may have invented they "world's first silent breast pump" but they have received backlash from mums over their latest advert.
To mark the launch, they released a music video-style advert showing four women dancing in front of cows, carrying pumps typically used to milk the animals.
However, the quirky advert quickly received criticism on the company's Facebook page - mainly from animal rights supporters who said it made light of the dairy industry.
They argued that cows can be forcibly impregnated and used for milk and meat, while others felt the tone was crass and sexualised women - ultimately doing a disservice to the breastfeeding movement.
One user fumed: "Brilliant idea, but again it seems to sexualise breasts. Surely this is what we are trying to move away from?"
Pumping. Unplugged - Elvie Pump

Breast pumping shouldn't make you feel like a dairy cow! Introducing Elvie Pump, the world's first silent wearable breast pump. Cut those cords and sing along: "these are not udders, they're my boobs"! http://bit.ly/ElviePump #breastpump #breastpumping #motherhood Director: Fiona Jane Burgess, with an all female dance cast of mums: Ibs, Nuna, Hannah and Stephanie.

Posted by Elvie on Monday, 17 September 2018
However, a spokesperson for the brand insisted this was not the intention - claiming: "We're totally with you on that, we definitely aren't sexualising breasts here! Quite the opposite – this is why we chose to work with a female director who is a mum and our lovely troupe of dancers were all mums too. We really wanted to capture the feelings and frustrations from the perspective of mothers."
The advert has amassed over 70,000 views but received mixed reviews over it's lyrics.
They include: "Yes, I milk myself, but you don't see no tail' and 'In case you hadn't noticed these are not udders, they're my boobs,' followed by a chorus which goes: 'Pump it out, pump it out, I'm feeding them babies, pump it out, pump it out, I'm milking my ladies."