Embarrassed mum has bright red face for TWO DAYS after cheeky daughter paints her with lipstick
12 October 2018, 15:12 | Updated: 12 October 2018, 15:45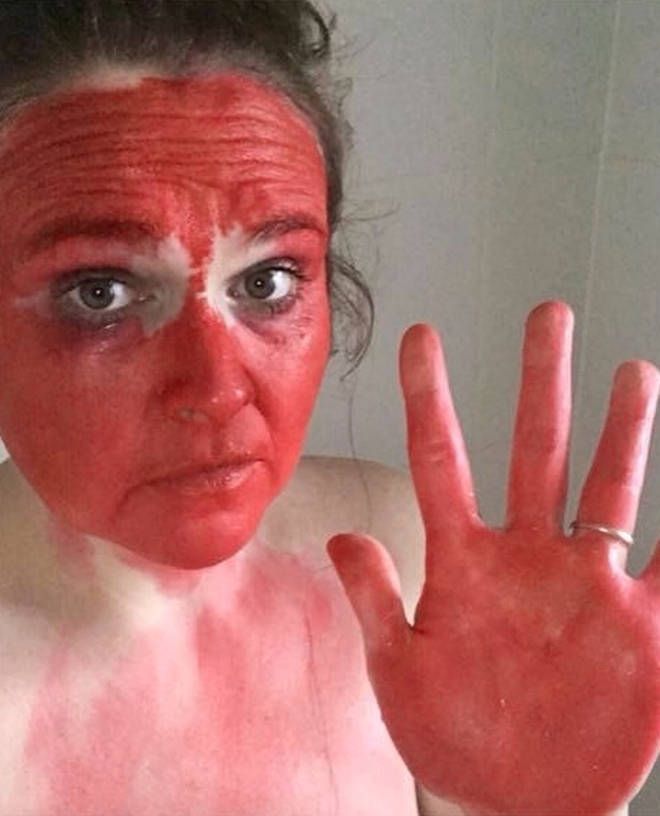 Leanne Short claims her bathroom looked like a 'murder scene' after she spent hours trying to scrub the red makeup off her face - and left handprints all over her bath and shower.


A mortified mum was left literally red-faced for TWO DAYS when her cheeky daughter switched face paint for lip stain during a makeover.


Mum-of-two Leanne Short, 35, was horrified to discover her skin had been dyed scarlet when her little girl Rosie, nine, had coated her entire face in the long lasting bright red lip stain from Primark.


Leanne claims her bathroom looked like a 'murder scene' after she spent hours trying to scrub the red lippie off her face, leaving sinister red handprints all over her bath and shower.


Rosie had begged Leanne to allow her to give her a pre-Halloween makeover and the the doting mum couldn't resist her daughter's pleas - but when she decided to transform her in to a lobster instead of a clown, things went horribly wrong.
Leanne from Wakefield, Yorkshire, said: "It was a genuine mistake - I think.


"The other items she used are just sticks of face paint wax and she just picked up the lip stain.


"I don't know if it fell out of my makeup bag into the other stuff but she picked it up. She said 'oh I'll make you red'.


"She had said she was giving me clown lips to turn me into a clown but then she said 'I'll do the whole face'.

"
Read more: Mum's hair removal cream leaves moustache-shaped RASH... and she's mortified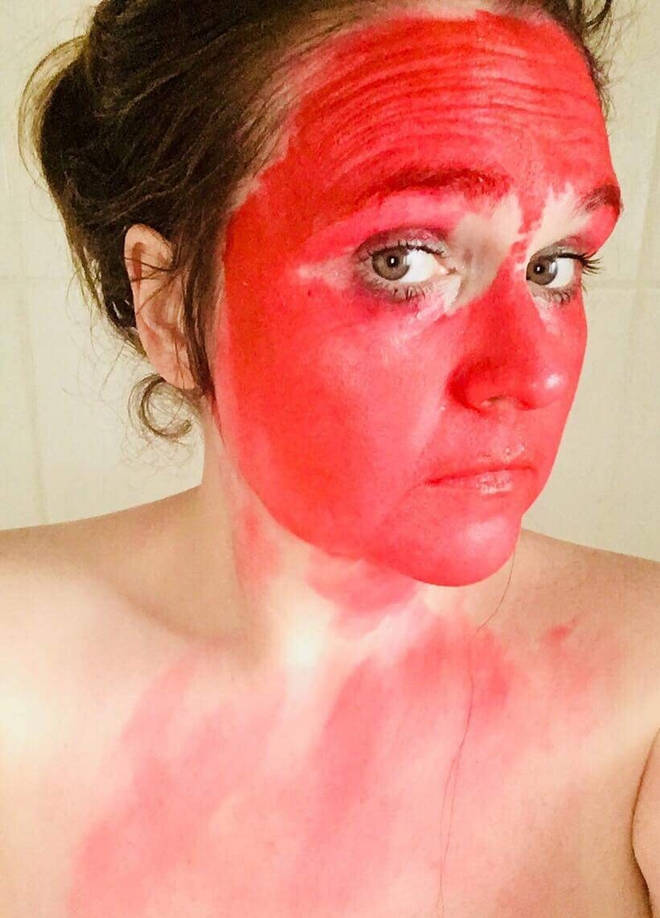 It was when Leanne's face started burning that she realised that something wasn't right.
She said: "It took hours and hours to get off. It was in my eyebrow hair, my hairline. It faded on my face after about two days.


"When I washed it it smudged, so as I washed it off it was on my face and dripped down the skin onto my neck.


"As I was trying to scrub it off it just ran down my neck and onto my chest. It ran all down my hands. The more I was scrubbing it the worse I was making it.


"It looked like a murder scene or something because there were just red handprints everywhere. I had to use bleach on the tiles to scrub that off because it had all gone into the grouting.


"There were handprints on the white bath and on the shower. It spread everywhere. That would have been good for Halloween because it looked like a crime scene."
Sadly for Leanne, she couldn't hide away from her friends and family - and after realising nothing was going to shift the freaky hue from her face - even vinegar and baking soda - she still had to do the school run.
She added: "When I covered my face up with foundation it wasn't as bad, but it looked like I had red lines all through my eyebrows and in my hairline and that took five or six days to go.


Read more: Woman goes 'green like Shrek' after using out of date fake tan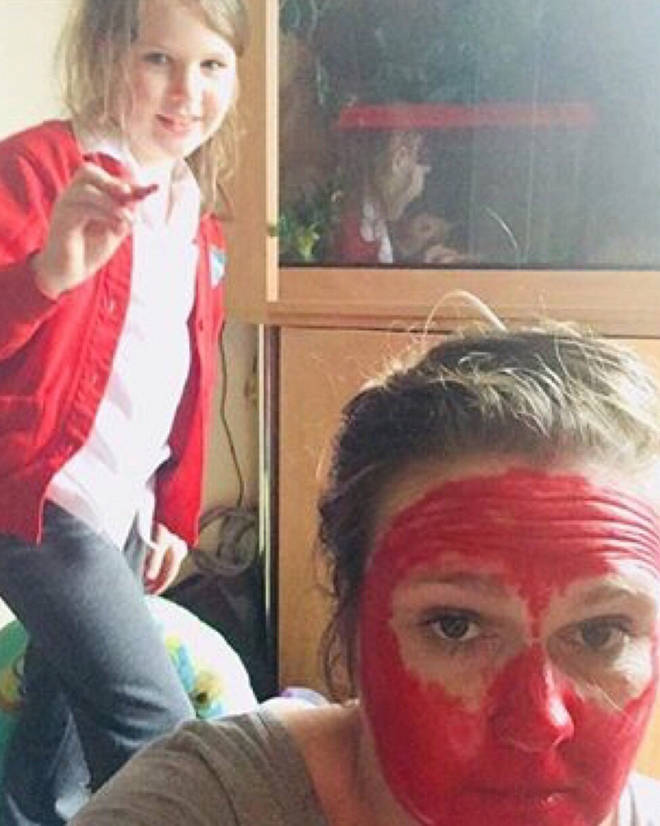 "I had to take her to school and pick her up from school and go shopping and do all the normal things I usually do.


"A few of the mums [at school] looked and looked back and probably just thought it was highlights or something like that that had gone wrong.


"But my friends thought it was hilarious and were asking how I could let her do that.


"I thought it was face paint - I didn't know. They thought I was mad because I let her do it.
"My partner joked that he didn't want to be seen with me. All I was trying to do was entertain the kids and I'd become a social leper instead.

"
Read more: The best Halloween costumes for kids available right now
Leanne and her family love Halloween and have a big party planned featuring a big dinner of gory food and plenty of costumes.


But after her ordeal earlier this year Leanne has sworn not to let Rosie come near her with makeup again.


Leanne, a stay-at-home-mum, said: "This Halloween I will be making sure she's not doing anything on me at all.


"I've got an outfit and a dress and I'll paint my face - yes, I will paint my face, not Rosie - with the correct stuff.

"