Half term adventures that you'll need a packed lunch for
11 October 2018, 16:13 | Updated: 22 October 2018, 10:40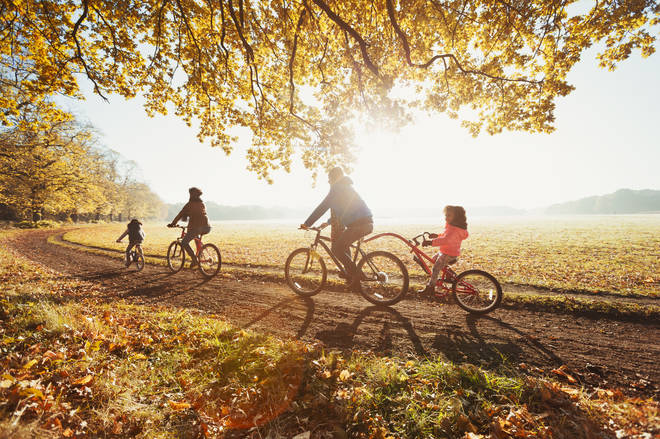 Promoted by Kingsmill
Embrace the changing colours of autumn and head out with your kids, a packed lunch and lots of imagination for a half term adventure.
The seasons are changing and soon the UK will be engulfed by frost and rain - so before the weather starts to get too bad, take full advantage of this half term and head out on an adventure with the kids.
A windy walk on the beach

Have a wander along the coast.

Picture: Getty

Take the kids, and the dog if you have one, for a brisk walk on the beach, after all, Brits love the beach whether its raining or shining!

If you're lucky to live on the coast make the most of it. Hunt for shells, draw pictures in the sand and even dip your toes into the water if you dare!

You'll be ready for those packed lunch sandwiches waiting for you when you get back to the car.

Pumpkin picking for Halloween

Pumpkin picking is a great family activity.

Picture: Getty

If you're planning on carving a pumpkin this Halloween, why not head out and pick your own?

Pumpkin patches up and down the country open themselves up to let the public pick their own autumn vegetables this spooky season.

Head out with the kids for a day of hunting down the best before heading home to carve and proudly display them by the front door.

A nature trail adventure

Nature walks are amazing during autumn.

Picture: Getty

The seasons are changing and so is nature so go out and explore it! If the floor isn't too soggy you could always take a picnic too and create a den to enjoy your lunch in.

Make a list of autumnal things for the kids to find, challenge them by saying that first person to find all the items and get back to the den is the winner.

Task them with finding acorns, conkers, orange leaves and more!

Muddy bike riding

Muddy bike rides are a lot of fun.

Picture: Getty

If it's been raining all night long, there's no doubt the kids will be itching to take their bikes through the puddles - and you'll be itching to say no!

But this half term why not embrace the mud and head out for an adventure on bikes.

Follow the local nature trail if you have one, or even better, if you live locally to a national park you'll be able to cover a lot of ground cycling around the great outdoors.

With all that exercise you'll want to stop for a packed lunch!

Go on a ghost walk

Embrace Halloween at this time of year.

Picture: Getty

Every town has their local spooks and ghost stories, why not head out with the kids on a ghoulish Halloween walk?

Tell stories as you walk through the woods and teach them about local history as they go. Or better than that - head out trick or treating!

With all that walking they'll be bound to have whipped up an appetite for some toasties once they're back inside the warm.