Kate Middleton opens up about 'mum guilt' in revealing podcast interview with Giovanna Fletcher
16 February 2020, 12:05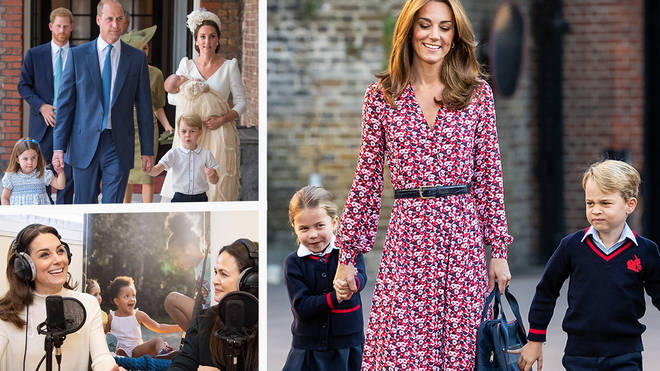 The Duchess of Cambridge has spoken about feeling lonely as she juggles being a mum-of-three with being a working royal in a new podcast.
The Duchess of Cambridge has revealed that she has often felt "mum guilt" and "lonely" as she juggles both her roles as a mum of three and being a full-time working royal.
Kate Middleton, 38, shared her feelings with Giovanna Fletcher in her podcast Happy Mum, Happy Baby in what is one of the most candid interviews she has given yet about motherhood.
The royal admitted that she often feels guilty when she's away working for long periods and away from George, six, Charlotte, four and 21-month-old Louis.
Read more: Why Kate Middleton always carries her handbag in her left hand
Giovanna, who herself is a mum of three and is married to Tom Fletcher, a member of the band McFly, asked her if she experienced pangs of 'mum guilt', and the the duchess replied:
"Yes absolutely – and anyone who doesn't as a mother is actually lying.
"Yep – all the time, yep – and you know even this morning, coming to the nursery visit here – George and Charlotte were like 'Mummy how could you possibly not be dropping us off at school this morning?'
"But no it's a constant challenge – you hear it time and time again from mums, even mums who aren't necessarily working and aren't pulled in the directions of having to juggle work life and family life."
READ MORE: Kate Middleton has emotional reunion with primary school teachers during South Wales engagement
She further added: "And always sort of questioning your own decisions and your own judgements and things like that, and I think that starts from the moment you have a baby!"
She spoke openly about the challenges of being a new mother and said: "There's a lot of pressure, isn't there? You can get so distracted and put so much pressure on yourselves about the things you're not necessarily achieving, and it distracts you from the things that actually really do matter to the lifelong health and happiness of the children you're looking after."
During the 30-minute podcast chat, on which Kate promotes her '5 Big Questions on the Under Fives' survey about the impact of childhood experiences on adult life, she opened up about being a working royal and achieving a work-life balance.
"There's such a pull, but I am such a hands-on mum, and whatever you're doing you want to make sure you're doing the uttermost best job you can for your children," she said.
"I was having doubts and questions about the guilty element of being away for work and things like that.
"The more people you have around your children who are safe and loving and caring, the better.
"It was a real weight off my shoulders that actually it's not totally my responsibility to do everything, because you know we all have good days, bad days - and if you can dilute that with others who aren't on that particular day struggling.
"I think it makes such a difference for your child, and keeping them as constant and happy as possible."
READ MORE: Coronation Street's Samia Longchambon admits 'mum guilt' as she struggles to spend time with kids
She also told listeners how after the birth of George in 2013 that she had "a lonely period" after arriving home.
"It took us a bit of time to get ourselves settled and going again but that's the beauty, I suppose, of having a newborn baby.
"You are pulled to your toughest and most unknown places that you hadn't necessarily even thought about before."
Listen to the podcast here.