Giovanni Pernice wants Theresa May to sign up for Strictly Come Dancing
4 October 2018, 13:26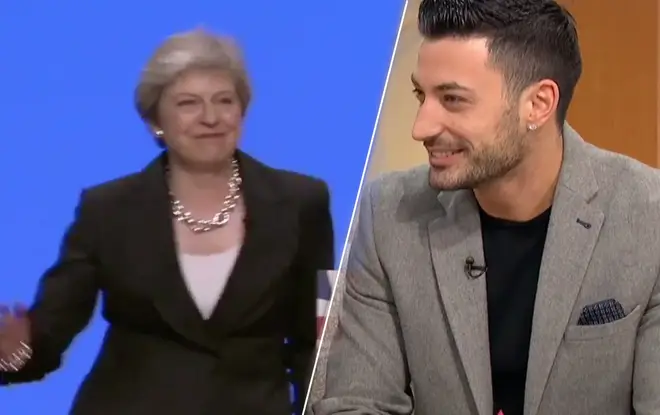 The hunky Strictly Come Dancing star gave his verdict on the Prime Minister's dance moves following her appearance at the Tory Party conference on Wednesday.
Giovanni Pernice is keen to see Theresa May on Strictly Come Dancing and thinks he would be able to whip her into shape if she were to appear in the ballroom.
Appearing on Lorraine, the dancer was asked if he would be willing to partner up with the Prime Minister after she danced to Dancing Queen by Abba at the Conservative Party conference.
"Is there anything you can do with that lady?" asked Lorraine.
Giovanni replied: "I mean look at her. She can do the Waltz."
He then looked straight at the camera and started to address the Prime Minister directly, adding: "Theresa, I'm here," Giovanni said with a big grin.
Strictly's Giovanni Wants to Partner Up With Theresa May Next Year | Lorraine
The Prime Minister had been preparing to address her party and about her Brexit plans on Wednesday but couldn't resist having a dance to Abba's disco floor-filler while making her way to the stage.
Heading out onto the stage to address the audience, May is seen waving at the audience before confidently striding across the stage.
After making her way to the podium the 62-year-old politician awkwardly bops to the music before breaking out into a little dance much to the delight of the audience, who cheered her on.
Understandably, May's moves divided opinion but the overriding reaction from users on Twitter was one of amusement. Clips of the her 'dad dancing' have already been the subject of a number of memes, while some users labelled the clip 'cringeworthy'.