EastEnders fans think they spotted an 'adult toy' in the Slaters' bathroom last night
4 December 2018, 11:11 | Updated: 4 December 2018, 17:09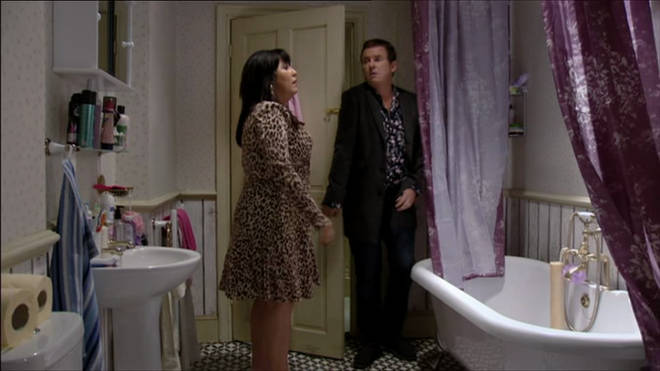 Eastenders viewers were stunned after spotting something *very rude* in last night's episode... but was it what it seemed?
Eastenders have thrown a few shockers our way over the years - Ronnie Mitchell's baby swap, Bradley Branning's death, the 'You ain't my mother' debacle - but we must say we never thought they'd stick a massive sex toy in one of the scenes.
UNTIL NOW (probably) - because eagle-eyed viewers think they spotted the x-rated toy in the background of the Slaters' bathroom last night.
The item could be seen when Kat and Alfie Moon were sharing a heart-to-heart, but we couldn't possibly tell you what they were talking about because we were far too distracted...
Can you see it?
Read more: Eastenders Christmas spoilers: the biggest storylines predicted this December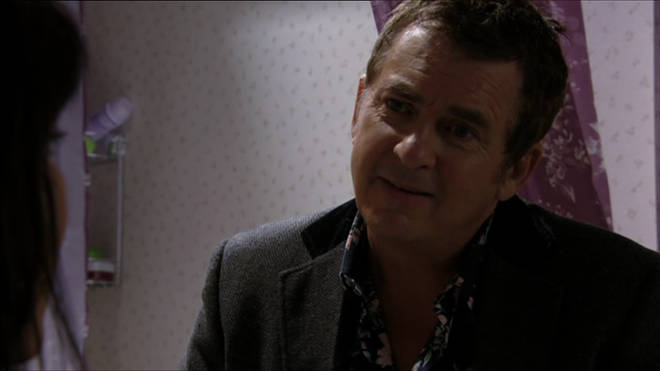 Many viewers took to Twitter to voice their shock at the naughty spot.
One wrote: "Did anyone else see that big purple dildo on the top shelf in the shower?"
Another added: "Anyone else noticed a little extra something in the Slater's bathroom?"
A third joked: "Howay, that's gotta be a #Dildo in the #Slaters bathroom on #Eastenders."
Read more: Remember Libby from EastEnders? Here's what she's up to now
Yikes.
On closer inspection, the so-called 'sex-toy' looks suspiciously like a can of Nivea deodorant, so we're guessing not all is as it seems...
As well as suspicious-looking toiletries, last night's Eastenders brought us the return of Kat and Alfie's children. Their three sons Tommy, seven, and twins Bert and Ernie, four, made their first appearance on the soap in over three years. Viewers were delighted by their return, with one writing: "How Gorgeous are Kats Kids".
Another voiced their delight at having Kat and Alife back together on the show, writing: "it's so good seeing Kat and Alfie back on the Square. I absolutely love #Kalfie".
Alfie brought the boys back to Albert Square as they haven't seen their mother since he kicked her out their Spain home after finding out she had been romping with her Russian lover as one of the lads was hurt downstairs.
Eastenders continues tonight at 7:30PM on BBC1.
NOW READ:
Coleen Nolan receives standing ovation after Loose Women return
Coronation Street's Alex Bain becomes a dad at 17
Celebrations advent calendar sparks OUTRAGE after chocolate fans discover SHOCKING contents in first three doors