Revealed! Why Holly Willoughby 'wore two jumpers' during I'm A Celeb Bushtucker Trial
21 November 2018, 11:34 | Updated: 21 November 2018, 13:43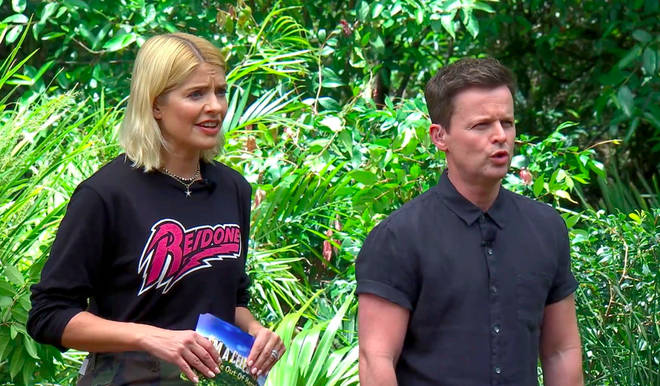 Holly Willoughby left fans stumped with her changing appearance during Anne Hegerty's Bushtucker Trial.
Holly Willoughby loves a good outfit, but wearing two in the space of a few minutes is bit much - even by her clothes horse standards.
Anne Hegerty, 60, might've given it her best shot on her first Bushtucker Trial, but I'm A Celebrity viewers were distracted by Holly's jumper - which suddenly switched mid-trial.
In a teaser clip for the trial, Holly wore a chic black jumper with the Re/Done brand logo emblazoned across it in eye-catching pink colours.
But when it came to broadcast, it seemed like Holly, 37, had changed to a plain black jumper, but some fans speculated that the logo had simply been 'blacked out' to prevent the branding being too obvious.
The switch-up didn't go unnoticed by eagle-eyed viewers who flocked to social media after noticing the blunder.
Read more: Holly Willoughby weight loss: How the star dropped a dress size
Read more: Noel Edmonds signs up for I'm A Celebrity to avoid 'Strictly curse'
One fan tweeted: "Anyone else noticed that at Anne's trial Holly's jumper kept changing depending on the camera angle? Does that mean this was filmed twice?"
Another put: "During this trial Holly's top changes from a jumper with pink writing on to a plain black top."
A third commented: "Why does Holly's jumper keep changing?!!! Camera pans out... theres red on it. Close up... it's plain black."
A show insider told Heart.co.uk that the reason Holly's jumper kept switching wasn't because of a fix, or the trial being filmed twice - it was because her jumper had a logo on it and legally they weren't allowed to broadcast it.
They said: "It wasn't noticed until later that Holly was wearing a jumper with a logo, so it had to be blurred out in post-production before it was aired.
"However, some frames were missed or were just too tricky to blur which is why she looked like she was wearing different tops."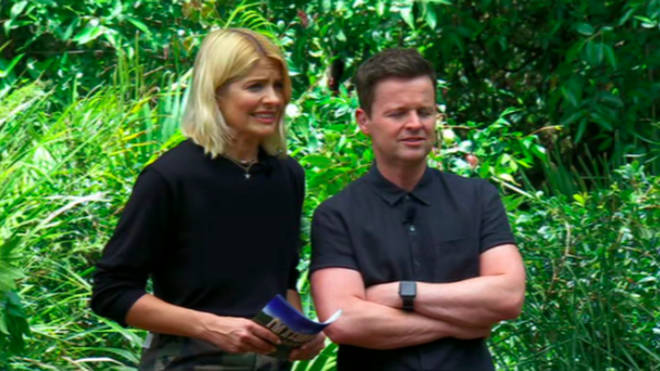 The trial saw The Chase star Anne Hegerty try to find padlock codes while being showered in insects and fish guts.
After landing 2 stars in the first task but failing to get any in the second, Anne refused to go any further and returned to camp.
Holly told Anne: "You've tested yourself and you've done brilliantly."
Dec added: "Well done for coming down here and facing it head on - that takes guts."
Reps for I'm A Celeb have been approached for comment.