These Christmas dinner pizzas will make you wish it was December all year round
6 December 2018, 15:36 | Updated: 6 December 2018, 15:38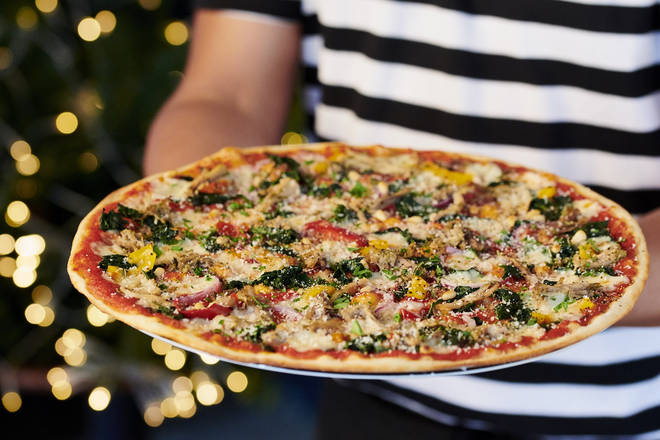 The chefs at Pizza Express have pulled a real cracker with this year's festive menu - and there's something for vegans, too.
For some people, the best thing about Christmas isn't the gifts or songs, it's seeing restaurants' festive menus - and Pizza Express has knocked it out of the park this year.
The restaurant chain has unveiled three new festive pizzas, a roast turkey, Italian-style roast pork and a vegan-friendly roast mushroom and pine nut.
La Festiva combines succulent, marinated pulled turkey with stuffing, spinach, mixed peppers, pine kernels and rosemary.
At the other end of the meaty spectrum, and inspired by the classic Italian pork roast, the Porchetta is topped with seasoned shoulder joint pulled pork on a béchamel base with pancetta and fennel seeds.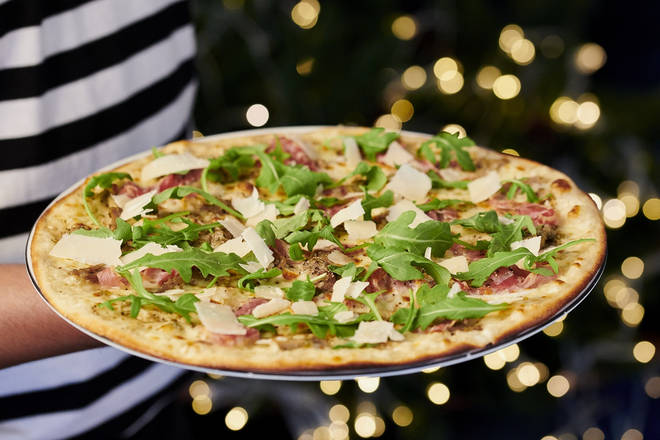 There's more porky delights in the shape of Pizza Express' take on moreish Pigs in Blankets. They've wrapped pancetta around seasoned pork meatballs and baked them until crispy.
Vegans are catered for with the new Mushroom and Pine Nut Pizza, which is topped with Portobello mushrooms, pine kernels, festive sprigs of rosemary and dairy-free mozzarella.
And it wouldn't be Christmas without Snowball Dough Ball which this year are back with three indulgent dips: salted caramel, fruit coulis and vanilla cream, or dusted in sugar and cinnamon for people on plant based diets.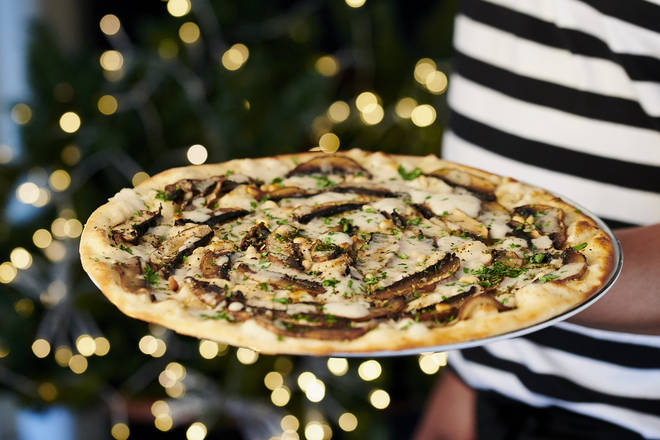 Today we revealed that Aunt Bessie has brought out Yorkshire pudding squares you can use to make your own roast dinner burritos.
And check out the best Christmas party food deals from the major supermarkets.