Mum shares video of her young son being terrorised by voice activated spider toy
5 December 2018, 17:55 | Updated: 6 December 2018, 11:34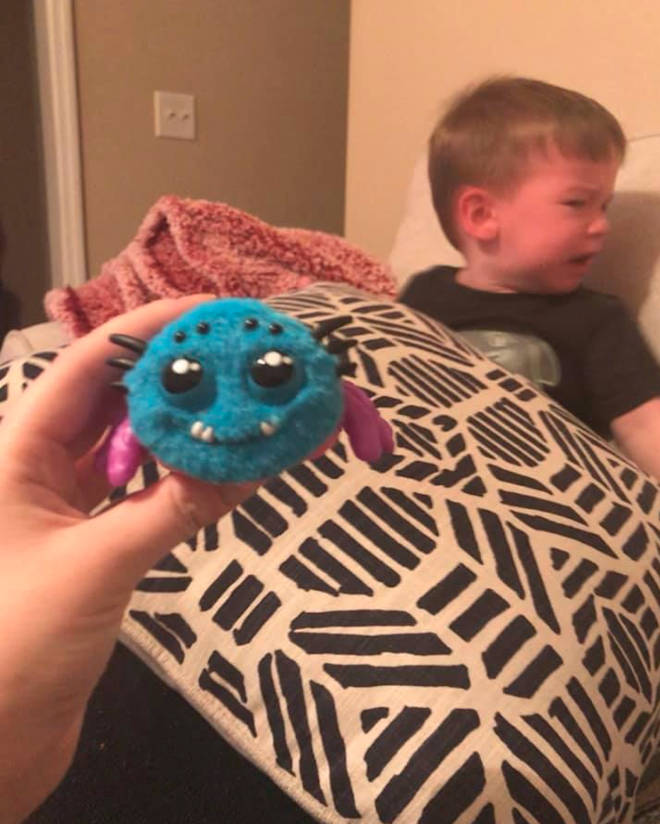 The cute arachnids are activated by noise - and the louder you are, the faster it goes as one terrified toddler discovered.
Real spiders would run a mile if you screamed at it, but a new eight-legged toy does the complete opposite - and one mum LOVED scaring her son with it.
The new toys, called Yellies!, are going to let parents get their own back on their annoying kids - and one has already proudly shared a video of her toddler having a 'traumatic' experience with the voice-activated pet.
Hilary Davis ordered the electronic fuzzy spider from Amazon to surprise her son, but she soon regretted the decision after it left her child in tears.
Hilary posted the hilarious video to Facebook agony with a lengthy caption describing his ordeal with the £12.99 toy, which she claims "feeds off of screams of terror".
Read more: Harry Potter toys available this Christmas - and you'll want them as much as your kids
She wrote: "Let me share with y'all a massive mom fail I experienced tonight.
"So about a week ago, I noticed this toy for sale on Amazon. They're called 'Yellies' and the whole concept is that the louder you yell at it, the faster it goes.
"Being the mother of a naturally loud and boisterous kid, I thought it would be the perfect Christmas present..."
Read more: The Queen's Christmas traditions revealed - and they're sort of normal...
However soon things took a turn for the worst and it wasn't long before her son was in tears.
She added: "The spider ran for it. Leo starts screaming... the louder he screams, the faster the spider pursued him.
"So, in short, maybe a little electronic spider thats power source feeds off of screams of terror... is not the best Christmas gift for your small child. 10 years from now we'll be discussing this in therapy."
The video has since received more than 124K comments and 345,690 shares.
Yellies are available at Smyths, Argos and Amazon.