Dog owner livid after groomer transforms pet with haircut
15 March 2023, 12:58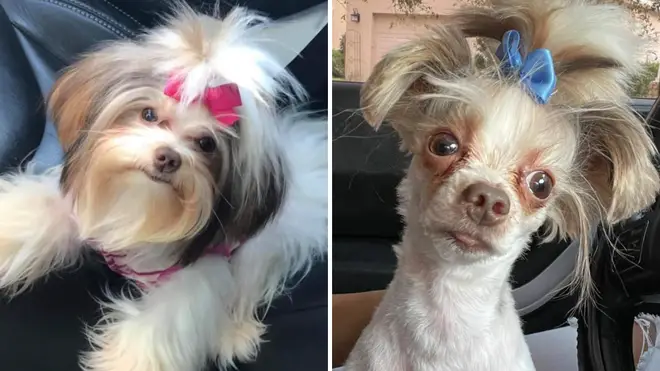 A dog owner has been left shocked after picking his adorable canine up from the groomers.
A dog's transformation after visiting a groomers has left the web in hysterics after the owner shared before and after pictures.
The owner posted a picture of the dog before the visit and after on his Twitter account, @REALBURTIIS, and people can't quite believe what they're seeing.
The first image shows what appears to be a Yorkshire Terrier before the grooming, with long blonde hair and a pink bow in their hair.
However, the second image shows the dog with almost all its hair cut off, with only long locks left on the top where a blue bow sits.
Captioning the images, the Twitter user wrote: "Count your f***ing days PetSmart."
Most people found the before and after pictures hilarious, with many pointing out that the haircut had left the dog looking like the chicken from Moana, or Sid the Sloth from Ice Age.
Others, however, have called out the dog owner, claiming that the reason the hair could have been cut so short was because it hadn't been properly cared for.
"The only reason why a groomer would shave them that short would be because you didn't brush them", one person commented.
Another added: "Customers like you are why a lot of private shops are just straight up not accepting doodles anymore."
Read more: