Dog owner honours late pet by giving out tennis balls on his favourite beach
16 June 2023, 16:04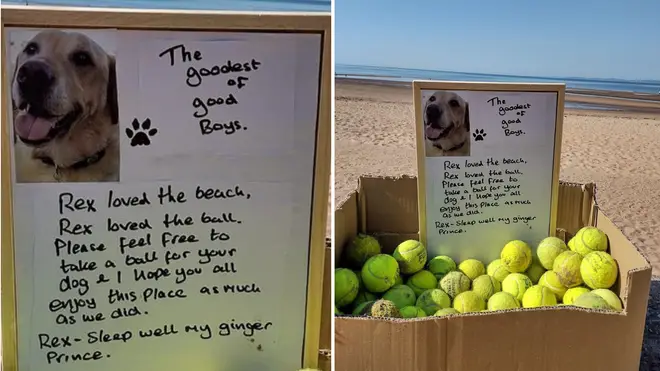 Heartbroken owner Jason Dunne revealed it was his way of saying goodbye to his "ginger prince".
A grieving pet owner has honoured his late Labrador by leaving a cardboard box of tennis balls at a beach in Devon.
Jason Dunne lost 14-year-old Rex earlier this month and decided to pay tribute to his "ginger prince" by gifting his prize possessions to other dogs.
He placed the huge toy stash on the sand in Exmouth along with a bittersweet note that revealed his pooch had passed away.
Telling fellow pet owners they were free to take, Jason confessed it was his way of saying goodbye to his four-legged friend.
Next to an adorable photo of Rex beaming into the camera, the handwritten sign said: "The goodest of good boys.
"Rex loved the beach, Rex loved the ball.
"Please feel free to take a ball for your dog and I hope you all enjoy this place as much as we did.
"Rex, sleep well my ginger prince."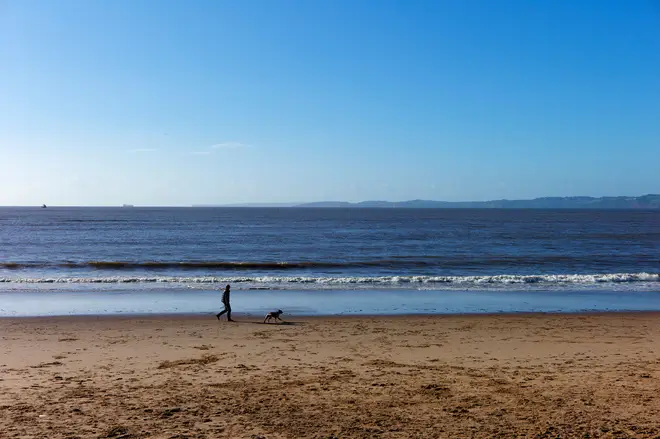 Explaining his decision to give away Rex's favourite toys, Jason told East Devon News: "It was my way of having one last beach day with my once-in-a-lifetime dog who literally changed our lives for the better in so many ways.
"I've met so many people on walks over our 14 years together and I couldn't tell you their names, but I could name their dogs and they all knew Rex's name."
He also confessed the fitting tribute was his attempt at bringing the community together.
"Rex did that. Rex loved people, Rex loved all the dogs, Rex loved life. He's brought out the best in this community and it's been amazing.
"The messages from other people who have lost their pets, and from people with pups at the very beginning of their adventure together, has moved us and we find real comfort in that.
"Exmouth came together in kindness. That's his legacy. Hug your pets. Be more Rex."
My eyes are leaking. What a lovely gesture , Rex you were definitely loved 💙

— Julie Blakeman (@julie_blakeman) June 16, 2023
Awww this is beautiful and heartbreaking at the same time. RIP Rex. You were very loved. ❤️

— LadyTarapuss (@LTarapuss) June 15, 2023
Devon County Council shared a snap of the heartfelt doggy tribute on social media, captioning the photo: "A lovely gesture on Exmouth beach."
Twitter users were quick to comment on the touching picture, with many confessing they were holding back the tears.
"My eyes are leaking. What a lovely gesture, Rex you were definitely loved 💙," tweeted one person.
A second wrote: "Oh my gosh, my heart xxxx."
"Soo heartwarming! Rip Rex! Hope your still swimming in the sea ❤️❤️," wished another.
A fourth joked: "😭 Must be those onions again."
While a fifth added: "I'm not crying, you're crying. On my way to scoop up my own favourite blonde boy to take him to the beach."
Read more: