King Charles Coronation mugs: 13 classic and traditional royal keepsakes
14 April 2023, 15:26 | Updated: 28 April 2023, 10:59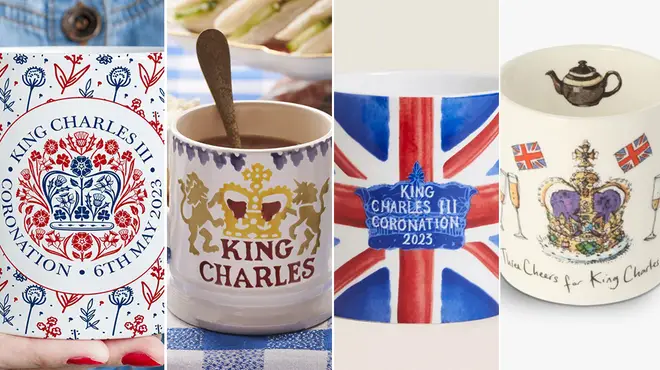 Coronation day for King Charles III falls on May 6th so don't forget to invest in a piece of memorabilia as fantastic as the classically British mug.
King Charles and the royal family including Prince William, Kate Middleton and the newly confirmed Prince Harry will be enjoying a full weekend of coronation celebrations come May 6th.
The British public will have many opportunities to get involved in the historic event from catching a glimpse of the new king and queen on their procession, to hosting a street party, and one thing we all like to do is have our own little keepsake too.
And what better piece of memorabilia than a coronation mug - perfect for your morning tea or coffee or even displaying in your kitchen.
So if you're looking to own your own little piece of royal history, here's our round up of the best King Charles Coronation mugs right now from Emma Bridgewater, to Argos and even a special edition Wedgwood.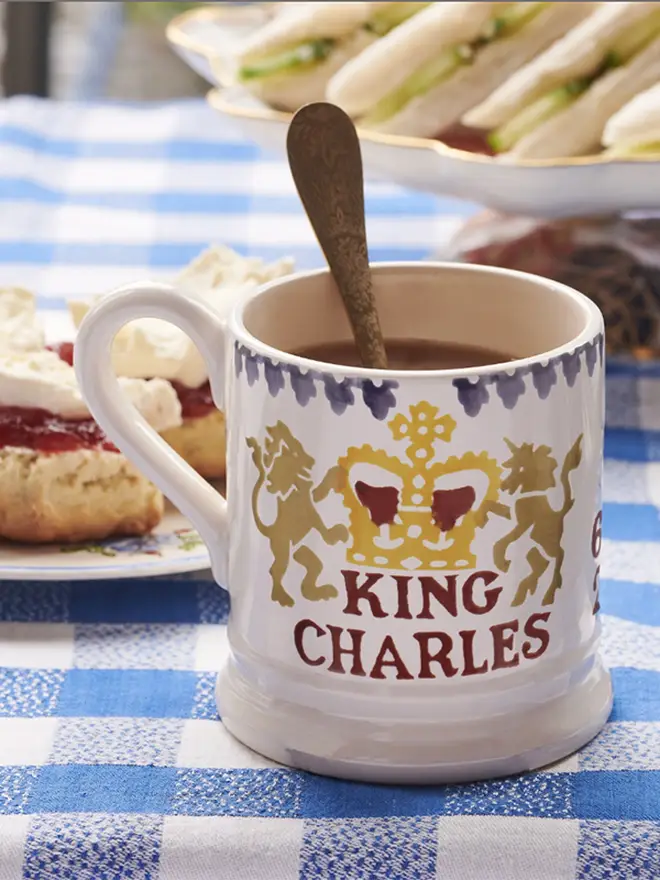 King Charles III Coronation 1/2 Pint Mug, £23, Emma Bridgewater
A classic brand bringing us a classic and classy design to commemorate the royal coronation.
Hand-crafted and hand-decorated, it will be the perfect mug to add to your collection.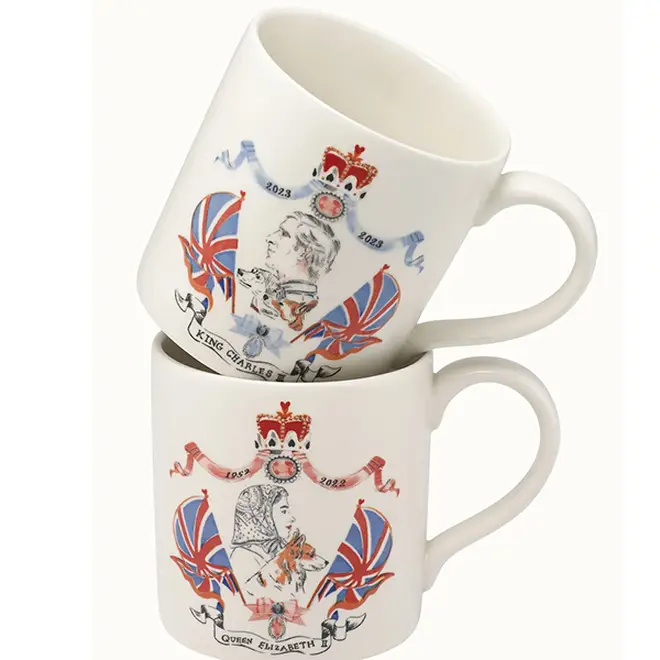 Coronation King & Queen Royal Stafford Boxed Mug Set, £21, Cath Kidston
Take a moment to remember Queen Elizabeth too with this quaint duo mug set. Matching plates and tea towels are also available.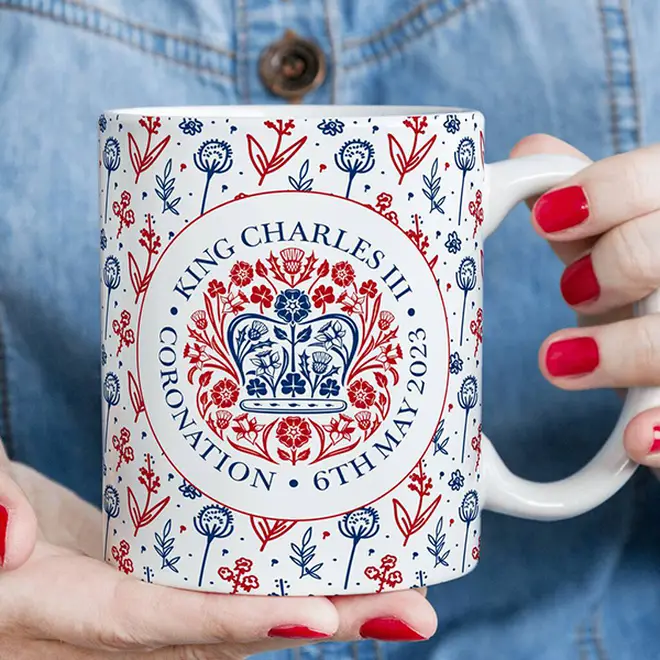 A beautifully designed classic mug that will give you a full cup of coffee or tea.
The classic red, white and blue colour theme outlines the official emblem of King Charles. And the best part? It's dishwasher and microwave safe too.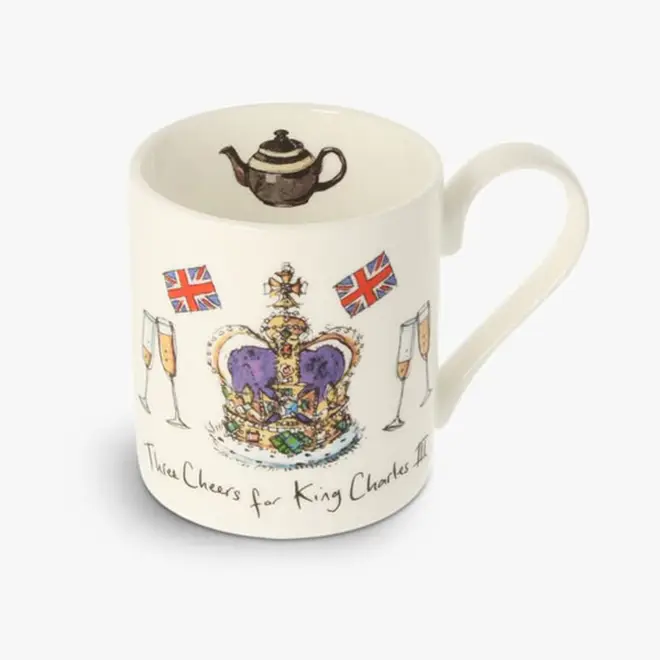 'Three Cheers for King Charles' mug, £15, Fenwick
Who knew a mug could be so pretty? Manufactured in the UK by Mclaggan, The Mug People and illustrated by UK artist Madeleine Floyd, the mug couldn't be a better choice to celebrate this piece of British history.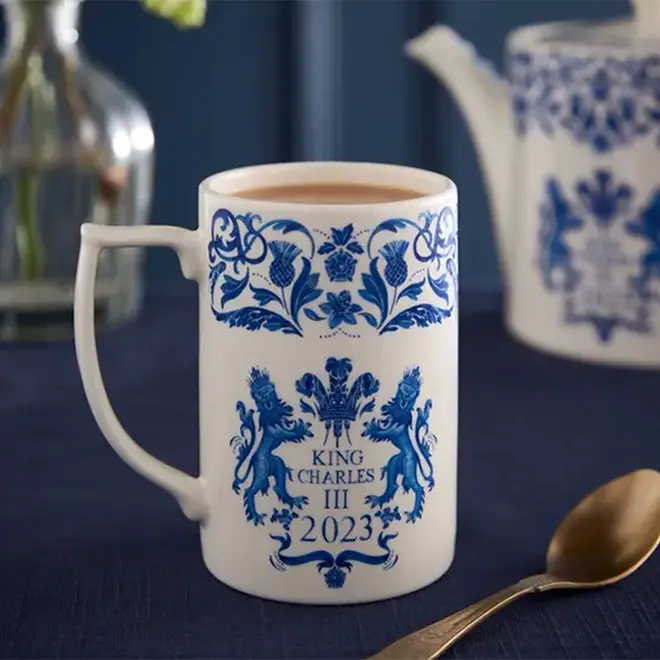 Spode King's Coronation Mug, £15, Dunelm
Take a more classic afternoon tea approach with this simple yet elegant design from Dunelm. You can even complete the set with a teapot, milk jug and sugar pot, perfect for Sunday's Coronation lunch event.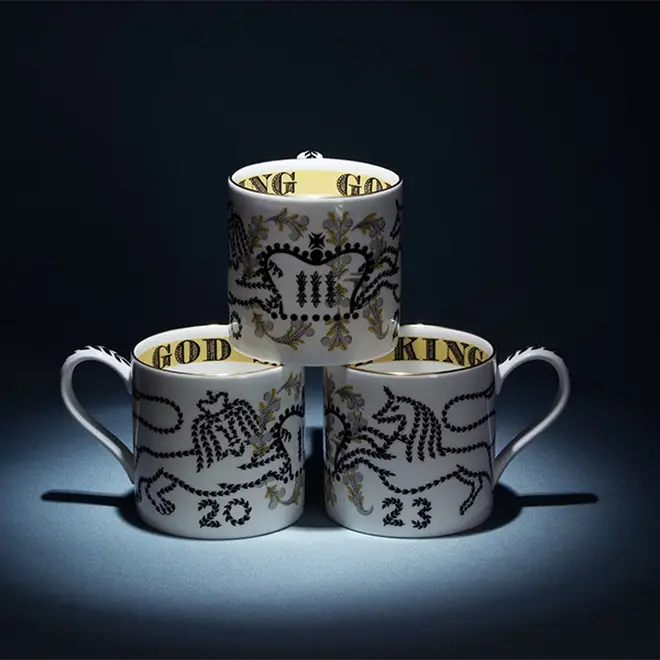 King Charles Coronation Mug, £95, Wedgwood
At the higher end of the pay scale are these fine bone china mugs from Wedgwood. Inspired by Richard Guyatt's original 1953 design for the coronation of Queen Elizabeth II, this is certainly a keepsake for many decades to come.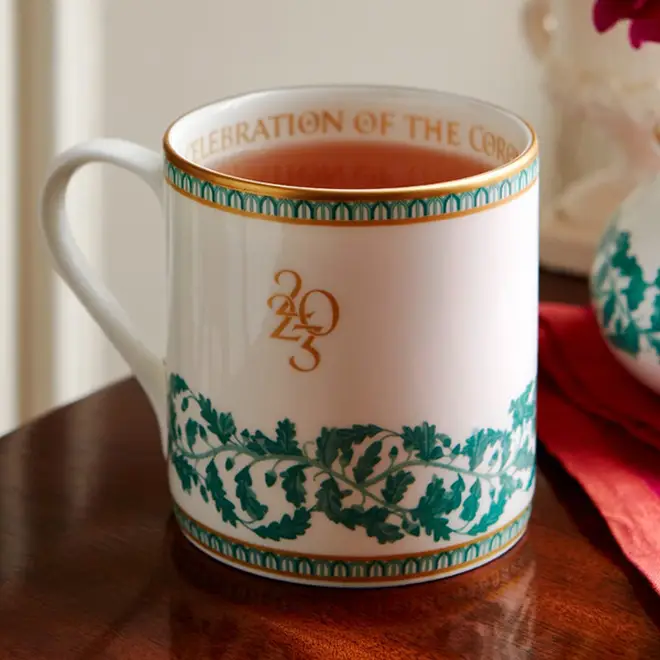 Sticking to their design values, Fortnum and Mason have brought royal fans this understated mug for the coronation.
The meaning behind the design? Each piece in the collection combines tea leaves from the camellia sinensis plant with elements from the Royal Oak tree, a symbol of the British monarchy dating back to the 17th century.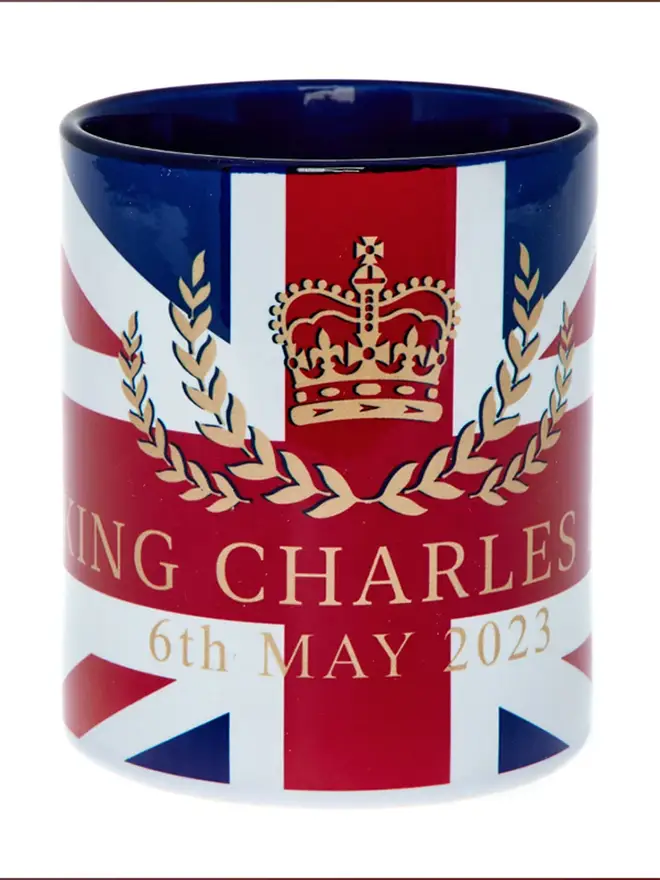 King Charles III Coronation Commemorative Mug, £7.99, Card Factory
Nothing is more royal than the great British Union Jack flag. Paired with gold writing to mark the King's Coronation and you've got yourself a lovely, affordable, keepsake.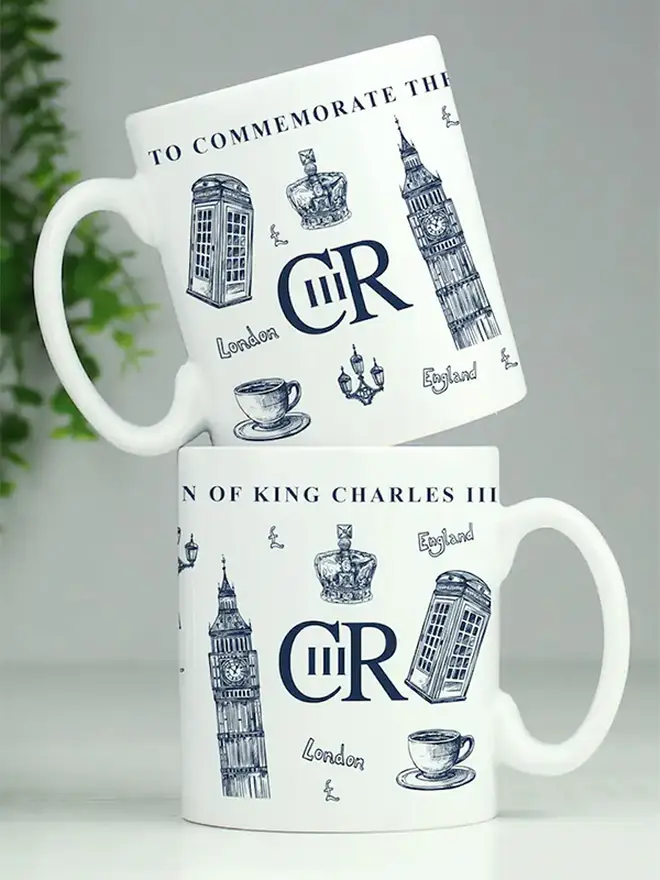 Personalised King Charles London Coronation Mug, £10, Next
Take your coronation memorabilia to the next level with this beautifully classic mug which comes with the option to personalise too.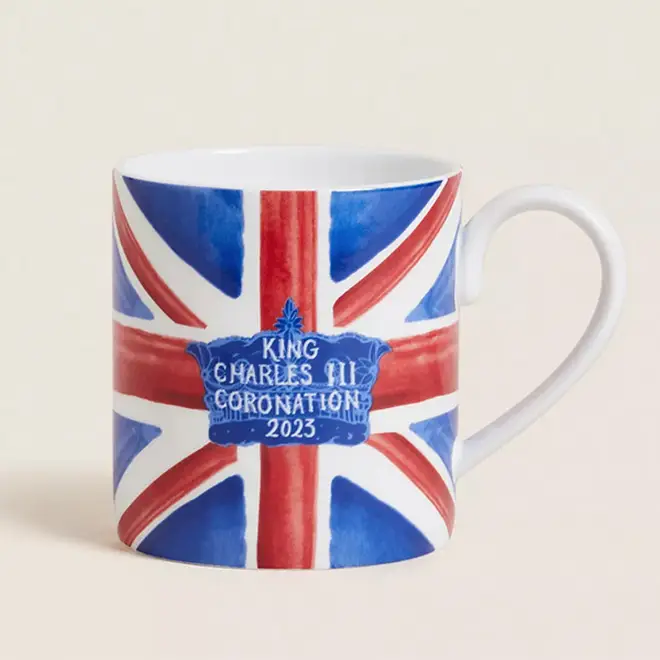 This budget cup has everything you need from a coronation mug and will make a great statement piece if you're planning on putting it on display.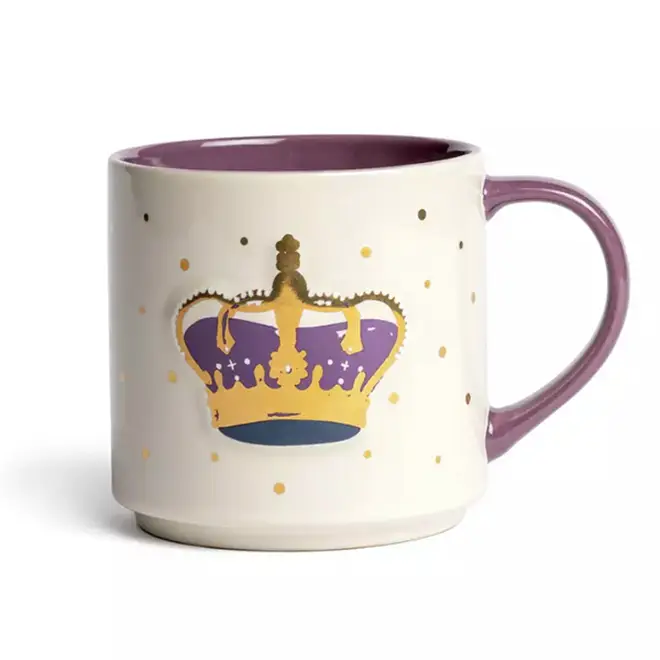 Home King's Coronation Commemorative Mug, £4.50, Argos
If you want to take a step away from your classic union jacks and corgis then this cute little mug is perfect. One side features a crown while the other says 'King's Coronation - 2023 -'.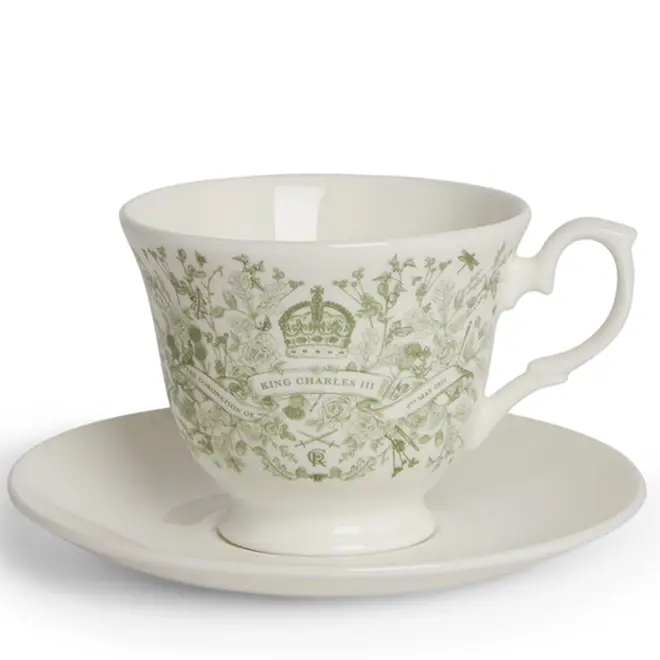 King Charles III Coronation Teacup and Saucer, £40, Harrods
If you want the wow factor for your coronation mug then look no further then this beautiful teacup and saucer set. It would also make the perfect gift for any royalist in your life.
The Coronation Mug by Milly Green, £15, Tower Bridge Shop
We love the cute designs covering this coronation mug from the crown, to carriage and even guards on horses. A mug full of typically royal icons.