Who is Ed Sheeran's wife? Sweet story behind his and Cherry Seaborn's relationship
14 April 2023, 11:42 | Updated: 14 April 2023, 13:04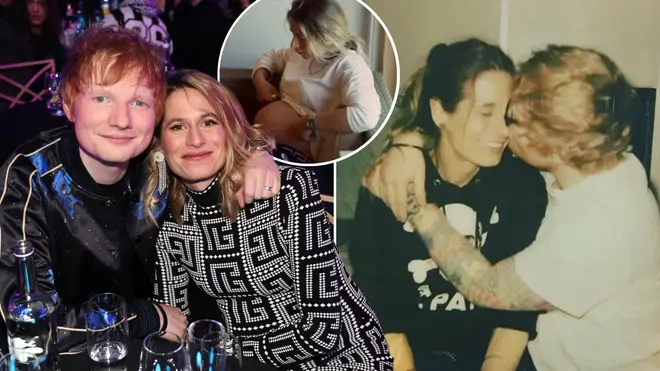 Ed Sheeran and his wife Cherry Seaborn have come a long way since they first met at school in Suffolk but who is she? What's her job? Here's all the facts.
Ed Sheeran may be an international superstar, but when it comes to his private life the Eyes Closed hitmaker shields his family from the spotlight.
The 32-year-old's wife Cherry Seaborn and their two daughters are rarely pictured with the star, or featured on his social media accounts.
But the award-winning pop sensation has recently opened up about his life off-stage in an intimate new documentary Ed Sheeran: The Sum Of It All.
As the Suffolk-born singer gets candid about his feelings, we take a look at his sweet relationship with childhood friend Cherry.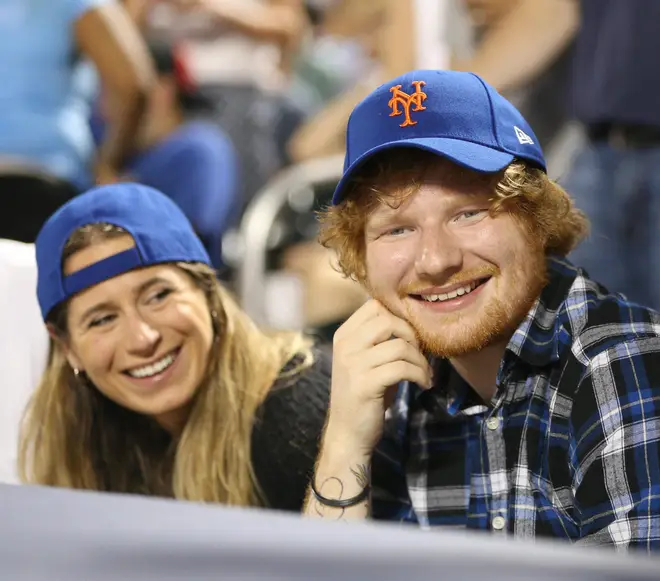 Who is Cherry Seaborn?
Like her pop star husband, Cherry was born in Suffolk and spent much of her childhood in the countryside town of Framlingham.
The 30-year-old, who was born on 6th May 1992, first met Ed at Thomas Mills High School where the duo were thought to be classmates.
After graduating, she went on to study molecular biology in the USA at Duke University, located in North Carolina.
The couple were reportedly reconnected by a mutual friend working on Ed's tour at the time and began dating in 2015.
"When we came to New York, where she was living at the time, we hung out and reconnected," he said in 2017. "She's great."
In fact, he was so head over for heels for the Suffolk sweetheart that she became his muse and the 2017 hit song Perfect was born.
Ed revealed that he "didn't see her first reaction to the song because she lived in New York at the time, so I just emailed it to her, but she did really like it."
During the whirlwind romance, Cherry made the move back to the UK and their relationship blossomed from there.
What does Cherry Seaborn do?
Cherry worked as a senior consultant in risk advisory at Deloitte and Touche in New York before moving back to the UK, claimed the Daily Mail.
She also played hockey at a high level, with many reports suggesting she was a part-time professional in the sport.
At university, she was successful as a forward and led her team to second place in the Investec English Woman's Hockey League across two seasons.
In fact the sporty mum still plays hockey today, with Ed occasionally taking time out from touring to cheer her on from the sidelines.
Since having children it seems Cherry has left her old career behind and now grows fruit and vegetables alongside being a mother-of-two.
According to The Sun, her LinkedIn page said she was "working to create a self-sufficient ­living environment, aiming to produce sustainable energy, as well as all fruit and vegetables".
Are Cherry Seaborn and Ed Sheeran married?
Ed's love life has remained somewhat a mystery as his childhood sweetheart steers clear of the limelight.
However just before Christmas in 2017, the Shivers singer announced to his fans that he had proposed to his girlfriend Cherry.
Next to a loved-up snap of the affectionate couple on Instagram, he wrote: "Got myself a fiancée just before new year.
"We are very happy and in love, and our cats are chuffed as well."
No details were published about their upcoming nuptials but it was later revealed the two had got married in a private ceremony.
Ed previously told reporters he would "never really do anything too public" but the news broke after he was spotted wearing a wedding ring.
He eventually confirmed the marriage during a promotional tour for his 2019 album No.6 Collaborations Project when he referred to Cherry as his wife.
Speaking of his track Remember The Name, he also told Charlamagne tha God: "Before me and Cherry got married and I knew that we'd be married by the point that the song came out."
Do Cherry Seaborn and Ed Sheeran have any children?
Ed and Cherry share two children together, daughters Lyra, 2, and Jupiter, 11 months.
The Collide musician and his wife welcomed their first baby girl in August 2020 and named her Lyra Antarctica Seaborn Sheeran.
The new dad, who shared the news with fans on social media via a picture of baby socks on a blanket, revealed the inspiration behind her moniker.
He explained her first name was taken from lead character Lyra in Philip Pullman's famous novel trilogy His Dark Materials, which he described as "the greatest love story every told".
Ed added that her middle name Antarctica came from a trip the couple took to the continent just before Cherry got pregnant.
"When tour finished, I've basically toured every single continent but I've never been to Antarctica so that was always on our list," he said.
"So we went down there in 2019 and it was just incredible. The most amazing place on earth."
In May 2022, the Bad Habits singer introduced his second daughter Jupiter Seaborn Sheeran to the world.
He again shared the sweet news with fans on Instagram with some tiny socks on a blanket, writing: "Want to let you all know we've had another beautiful baby girl. We are both so in love with her, and over the moon to be a family of 4 x."
Has Cherry Seaborn recovered from her tumour?
In March 2023, Ed revealed that his wife Cherry had been diagnosed with a tumour during her pregnancy.
The chart-topper opened up about the mother of his children's health scare in a raw Instagram post which explained there was no intervention available for the 30-year-old until their baby was born.
"My pregnant wife got told she had a tumour, with no route to treatment until after the birth," he revealed.
"I was spiralling through fear, depression and anxiety. I felt like I was drowning, head below the surface, looking up but not being able to break through for air."
Ed didn't go into further detail about Cherry's condition but she did welcome their second child safely into the world in May last year.
Read more: