Stacey Solomon 'can't cope' with five kids and rules out more with Joe Swash
11 September 2023, 15:44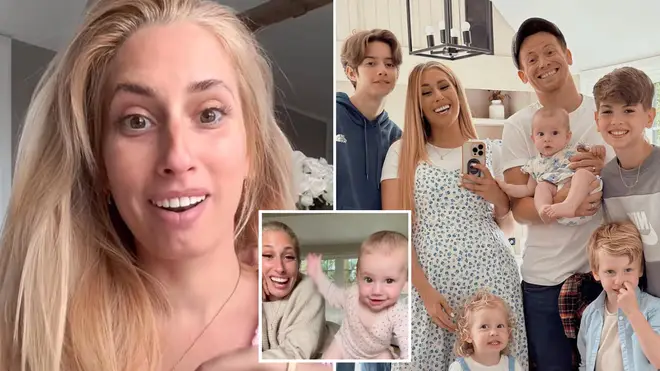 The busy working mum admitted she often struggles to find time for herself and her husband.
Stacey Solomon has admitted she "can't cope" with her five children and has ruled out having any more kids.
The busy working mum, 33, confessed she was struggling to find time for herself and husband Joe Swash as she juggles her telly job alongside parenting duties for Zachary, 15, Leighton, 10, Rex, four, 23-month-old Rose and six-month-old Belle.
The Sort Your Life Out star, who is also step-mum to Joe Swash's 16-year-old son Harry, explained that she and her husband have parked the romance in their relationship while they focus on the kids.
And while the couple have always planned on having a big brood, they have now decided that Pickle Cottage is officially full.
Stacey told the Mirror: "I think me and Joe are in our non-romantic era. It is important just to get time for us, but we're at that stage in our life where that's not really possible.
"We recently went to a friend's wedding and had a night together, which was really lovely, but outside of that it's once or twice a year that happens."
Fans predicted Stacey would feel broody again once Belle had grown up a little, but the TV presenter has since put a stop to any rumours she was hoping to have another baby.
She said: "We don't want any more – we cannot cope with it."
"Yeah, we wanted all these kids and we're so grateful to have them. So we will get romantic, but in 20 years' time."
In fact, the DIY queen admitted she was actively taking every precaution not to get pregnant again.
Speaking of a recent romantic trip away with Joe, she wrote on Instagram: "I got to say, me and Joe had the best time together.
"I think sometimes, when you're in the thick of it and we've got all the kids and I'm working and then he's working and then we're tag teaming it, it all gets a bit tense.
"So yeah, that little 36 hours together has just made me love him so much. Not that I didn't love him before!"
"We are on a mini-break high and really loving each other. We were kissing yesterday and the boys were like, 'Urgh! You disgust me!'
"Oh, for those of you messaging me saying is this baby number six - no, no no! Don't worry, we're taking every precaution possible to make sure that doesn't happen!"