Phillip Schofield wife and daughters: Who is Stephanie Lowe and Ruby and Molly?
5 September 2018, 15:30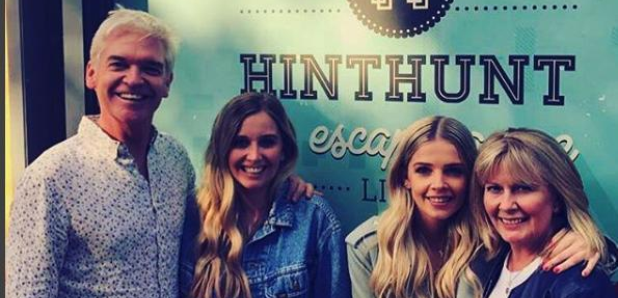 Who is This Morning's Philip Schofield married to? And who are his daughters? We take a look at Phillip's life away from the cameras.
Phillip Schofield is not just one of the nations favourite presenters on This Morning, the ITV star is also a husband and father of two daughters.
While the 56-year-old presenter keeps his private life under the radar, he lives a happy family life in his stunning Oxfordshire home with wife Stephanie Lowe and their children Ruby and Molly Schofield.
With an estimated net-worth of £8 million, Phil still appears to be grounded, and that could be to do with his close-knit family.
So who is Phillip Schofield's wife? And who are his daughters? We take a look at Phillip's family:
Phillip Schofield wife Stephanie Laing
Stephanie Lowe, 55, has been married to Philip for 24 years, and their lengthy marriage proves they are still massively in love.
Phillip and Stephanie married in 1993 and live in Henley-on-Thames, in Oxfordshire.
They met as she worked in television as production assistant for the BBC, however she is no longer in the industry.
Despite not working in television for years, Stephanie didn't turn down the opportunity to accompany Phillip to South Africa where they filmed a documentary together.
The three-part documentary called
Schofield's South African Adventure, aired in late February and saw the happily married couple explore the local culture together.
She also made an appearance on

How To Spend It Well At Christmas, in addition to numerous snaps on Phil's Instagram.
Phillip Schofield's daughter Molly
Phillip's eldest daughter is Molly, who is 24 years-old. She doesn't work in television but she did follow into the entertainment industry by working as an assistant talent manager at James Grant group - who also manage her dad Phil and Holly in addition to a string of ITV presenters.
With long blonde locks and a pretty face, she can often be found posting pictures on her Instagram account where she has over 25K followers.
Speaking of his pride and joy, Philip said: "I'm very proud of the fact that my daughters keep me very current. Both of them have great taste in music and play stuff that I maybe haven't heard before.
''I was driving Ruby back to uni [university] and she said, 'You've got to listen to this'. Ruby and her mates discovered it just before it broke - Megan Trainor's 'All About That Bass'.
''As we listened to it ... I can remember I said, oh my God, this is incredible. And I thank Ruby for introducing me to that, way before anybody else!''
Phillip Schofield's daughter Ruby
21-year-old Ruby takes after he mother's looks, with wavy blonde hair. Phillip's youngest daughter is a recent graduate from Leeds Becket university where she achieved a 2:1 in psychology and received a 1st class for her dissertation.
Ruby studied Business, Biology and History at the £11,000 a term private boarding school, where she also played Lacrosse.
Outside of her academic capabilities Ruby also spent a month interning at ITV and took some charity work.
She volunteered at The Chiltern Centre, a charity for disabled children, and also raised £15,000 for Teenage Cancer Trust by trekking to Machu Pichuu.