Friends reunion: 14 predictions about where the beloved characters are now
20 May 2021, 10:26 | Updated: 20 May 2021, 12:21
The trailer for the reunion episode has landed - and excitement has reached fever pitch!
Seventeen years on from The Last One, the cast of Friends are reuniting for a special, one-off episode.
Airing on HBO Max, the reunion will see the cast chat about their time on the sitcom and anecdotes from filming.
Earlier this month, it was confirmed that James Corden would be hosting a segment of the show and there would be celebrity appearances from the likes of David Beckham, Lady Gaga and more.
Now, a full trailer for the reunion episode has been revealed.
While we're all geared up with tissues at the ready for what promises to be an emotional rollercoaster, we can't help but wonder where the beloved characters would be now and what they've been getting up to since the show's finale.
So, here's where we envisage Rachel Green, Phoebe Buffay, Ross Geller, Chandler Bing, Joey Tribbiani and Monica Geller are now.
READ MORE: How to watch the Friends reunion episode in the UK
READ MORE: Friends cast now: How old are the actors?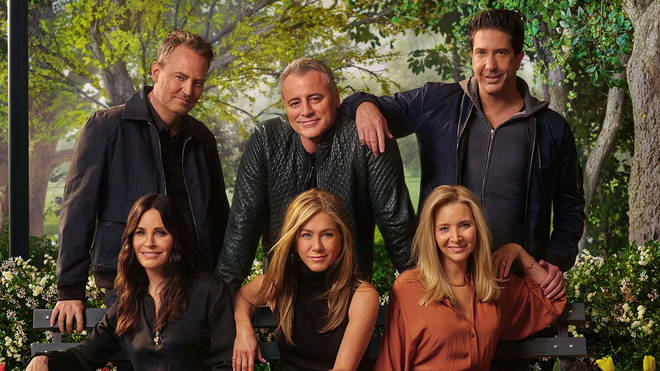 1. Joey has lots of kids
Seeing as Joey was one of eight children, it seems highly likely that he now has a brood of his own.
2. Emma is about to head to college to study palaeontology
Finishing her final year of high school, Emma is about to head to college and follow in her father's footsteps - wearing stylish clothes designed by her mother, of course.
3. Phoebe and Joey are now together
This one's been hinted at throughout the show, with the pair's chemistry and adoration for one another clear from the get go.
As Paul Rudd's name doesn't appear on the reunion cast sheet (much to the outrage of fans), we're putting our money on the fact that Mike and Phoebe didn't last the long-haul.
4. Replicas of the Central Perk sofa are being sold in Pottery Barn
Much to Phoebe's disgust, Pottery Barn is now selling *that* mustard-coloured sofa - and calling it "an authentic example of early-90s, flea market chic".
5. Central Perk is now run by hipsters
Owing to the gentrification of the neighbourhood, Central Perk is no longer run by Gunther.
Instead, it serves only drip coffee and cronuts, and is filled with plywood tables, hanging succulents and laptop users.
6. Ben is working at the coffee shop
Ross' son is now a coffee artisan who dons a beanie hat, turn-up jeans and a canvas tote bag.
7. Chandler made millions by coming up with the concept for Riverdale
Remember The One That Could Have Been episode? Well many fans have theorised that actually Chandler returned to his dream of writing comics after his career in advertising, and pitched it as a TV series to all his media connections.
They snapped it up and turned it into hit teen mystery drama, Riverdale.
Of course Cole Sprouse (who played Ben in Friends) now stars in the show, which adds another level to this theory.
8. Ross is a netball coach in his spare time
Now the kids are grown up and have flown the nest, Ross spends his weekends teaching netball.
It also gives him an excuse to shout "pivot!!"
9. Will gave a drunken speech at Ross and Rachel's wedding
Will Colbert (Brad Pitt) couldn't resist one last dig at Rachel, stealing the mic from Chandler and giving an X-rated speech at the event.
10. The reception was at the museum
As a nod to one of their first dates, Rachel and Ross held their wedding reception at the American Museum of Natural History - and served juice boxes to their guests.
11. Monica moved back to New York with Chandler and set up her own restaurant chain
Realising that Westchester is far too quiet for them, Monica and Chandler move back to the Big Apple.
Chandler is, of course, rolling in his Archie Comics money, and Monica has set up a hugely successful restaurant chain in Manhattan.
12. Fun Bobby quit drinking and now has a weekly SNL segment
Move over, Pete Davidson! Fun Bobby is back (and has quit the booze).
13. "Transponster" is the name of Rachel's new clothing line
Inspired by Chandler's baggy, oversized pant suits from the 90s, Rachel designed her own clothing range for business men and women.
She named the line "transponster", after "Chandler's job".
14. Frank Jr. and Alice now run a successful parenting class
The triplets have long left home, but Frank Jr. and Alice are cashing it in with their parenting classes.
Teaching their...unique approach to rich families on the Upper East Side, the couple are building a healthy retirement fund for themselves.
Friends: The Reunion premiers on HBO Max on 27 May