SHOCK as 'bridezilla' demands guests dress in certain clothes according to their WEIGHT
7 December 2018, 12:16 | Updated: 10 January 2019, 12:28
She has requested that guests fork out for specific garments, and heavier people were asked to dress differently to other guests
A post claiming to be from a prospective bride has gone viral on Facebook due to the OTT demands she's making of her wedding guests in the run-up to her big day.
In the post, which was shared in a wedding-shaming Facebook group, she demands that her guests fork out at least 1000 Australian dollars (£565) for an entirely new outfit - including a Burberry scarf and Louboutin shoes, and shockingly asks heavier people to dress differently.
The post, which was supposedly shared 18 months prior to her wedding in Hawaii, reads: "I am giving you a long notice of a year and a half so that you will have time to find and pick out something nice.
"The dress code is very specific because it will be used to create an incredible visual effect.
"If done right, it will make our synchronised dancing along the beach really pop."
The bride then outlines her plans for the outfits. She asks women who weight between 100lb and 160lb to wear a green velvet sweater, orange suede trousers, Louboutin heels and a Burberry scarf. She asks women over 160lbs to wear an all black outfit with black heels.
She demands the lighter men wear a purple fuzzy jacket, soda hat, white trainers and glow stick. And she says the larger men should wear camouflage.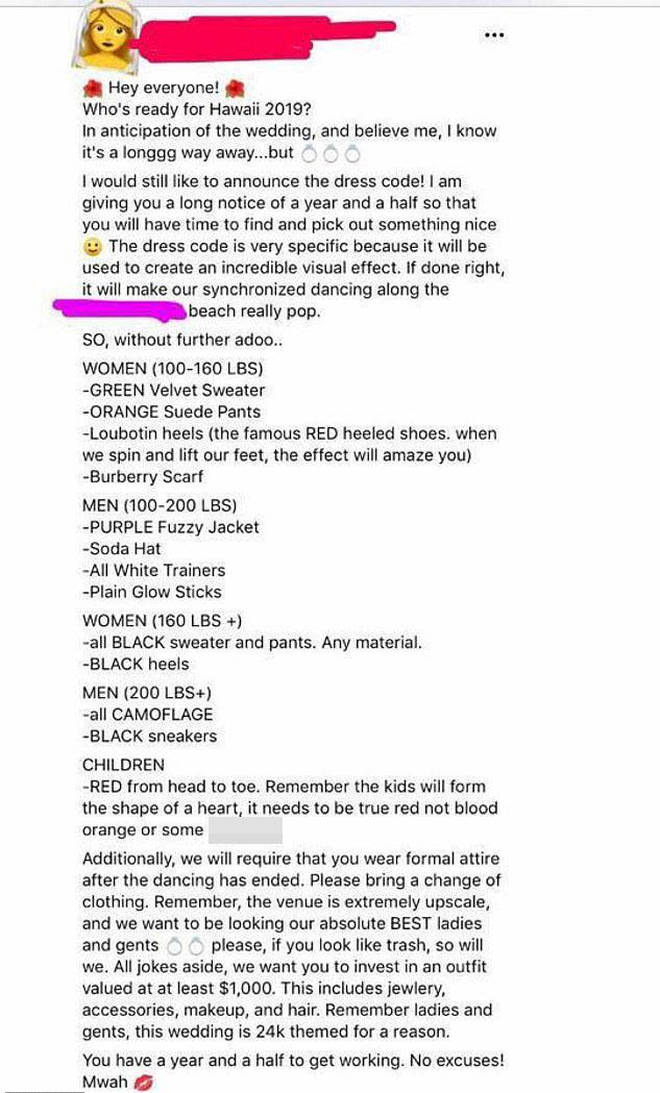 The bride concludes the post with: "Additionally, we will require that you wear formal attire after the dancing has ended. Please bring a change of clothing. Remember, the venue is extremely upscale, and we want to be looking our absolute BEST ladies and gents. Please, if you look like trash, so will we. All jokes aside, we want you to invest in an outfit valued at at least $1,000.
"This includes jewellery, accessories, makeup, and hair. Remember ladies and gents, this wedding is 24k themed for a reason.
"You can have a year and a half to get working. No excuses! Mwah".
NOW READ:
Boohoo SLAMMED by mental health charity for 'offensive' Christmas pyjamas
Five tips to stay on budget when planning a wedding
Is this the REAL reason why Jack Fincham and Dani Dyer split?