How to make the perfect grazing table: Buffet board and platter ideas for festive parties
9 December 2021, 13:51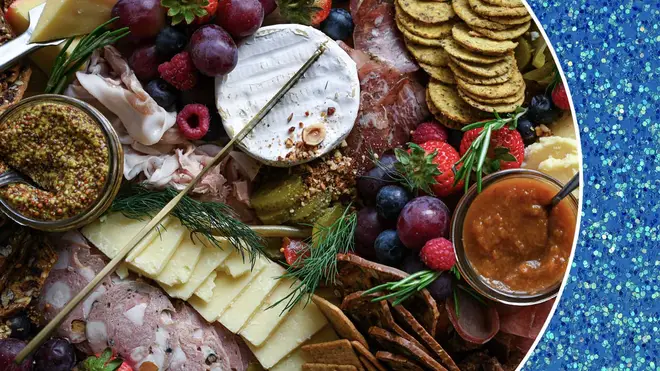 If you have guests coming over during the festive period - or just fancy creating a picky tea that is a real feast for the senses - why not have a go at making a grazing table
Believe it or not, there is something more exciting to see waiting for you at a party than a buffet - a Hollywood-style 'grazing table'.
Beloved by celebs, it's a similar concept only there are no packets of food laid out side by side, meat, bread, cheese, dips, fruit and vegetables are graciously and generously laid out to create a very colourful and multi-textured feast for the eyes (and tummy).
But you don't need a 10 foot table and £400 food shop to try out this trend at home, just grab a large chopping board or serving platter.
The best thing about grazing platters is that they can be as big or small as you need, so whether you are catering for a large number of people or just want to do something a bit different for a picky tea one night you can make it work for you.
READ NOW: Check out Toby Carvery's breakfast buffet... with Yorkshire puddings filled with baked beans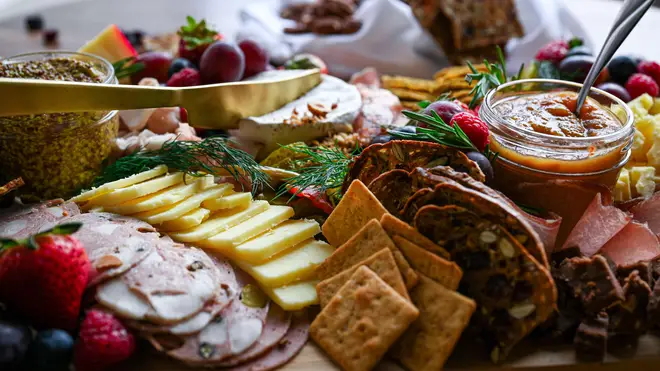 The experts at Virtually Together have shared some of their top tips for making the perfect platter with Heart, which we hope will inspire you to give it a go at home (if you do, please tweet us a picture @thisisheart!)
The most important things to remember when making a grazing board for your party is that you want there to be pops of colour, a variety of shapes and no space left inside your design.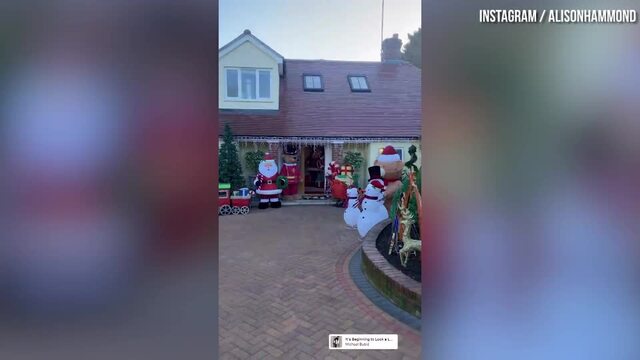 Alison Hammond flaunts her Christmas decor on Instagram
These details will make your board look enticing, delicious and of course, totally Instagrammable. 
READ NOW: Imaginative recipes to use up Christmas Day leftovers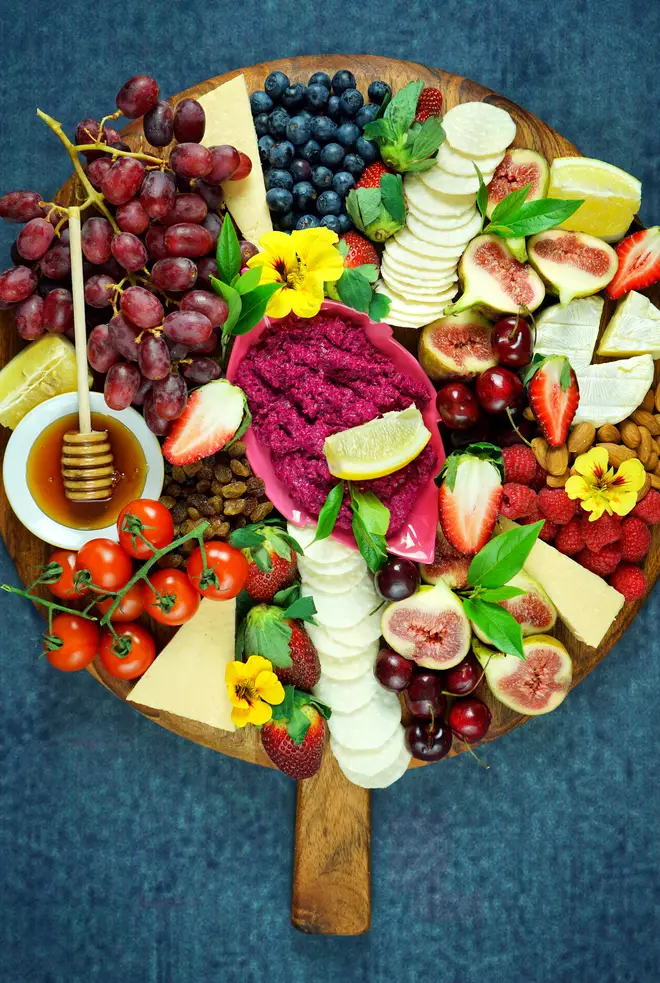 1. Pick your ingredients
Not sure what to put on there? How about a few of these...
Salami
Parma Ham
Bresaola
Manchego
Cheddar
Brie 
Almonds 
Cornichons 
Pickled Onions
Grapes
Cherry Tomatoes
Kiwi
Rosemary Sprigs
Celery
Chutney
A variety of crackers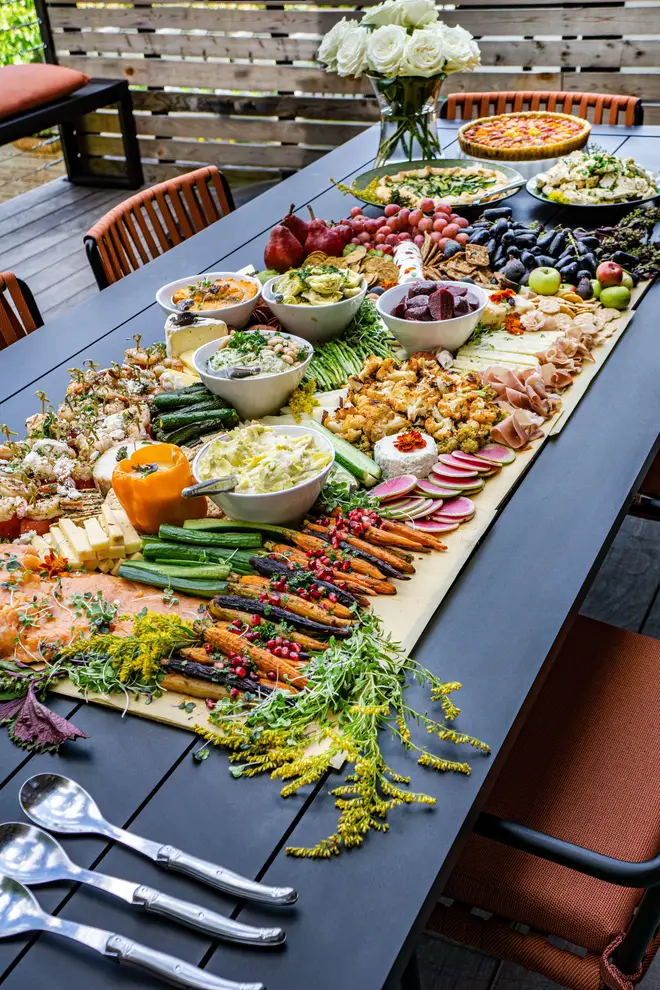 2: Grab a wooden board
The size of your board will depend on the size of your party, but don't worry about leftovers as all of these ingredients can be placed in a covered bowl in the fridge and last for another few days.
3: Prep prep prep
Use cocktail sticks to place your fanned meats, crumbly cheese and chopped fruits onto - they are easier for your guests to pick up - and easier to place on to the grazing board.
READ NOW: Can you identify the 24 festive foods and drinks hidden in this brainteaser?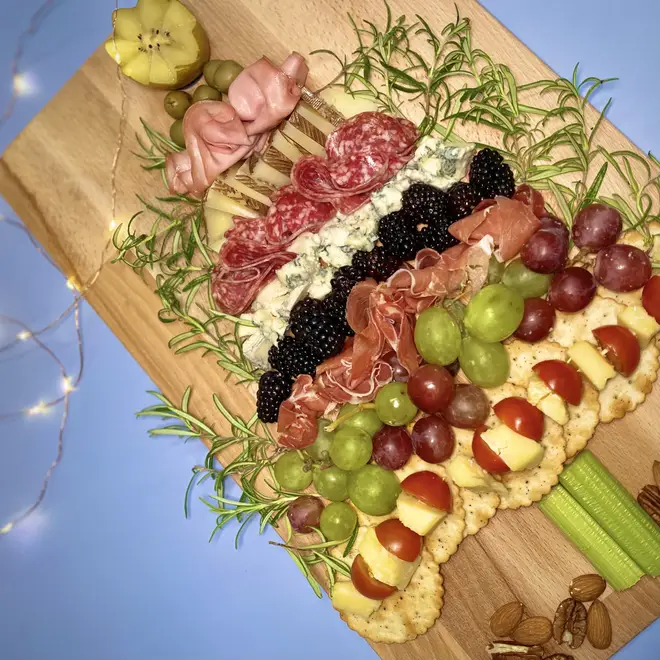 4: Get creative
Make sure you have a variety of textures and colours across your layers of food.
Make sure every layer is packed full without any gaps so that you can't see the board underneath - imagine you're painting a picture with charcuterie, crudités and cheese.
Don't forget to also provide breads and crackers, either as part of the layout or beautifully presented close by.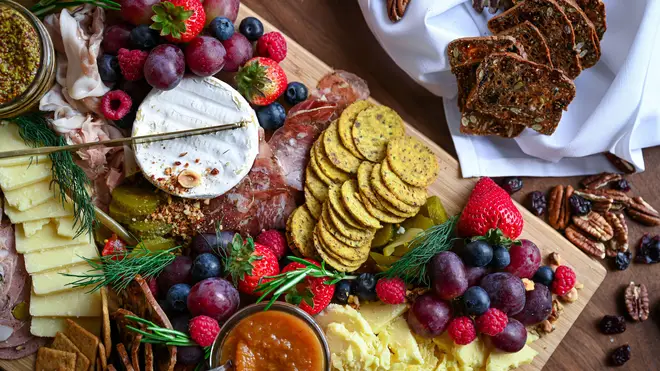 5: Finishing touches
Decorate your board with food carriers to entice people to tuck in. Add extra touches such as rosemary to leave a beautiful aroma and add an extra layer of depth.
6: Show it off
Take a photo and share your creation on Instagram!