Billie Faiers slammed for posting 'inappropriate' bath time picture of daughter, 4
23 October 2018, 11:12 | Updated: 16 January 2019, 14:38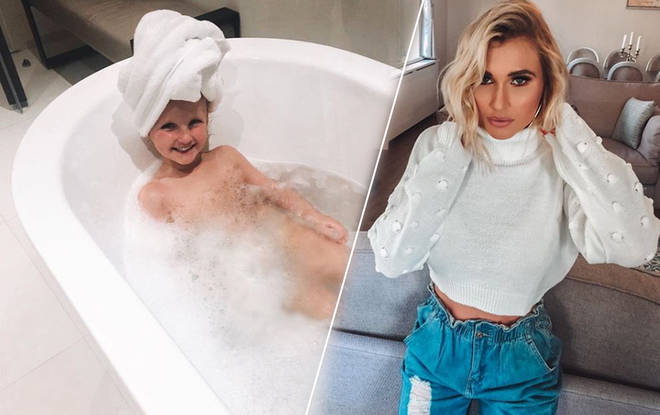 The mum-of-two's fans claim the photo of her daughter enjoying a bath is inappropriate for social media.
Billie Faiers has sparked debate after posting a photo of her 4-year-old daughter taking a bath.
The 28-year-old shared a photo of Nelly sat in a bubblebath wth a towel wrapped around her head.
But the photo didn't go down well with fans - and Billie - who also has 19-month-old son Arthur with fiance Greg Shepherd - turned off comments on the post to quell the backlash.
Before the comments were disabled, one outraged fan wrote: "Think this photo has over stepped the mark here , totally not for your thousand of follows who you have no idea who or what they are."
Read more: Billie Faiers shares moment Nelly grounded a plane with epic tantrum
Another added: "I would never dream of putting a picture of my daughter on here in the bath too many dangers lurking behind the screen these days why would expose your child to this ?"
Other users claimed The Mummy Diaries star Billie should have protected her child's privacy, adding: "Maybe not the best idea you've ever had @billiefaiersofficial - she's beautiful but some pics should remain special for her& you."
Despite the negative comments, some of her fans defended her actions claiming Billie has done nothing wrong.
One wrote: "Listen to all the keyboard warriors. I love this photo. Makes you more normal and takes away the fact you are a celebrity."I see photos like this daily on Facebook or snapchat if friends children."
Another appeared perplexed, adding: "She's covered her so why does it matter it's her baby girl she can post what she wants?"
This isn't the first time Billie has come under fire, as she was slammed by fans after she appeared to "digitally enhance" photos of her two children.