Mum's sadness after daughter, 9, stops breastfeeding
9 November 2018, 09:18 | Updated: 9 November 2018, 10:58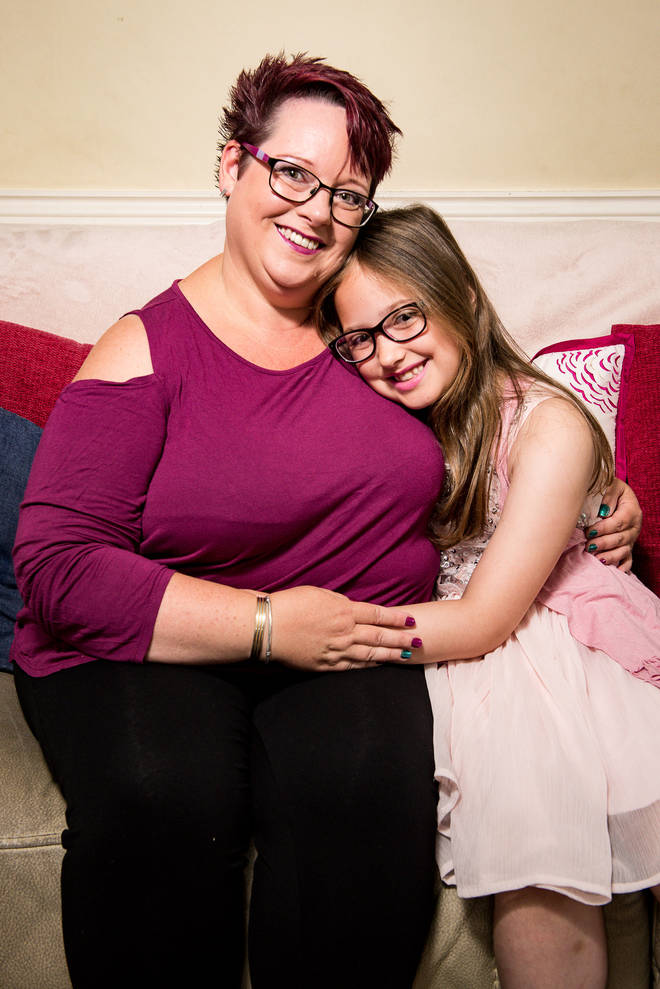 Sharon Spink was hoping to breastfeed her daughter until she turned 10, but the schoolgirl weaned herself a few months early.
A mum who breastfed her child until she was NINE has admitted she misses the schoolgirl latching on.
Sharon Spink, 50, is a believer in natural term weaning, so let daughter Charlotte decide when she wanted to stop having her breastmilk.
However, the mum-of-four has been accused of "child abuse" for not weaning her as a toddler - but she claims it was Charlotte's choice to keep going, not hers.
Sharon, from Sherburn-in-Elmet, North Yorkshire, said: "I have been called every name under the sun.
"I've been told it's child abuse, I've been called a paedophile and told it's wrong and that I'm a freak.
"The first time it upset me because I wasn't used to it but now it's water off a duck's back.
Read more: Helen Flanagan was called 'disgusting' by a stranger
"Charlotte knows it's not true and people I care about know it's not true."I explain to her that they are people who do not know her or us or our situation."
Sharon was happy to breastfeed Charlotte in public until she was around five - and even appeared on This Morning to explain why it was important to her, but since then has only done it at home.
That has since come to a natural end after Charlotte "self-weaned" two months ago.
She explained: "She was feeding about once a month if she wasn't feeling great or was feeling a bit run down and was going longer and longer without feeding.
"Now she hasn't done it for about two months.
"She told me she would stop when she was 10 which will be in April next year but it seems to have come to a natural end earlier, although I would have allowed her to continue for as long as she wants to."
Read more: Mum forced to breastfeed STANDING UP after selfish commuters refuse to give up seats
"We haven't had a discussion about her not doing it anymore. I just hope when she's older she'll remember that feeling of comfort and security it gave her rather than it being about feeding.
"We have such a close bond and I'm convinced it's because of breastfeeding her for so long.
"It cemented our bond and I don't think that will change now it's stopped. I think we're closer because of doing it. I haven't had any pangs since she stopped and she still comes for a cuddle.
"With Charlotte it about was the security. Children find a lot of comfort in the breast, and the older they get the more it becomes about comfort rather than nutrition."
Sharon, who is also mum to Kim, 30, Sarah, 28, and Isabel, 12, added that her husband Paul, 45, has been supportive, adding: "He just lets us get on with it although he doesn't really have a choice.
Breastfeeding a nine-year-old is bound to make people wince for more than one reason.
Sharon said: "She's got all her adult teeth. I'd read when they get all their adult teeth they lose the ability to latch on but it seems to be fine.
"For quite a while she fed on the left side and every so often she'd try the other side and say it tastes different.
"I can't express milk anymore, but I still was able to produce it when she fed."
Sharon is now a qualified breastfeeding counsellor, and hopes sharing her story will inspire other mums to feed for longer, and also reassure other mums who might be secretly feeding older children and wishing they had support.