Toddler sparks wedding debate after wiping her face on bride's dress
25 August 2023, 17:25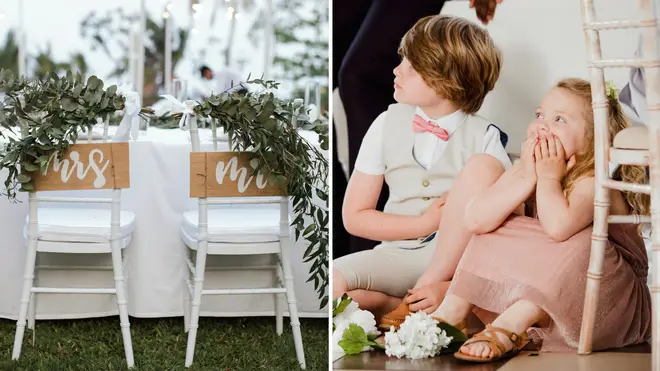 "This right here is reason #43 of why you should have a child-free wedding," joked one TikTok user.
A toddler has sparked a debate online over whether kids should be invited to weddings after she was caught wiping her face on the bride's dress.
The now-viral video, which has racked up 1.6million views, left social media users divided when a mum filmed her 2-year-old girl using the wife-to-be's white wedding gown as a napkin.
Kristen, who goes by @thefoxsaystwins on TikTok, uploaded the video of her daughter with the caption: "Do not recommend serving ketchup with the chicken nuggets and fries for the kiddie meal… or just don't invite kids."
Attracting over 23,000 likes, the hilarious clip, labelled: "When you can't find a napkin, so you use the bride's dress," sent followers one of two ways.
While many thought the whole scenario was totally innocent, others flew into a rage over the little one's "embarrassing" behaviour.
In fact, many went as far to say they would use this video as evidence, showing anyone who questioned their decision to have a child-free wedding exactly why no kids were invited.
"No kids at my wedding," one follower joked.
A second agreed, writing: "This. This right here is reason #43 of why you should have a child-free wedding."
"My anger issues could never. Love the bride, she's so nice. Mom gotta do better," said another.
"Kids do understand right from wrong this is definitely on the parents," added a fourth.
Kristen hit back at the last comment, explaining her baby girl had no idea she was doing something wrong, writing sarcastically: "Yea, two year olds know exactly what's ok and what is not."

The mum-of-two was backed by many of her followers who saw the funny side of the dress swipe.
"Guys the bride is chill. No need to ruin the energy in the comments," wrote one fan.
Another agreed, posting: "It's a funny story and video for the memories. Baby didn't understand. You did so well laughing it off!"
"I love kids so I can't relate to these comments. I work with kids & they're the sweetest & most loving & loyal human beings ever," gushed a third.
While a fourth joked: "She needs to recreate this at this girls future wedding."
After the initial post, Kristen revealed the video was in fact taken at the bride and groom's rehearsal dinner, not the actual wedding reception.
"Y'all are freaking out about our video with the bride and groom so we're gonna tell you the real side of the story," she wrote.
Posting as though her kids were speaking, her caption read: "When it was actually time for the wedding, mom had the audacity to tell us we had to stay with the babysitter in the hotel room and we weren't invited. Rude."
Read more: