Where can kids eat for free in the October half term?
19 October 2023, 11:01 | Updated: 19 October 2023, 11:09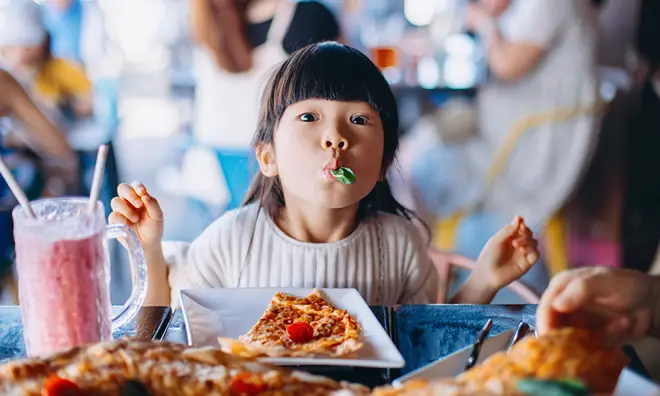 From free food to fantastic meal deals, here are all the restaurants and cafes you can eat at for a discounted price over the school holidays.
October half term is upon us and the pressure is on for parents and guardians to entertain their children for one whole week off of school and as we all know, that can get pretty expensive.
So during a cost of living crisis, and at one of the most expensive times of year (thank you Christmas), restaurants and cafes have done their very best to help out parents, offering a selection of free children's food or discounted meal deals.
This means families can still enjoy eating out together this half term without the eye-watering bill that comes up at the end. Just remember to check the terms and conditions of where you eat carefully so you don't get caught out.
In 2023, the school autumn break runs from Monday 23 October to Friday 27 October in most schools across the UK.
So where can kids eat for free this October half term? And which places are offering discounted meal deals to save you money? Here's everything you need to know.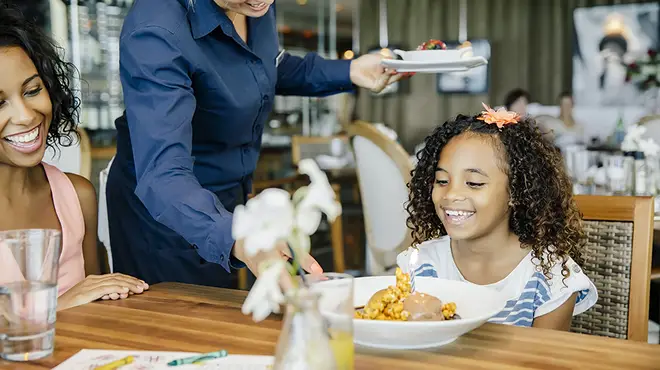 Asda
Dates: Everyday, anytime
Meal deal: Kids eat for £1
With no adult minimum spend, Asda cafes are offering a great meal deal for children over the half term.
Kids can have a hot or cold meal which will also include a free piece of fruit. Adults can even get a half-priced meal themselves after 3pm. This offer runs until the end of the year.
Read more: Stacey Solomon launches cosy Primark kidswear collection for autumn
Read more: Sue Radford starts Christmas shopping spree for 22 kids and reveals list of pricey gifts
Marks and Spencer
Dates: Monday-Friday (check half term dates on local website)
Meal deal: Spend £5 and get one free kids meal
Over the half term M&S are offering children a free main, snack and drink as well as a piece of fruit when £5 is spent in the cafe.
Morrisons
Dates: Everyday, anytime
Meal deal: One free children's meal with every £4.49 spend
Spend £4.49 on your own meal and all children under 16 will eat for free, making that weekly shop all the more easy to handle.
Sainsbury's
Dates: Everyday from 11:30am
Meal deal: Kids eat for £1 with the purchase of an adult meal
Tackle your weekly shop and feed the kids in Sainsbury's Cafes. Children can pick from a hot meal or a lunch bag. An adult meal must be purchased, for £5.20, to qualify for the offer.
Beefeater and Brewers Fayre
Dates: Everyday
Meal deal: Two free children's breakfasts with a paying adult
What an offer! If you're a family with more than one child then this a great meal deal for you. Two free breakfasts for children under 16 can be claimed with one paying adult at £9.99.
Available 6:30am until 10:30am midweek and 7am until 11am at the weekend.
Bella Italia
Dates: Mon-Thurs, 4-6pm
Meal deal: Children eat for £1 with a full paying adult
Tuck into a delicious bowl of pasta this half term with all the family using Bella Italia's amazing half term offer.
Bills
Dates: Monday 23rd October - Friday 3rd November, weekdays only
Meal deal: Two kids can eat free when one main adult meal is purchased
There's something on this menu for all the family to love and the offer includes breakfast, lunch and dinner.
Dunelm - Pausa Cafe
Dates: Everyday, after 4pm
Meal deal: Kids eat free with every £4 spend
Children get the option of one main, two snacks and a drink free with an adult spends £4.
Gordon Ramsay restaurants
Dates: All day, every day
Meal deal: Kids get a main for free with every paying adult
Eating out with the family doesn't have to be basic as Gordon Ramsay proves! Only selected restaurants offer this option so make sure you check before you head out. For under eights only.
Hungry Horse
Dates: Mondays
Meal deal: Children eat for a £1
Beat the Monday blues with a family meal out where children can tuck into a hot meal for just £1. There are plenty of meals on offer from fish fingers, pasta and sausages as well as a selection of vegetarian and vegan options.
Ikea
Dates: Daily from 11am
Meal deal: Kids eat from 95p
Children can get a hot meal of pasta and tomato sauce, plus a juice, for just 95p from Ikea. All other kids meals are just £1.50 too.
Puttshack
Dates: 21st to 29th October
Meal deal: Free child meal with every adult main meal purchased
If you're looking for some fun over the half term then Puttshack has plenty to offer. And once they've used all their energy up playing games, you can refuel with a free children's meal and side dish when an adult meal is purchased.
Preto
Dates: All day, everyday
Meal deal: One free meal per paying adult
Try something a little different this October half term and go for a Brazilian feast. Make sure you head to the website before you go to download your free child food voucher. Please check your local restaurants terms and conditions too.
Table Table
Dates: Everyday
Meal deal: Two free children's breakfasts with one paying adult
Fuel up for your day at Table Table with their delicious buffet breakfast options.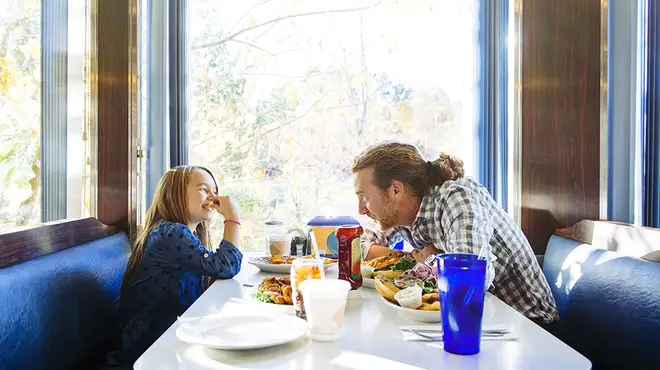 TGI Friday
Dates: All day, everyday
Meal deal: Kids eat free with the purchase of a full adult meal
There's only one catch with this TGI free meal offer and that is the adult has to be a 'Stripes Reward Member'. Simply download the app to claim the free food.
The Real Greek
Dates: Sunday 29 to Tuesday 31 October
Meal deal: Children eat free for every £10 spent by an adult
Get the family together for a feast at The Real Greek. Children under the age of 12 get to eat free as long as there's a paying adult who has spent £10.
Travelodge and Premiere Inn
Dates: Everyday
Deal: Two free children's breakfasts for every full paying adult
If you're heading away for the night or looking to fuel up for the day, take advantage of this great breakfast deal. Applies to children aged 15 or under and breakfast must be added to your booking.
Sizzling Pubs
Dates: Monday to Friday 3-7pm
Meal deal: Mains are £1 with every adult meal
Head for your evening meal where all the classics such as fish fingers, pasta, chicken wraps and pizza are on offer.
This offer can't be claimed in conjunction with any other offer and all food must be ordered at the same time.
Yo! Sushi
Dates: 16th-27th October 2023
Meal deal: Kids eat free with every £10 adult spend
Bored of chips and chicken nuggets? Head to your local Yo! Sushi and see what else you can get them to eat with this fun, kid-friendly restaurant.