Why is Holly Willoughby not on This Morning today?
17 November 2021, 09:41 | Updated: 17 November 2021, 10:09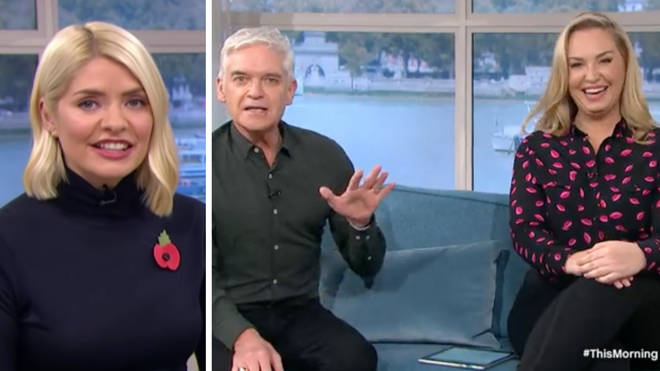 Holly Willoughby was replaced by Josie Gibson on Tuesday's This Morning in a last-minute rearrangement, and won't be on the show again today.
Holly Willoughby, 40, was unable to present This Morning yesterday after falling ill, and won't be back on the show today either as she recovers.
Phillip Schofield explained the reason Holly was a no-show on the hit ITV show yesterday, as Josie Gibson was revealed as Holly's last minute replacement.
Josie was on the way to Surrey for the competition segment of the show when she got the call to come back to London on Tuesday.
But why is Holly not on the show and is she ok?
Why is Holly Willoughby not on This Morning today?
Holly is not on This Morning as she is recovering from a tummy bug.
Phillip explained the reason Holly was absent yesterday morning, telling viewers: "Holly is not here today because she's got a tummy bug, nothing more than that."
While it was thought she might return to the show today, Holly confirmed on her Instagram story that she was unable to present the show for the second day running.
She shared a picture of Josie, writing: "Thank you @josiegibson85 for saving the day yesterday... you are a dream! I'll be back as soon as I'm in no threat of vomiting on @schofe."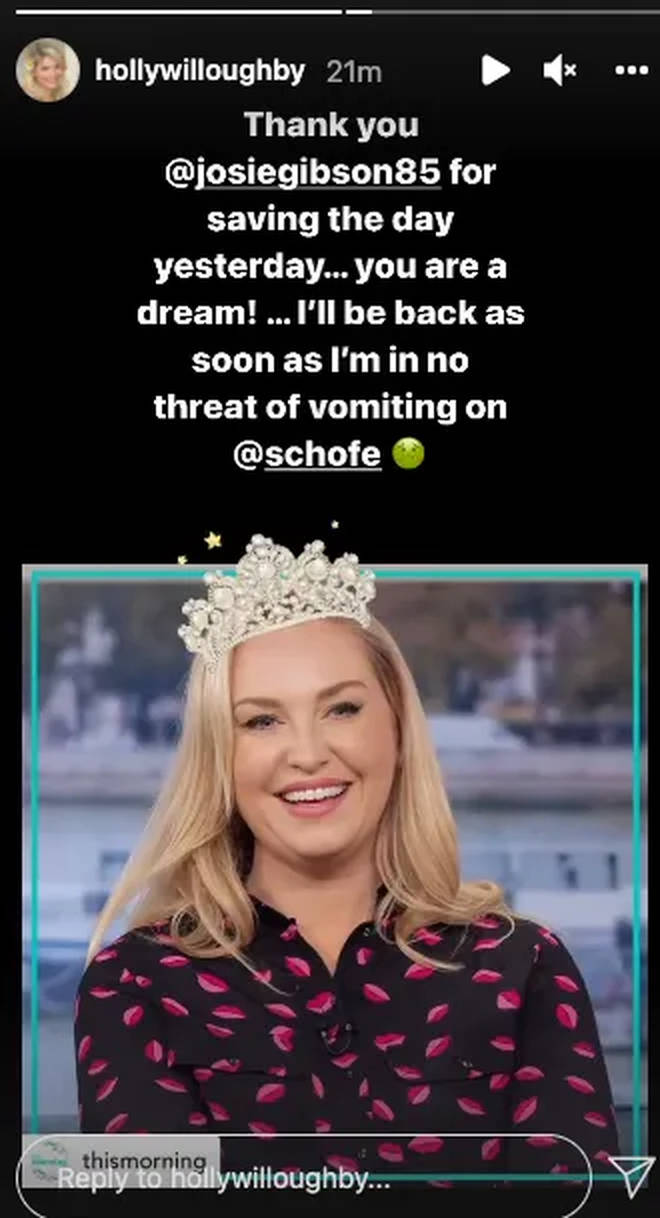 Who has replaced Holly?
On Tuesday, Josie Gibson stepped in at the last-minute to join Phillip on the sofa of This Morning – and will do the same today.
The Big Brother star was on her way to Surrey to film the competition segment when she received the call.
Explaining her shock, Josie said on the show this morning: "This is a bit of a first! I don't know, about an hour ago you were on your way to do our live competitions in Surrey."
She went on to add: "I couldn't believe it, how surreal! I've grown up watching the show and I'm sitting behind you!
"I've been thrown in the deep end and I've got the best armbands on the planet."
She told Phil it was "an honour" to be presenting the show.