Molly-Mae Hague and Tommy Fury's net worth following At Home With The Furys
23 August 2023, 17:40 | Updated: 23 August 2023, 17:46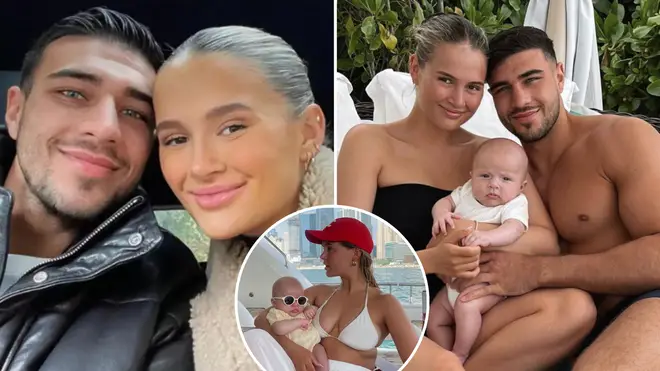 What is Molly-Mae Hague and Tommy Fury's combined net worth and how much money do they make?
Molly-Mae Hague has already earned the title of Love Island's richest ever contestant.
While the new mum, 24, makes her money through YouTube videos, social media partnerships and fashion collaborations, her fiancé isn't far behind with his cash-generating skills.
Professional boxer Tommy Fury, also 24, boosts his fortune through sponsorship deals and boxing fights alongside a career as an influencer.
So how much money does this power couple actually make? Here we dig into Molly-Mae Hague and Tommy Fury's net worth.
What is Molly-Mae Hague and Tommy Fury's joint net worth?
Love Island superstars Molly-Mae Hague and Tommy Fury have been making fame work for them in recent years as it's been reported the couple are now worth a whopping £9million.
Together, the young parents, who welcomed daughter Bambi into the world in January this year, have built an empire that's only set to expand.
The wealthy pair have capitalised on their joint status, raking in tens of thousands from sponsored Instagram posts and public appearances, which can cost brands up to £10,000 each.
How much did they make from Netflix's At Home With The Furys?
Love Island sweethearts Molly-Mae and Tommy recently made another TV appearance together, but this time it wasn't in a villa full of singletons.
The loved-up duo appeared on the brand new reality series At Home With The Furys, which follows the antics of world heavyweight boxing champion Tyson Fury, his wife Paris and their six children.
Tommy is the athlete's younger half-brother so it was only natural he appeared on the show along with his bride-to-be.
It's not known exactly how much the couple were paid for their Netflix debut, but with the show ranking at number 1 in the UK and in the top 10 globally, there's no doubt it will act as a serious profile boost.
How much money does Molly-Mae Hague make?
Molly-Mae is worth a cool £6 million in her own right, reports have claimed.
She makes up over half of the power couple's joint fortune by working as a fashion and beauty influencer, and business owner.
The mum-of-one is the director of MMH Group Holdings, under which she owns three companies; Filter, MMH International and FM Cosmetics.
Her fake tan brand, Filter By Molly-Mae, is stocked in Selfridges and Boots, plus online stores including Pretty Little Thing and ASOS.
According to The Mirror, she made a comfortable £848,000 profit from her self-tanning brand in the last financial year.
She became the Creative Director of PrettyLittleThing in 2021, singing a six-figure deal when Love Island ended.
And that's all on top of a best-selling book and plenty of fingers in social media pies.
How much money does Tommy Fury make?
Alongside the mother of his child, Manchester-born Tommy Fury makes a pretty penny.
The professional boxer reportedly took home a healthy £3.7million from his latest fight with Jake Paul, which included sponsorship deals, pay per views and cash from the actual match.
Since exiting the Love Island villa with now-fiancée Molly-Mae, the 24-year-old has been raking in cash as he's been involved in eight pro boxing fights.
Sports experts have predicted his earnings in the ring are on the rise too, with one website claiming he could charge around £1million per fight in the future.
As well as his job as an athlete, the father-of-one brings in tons more dosh from social media deals and sponsorship endorsements.
Read more: