Spice Girls Tour: The lyrics to their biggest hits including Who Do You Think You Are, Wannabe and Stop
5 November 2018, 13:06 | Updated: 8 November 2018, 10:37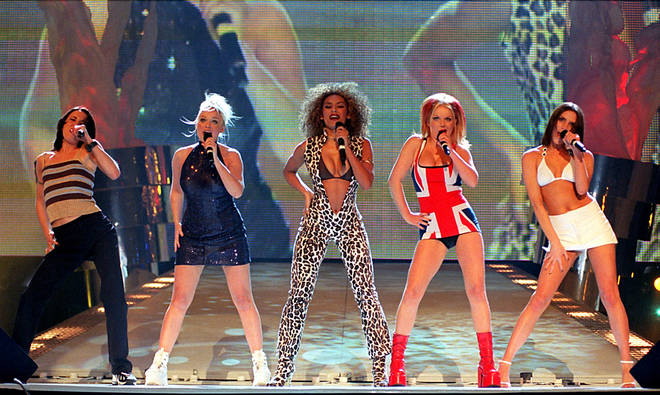 With speculation of a Spice Girls tour driving fans wild here are the lyrics to their biggest hit songs for you to practice.
Spice Girls mania is gripping the world again with a reunion confirmed to be in the works.
Do you know the lyrics to your favourite Spice Girls hit? Here are the words to some of their biggest songs including Who Do You Think You Are, Wannabe and Stop.
Read more: Spice Girls reunion 2019 - where, when and how to get tickets
Who Do You Think You Are lyrics (1996)

The race is on to get out of the bottom
The top is high so your roots are forgotten
Giving is good as long as you're getting
What's driving you? It's ambition and betting

I said who do you think you are? (Do you think are)
I said "whooo?"
Some kind of superstar
You have got to
Swing it, shake it, move it, make it
Who do you think you are?
Trust it, use it, prove it, groove it
Show me how good you are
Swing it, shake it, move it, make it
Who do you think you are?
Trust it, use it, prove it, groove it
Show how good you are

You're swelling out in the wrong direction
You've got the bug, superstar, you've been bitten
Your trumpet's blowing for far too long
Climbing the snake of the ladder, but you're wrong

I said who do you think you are? (Do you think are)
I said "who?"
Some kind of superstar
You have got to
Swing it, shake it, move it, make it
Who do you think you are?
Trust it, use it, prove it, groove it
Show me how good you are
Swing it, shake it, move it, make it
Who do you think you are?
Trust it, use it, prove it, groove it
Show how good you are
You have got to reach on up, never lose your soul
You have got to reach on up, never lose control

I said who do you think you are? (Do you think are)
I said "who?"
Some kind of superstar
You have got to
Swing it, shake it, move it, make it
Who do you think you are?
Trust it, use it, prove it, groove it
Show me how good you are
Swing it, shake it, move it, make it
Who do you think you are?
Trust it, use it, prove it, groove it
Show how good you are

Swing it (swing), shake it (shake), move it (move it), make it (make it)
Who do you think you are?
Trust it (trust), use it (use), prove it (prove it), groove it (groove it)
Show me how good you areSwing it (swing), shake it (shake), move it (move it), make it (make it)
Who do you think you are?
Trust it (trust), use it (use), prove it (prove it), groove it (groove it)
Show me how good you areSwing it (swing), shake it (shake), move it (move it), make it (make it)
Who do you think you are?
Trust it (trust), use it (use), prove it (prove it), groove it (groove it)
Show me how good you are
Swing it (swing), shake it (shake), move it (move it), make it (make it)
Who do you think you are?
Trust it (trust), use it (use), prove it (prove it), groove it (groove it)
Show me how good you are
Swing it (swing), shake it (shake), move it (move it), make it (make it)
Who do you think you are?
Trust it (trust), use it (use), prove it (prove it), groove it (groove it)
Show me how good you are

Wannabe lyrics (1996)

Yo, I'll tell you what I want, what I really really want.
So, tell me what you want, what you really really want.
I'll tell you what I want, what I really really want.
So, tell me what you want, what you really really want.
I wanna—, I wanna—, I wanna—, I wanna—, I wanna really, really, really wanna zigazig, ah.

If you want my future forget my past.
If you wanna get with me better make it fast.
Now don't go wasting my precious time.
Get your act together, we could be just fine.

I'll tell you what I want, what I really really want.
So, tell me what you want, what you really really want.
I wanna—, I wanna—, I wanna—, I wanna—, I wanna really, really, really wanna zigazig, ah.

If you wanna be my lover
You gotta get with my friends
(gotta get with my friends).
Make it last forever,
Friendship never ends.
If you wanna be my lover
You have got to give.
Taking is too easy, but that's the way it is.

What do you think about that? Now you know how I feel.
Say you can handle my love. Are you for real
(are you for real)?
I won't be hasty, I'll give you a try.
If you really bug me then I'll say goodbye.


Yo, I'll tell you what I want, what I really really want.
So, tell me what you want, what you really really want.
I wanna—, I wanna—, I wanna—, I wanna—, I wanna really, really, really wanna zigazig, ah.


If you wanna be my love
You gotta get with my friends
(gotta get with my friends).
Make it last forever,
Friendship never ends.
If you wanna be my lover
You have got to give.
(You got to give.)
Taking is too easy, but that's the way it is.


So here's a story from A to Z.
You wanna get with me?
You gotta listen carefully.
We got Em in the place
Who likes it in your face.
She got G like MC
Who likes it on an—Easy V
Doesn't come for free.
She's a real lady.
And as for me?
Ha-ha! You'll see.


Slam your body down and wind it all around.
Slam your body down and wind it all around.


If you wanna be my lover
You gotta get with my friends
(gotta get with my friends).
Make it last forever,
Friendship never ends.
If you wanna be my lover
You have got to give.
(You got to give.)
Taking is too easy, but that's the way it is.


If you wanna be my lover
You gotta—, you gotta—, you gotta—, you gotta—,
You gotta slam, slam, slam, slam.
Make it last forever.

Slam your body down and wind it all around.
Slam your body down and wind it all around.

Slam your body down and wind it all around.
Slam your body down and zigazig, ah.


If you wanna be my lover.

Stop lyrics (1997)

You just walk in, I make you smile
It's cool but
You don't even know me
You take an inch, I run a mile
Can't win you're
Always right behind me
And we know that you could go and find some other
Take or leave it or just don't even bother
Caught in a craze, it's just a phase
Or will this be around forever
Don't you know it's going too fast (ooh, to fast)
Racing so heard you know it won't last (ooh, won't last)
Don't you know why can't you see
Slow it down, read the sign
So you know just where you're going

Stop right now thank you very much
I need somebody with a human touch
Hey you always on the run
Gotta slow it down baby, gotta have some fun
Do do do do
Do do do do
Do do do always be together
Ba da ba ba
Ba da ba ba
Ba da ba stay that way forever

And we know that you can go and find some other
Take or leave it 'cause we've always got each other
You know who you are and yes, you're gonna breakdown
You've crossed the line so you're gonna have to turnaround
Don't you know it's going too fast (ooh, to fast)
Racing so hard you know it won't last (ooh, won't last)
Don't you know why can't you see
Slow it down, read the sign
So you know just where you're going

Stop right now thank you very much
I need somebody with a human touch
Hey you always on the run
Gotta slow it down baby, gotta have some fun

Gotta keep it down honey, lay your back on the line
'Cause I don't care about the money, don't be wasting my time
You need less speed, get off my case
You gotta slow it down baby, just get out of my face

Stop right now thank you very much
I need somebody with a human touch
Hey you always on the run
Gotta slow it down baby, gotta have some fun
Stop right now thank you very much
I need somebody with a human touch
Hey you always on the run (stop right now)
Gotta slow it down baby, gotta have some fun
Stop right now thank you very much
I need somebody with a human touch (we wanna thank, we wanna thank you)
Hey you always on the run (stop right now)
Gotta slow it down baby, gotta have some fun (thank you very much, thank you very much)

Spice Up Your Life lyrics (1997)

La la la la la la la la la
La la la la la la la
La la la la la la la la la
La la la la la la la

When you're feelin' sad and low
We will take you where you gotta go
Smilin', dancin', everything is free
All you need is positivity

Colours of the world
Spice up your life
Every boy and every girl
Spice up your life
People of the world
Spice up your life
Aah

Slam it to the left
If you're havin' a good time
Shake it to the right
If ya know that you feel fine
Chicas to the front
Ha ha (uh uh)
Go round

Slam it to the left
If you're havin' a good time
Shake it to the right
If ya know that you feel fine
Chicas to the front
Ha ha
Hai Si Ja
Hold tight

La la la la la la la la la
La la la la la la la
La la la la la la la la la
La la la la la la la

Yellow man in Timbuktu
Colour for both me and you
Kung Fu Fighting
Dancing Queen
Tribal Spaceman
And all that's in between

Colours of the world
Spice up your life
Every boy and every girl
Spice up your life
People of the world
Spice up your life
Aah

Slam it to the left
If you're havin' a good time
Shake it to the right
If ya know that you feel fine
Chicas to the front
Ha ha
Go round

Slam it to the left
If you're havin' a good time
Shake it to the right
If ya know that you feel fine
Chicas to the front
Ha ha
Hai Si Ja
Hold tight

Flamenco
Lambada
But hip-hop is harder
We moonwalk the foxtrot
Then polka the salsa

Shake it, shake it, shake it
Haka
Shake it, shake it, shake it
Haka
Arriba aha

Colours of the world
Spice up your life
Every boy and every girl
Spice up your life
People of the world
Spice up your life
Aah

Slam it to the left
If you're havin' a good time
Shake it to the right
If ya know that you feel fine
Chicas to the front
Ha ha (uh uh)
Go round

Slam it to the left
If you're havin' a good time
Shake it to the right
If ya know that you feel fine
Chicas to the front
Ha ha (uh uh)
Hai Si Ja
Hold tight

Slam it to the left
If you're havin' a good time
Shake it to the right
If ya know that you feel fine
Chicas to the front
Ha ha
Go round

Slam it to the left
If you're havin' a good time
Shake it to the right
If ya know that you feel fine
Chicas to the front
Ha ha
Hai Si Ja
Hold tight