Loose Women's Nadia Sawalha films first smear test in years for viewers
2 March 2019, 11:02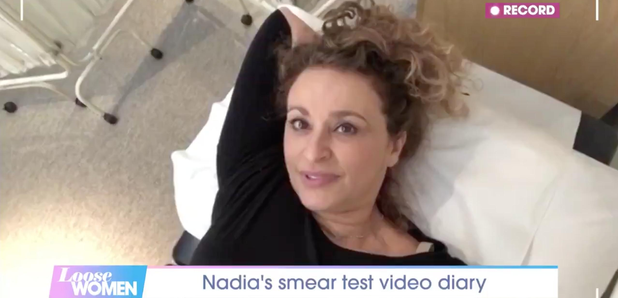 The TV presenter documented her entire cervical screening test
Loose Women viewers got that little bit closer to TV host Nadia Sawalha, after she documented her first smear test in over a year.
The 54-year-old filmed the entire process from consultation with Dr Philippa to the cervical screening swob in a bid to show other women just how easy it is to get tested.
Appearing pretty cool, calm and collected before the procedure, she said to the camera: 'So I've just arrived for my smear, I'm ten mins early actually.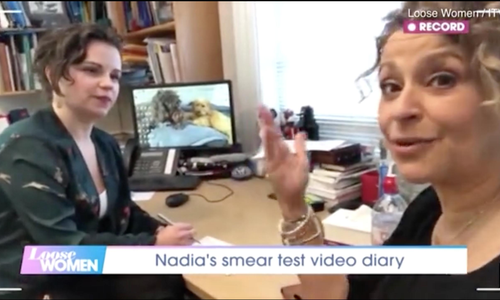 'And my daughters were asking if I was nervous, I'm not nervous at all!
'I just want to get it done, worry gone! Big fat tick, done.'
Appearing on camera alongside the TV host, the 'lovely' Dr Philippa talked Nadia through the process asking her preliminary questions about her history with smear tests.
Nadia then revealed that she had been putting her smear test off for a year, adding: 'This is actually good news! When we were first talking about, I rang my doctors.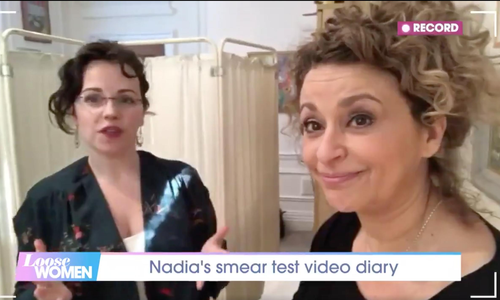 'Turns out after menopause you only need to get it done every five years.
'I thought I was two years late but I'm one year late. Yes [I've emptied my bladder], let's do it kids!'
Bracing herself for the procedure, the mum-of-two filmed herself laying down on the table waiting for the test to take place.
'Have you done it? Is that it?' she gasped, 'How easy it is! It just takes seconds! I got my tests and I'm clear. It's that worry, just get it done get it out the way.'
Take the #FaceYourSmear pledge today! After our @nadiasawalha admitted on #LooseWomen that she was overdue for her smear test, she decided to book an appointment and even kept a video diary as proof...

Make your pledge: https://t.co/07h2yGs0hT pic.twitter.com/3YfKmeiq4V

— Loose Women (@loosewomen) March 1, 2019
Fans took to Twitter with their praises for the star raising more awareness about cervical screenings and encouraging more women to take part.
One follower commented: 'Hope you feel so much better for going Nadia...hopefully you've encouraged alot of women to get their checks'
While another wrote: 'Well done Nadia' with a lot heart emoji, 'it's soo important to have smear test done.'
Another woman tweeted her own experience with taking a smear test adding: 'Well done nadia so so important i have recently had a hysteroscopy and biopsy now that was awful compared to the smear i will never fear having a smear ever again.'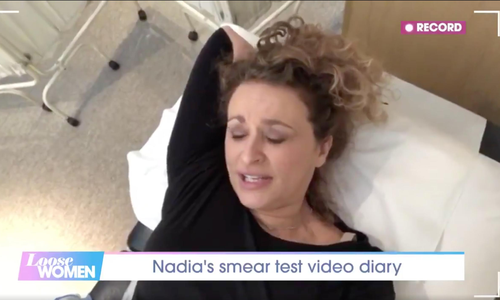 Nadia's smear test diary comes in light of Loose Women's #FaceYourSmear campaign launch which aims to encourage women to book themselves in for a cervical screening.
The amount of women going for their smear tests has plummeted to an all time low since the screenings first began in 1995.
A third of British women are said to have avoided their appointments due to embarrassment about their bodies and in some cases the appearance of their vaginas, according to a 2018 survey.