Who are The Michael family from Gogglebox and why are they no longer on the show?
15 May 2020, 15:58 | Updated: 17 September 2021, 13:46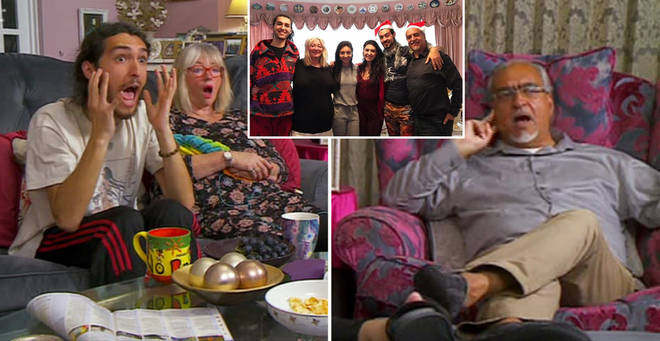 Who are the members of The Michael family on Gogglebox and how many kids do they have?
Sadly, there are some changes to the Gogglebox cast this year as The Michael family has decided to leave. 
Dad Andy passed away in August 2021 following a short illness, with Channel 4 releasing a statement.
Who are the members of The Michael family from Gogglebox? 
The Michael family is from Brighton and is made up of Carolyne and her late husband Andy, as well as their son Louis.
They will no longer be appearing on Gogglebox due to the sad death of Andy.
Gogglebox's executive producer Victoria Ray told the Daily Star: "We have had people from the show pass away recently.
"We lost Mary and Andy. And a little while ago we lost Pete.
"Their loved ones won't be taking part in the show for the moment. Understandably, they want their privacy."
The channel confirmed all of the stars who have left the show can return if they decide they want to.
How many sisters are there in Gogglebox's Michael family? 
Louis has two sisters who have appeared on Gogglebox before - Alex and Katie.
Katie was travelling in Australia when the family first signed up for the show, but since returning to the UK, she occasionally makes an appearance.
The Michaels also have another son called Pascal who has only ever briefly appeared on the show. 
What do the Michael family do for a living?
Dad Andy was a retired hotelier. However, he was most well known for running as a candidate for UKIP in the 2015 election. This meant the family were forced to drop out of the show. 
A spokeswoman for Channel 4 said ay the time: "It's with great regret that the Michaels are no longer in the show.
"Sadly any Gogglebox cast member who becomes a candidate for a political party will have to step down from their involvement in Gogglebox."
She added: "They have been excellent contributors to Gogglebox, and we are very grateful for all they have given to the show."
Andy later failed to win a seat so they were back on the show the following year.
Meanwhile, Louis is studying at the University of Chichester, while sister Alex has a Masters in Computer Science. 
According to The Sun, Pascal is currently studying neuroscience in Aberdeen.
How much do the Gogglebox families get paid?
According to The Sun, Gogglebox stars get paid £1,500 a month per family, which they can share out between themselves however they see fit.