The Outnumbered kids just had a reunion and they look SO grown-up
14 December 2018, 11:01 | Updated: 14 December 2018, 11:45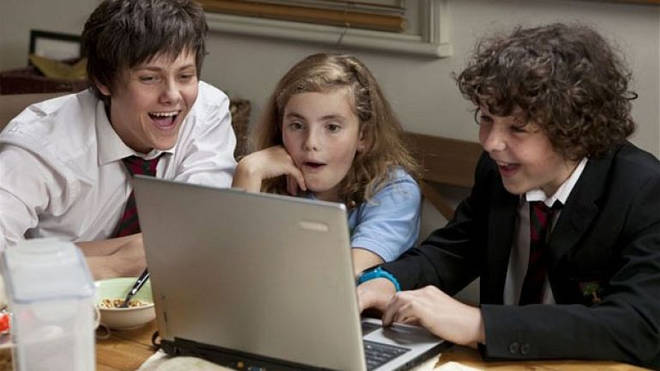 The young stars of the BBC sitcom look unrecognisable - and fans love that they're still all hanging out.
We know that children growing older and looking different is quite literally an inevitable fact of life, but that doesn't make us any less shocked when they do.
Recently, we've been alarmed at how different Buzz from Home Alone looks, how fit Dudley Dursley is these days, and now we're obsessing over how much the Outnumbered kids have grown-up.
Karen, Ben and Jake (Ramona Marquez, Daniel Roche and Tyger Drew-Honey to their friends) had a reunion earlier this week, and posed for an adorable picture together.
Ramona posted the snap to her Instagram with the caption: "Ya fave trio", and fans flooded the comment section to voice their excitement at the picture.
One wrote: "Oh ma god I feel old!!! Christmas special please????"
Another added: "Omg this is the best thing I have seen all week".
And a third said what we're all thinking: "I can't wrap my head around them ageing".
She also followed it up with another picture of the trio with show creators Guy Jenkin and Andy Hamilton, captioning it: "The whole cru".
Ramona is now 17, Daniel 19, and Tyger 22.
Speaking about a potential Outnumbered reunion on Pointless Celebrities, Tyger, who played Jake, said: "I think the most regular basis we'll get with it will be not as regular as a series, an episode every week.
"But Andy Hamilton has mentioned a few times that he'd love to, every couple of years, or every year, do some sort of Outnumbered special because we hope that everyone would still be interested in finding out how we're all getting on."
NOW READ:
Princess Diana's niece looks EXACTLY like Princess Charlotte in throwback snap
This Christmas brainteaser is BAFFLING the internet: can you spot the sandcastle?
Kate Middleton 'chastised by royal aides for wanting to clean her own house', claims TV show