Strictly's Seann Walsh makes cruel dig at ex-girlfriend after cheating on her with Katya Jones
5 December 2018, 11:07 | Updated: 5 December 2018, 11:10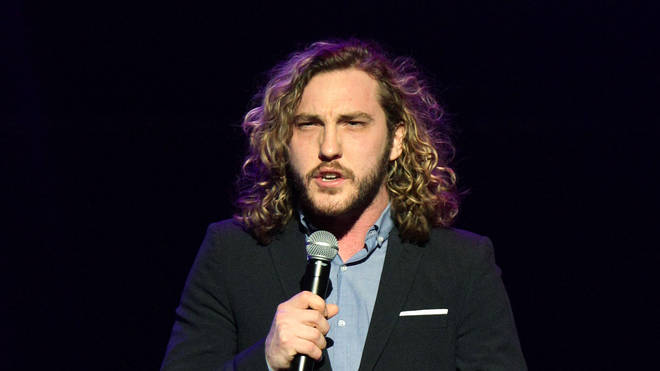 The former Strictly Come Dancing contestant and comedian opened up about 'kiss gate' with his married dance partner Katya at a recent comedy gig.
Strictly star and comedian Seann Walsh, 33, has broken his silence over his cheating on ex-girlfriend Rebecca Humphries with his dance partner, Katya Jones.
At a recent stand up show in London's Comedy Store he made some jibes about the moment he was photographed in a steamy kiss with married Katya, 29, after dance rehearsals.
Read more: Seann Walsh banned from Strictly tour following Katya Jones scandal
The story made headlines as both parties involved were in relationships at the time, Katya with Strictly pro Neil Jones and Seann with long term girlfriend Rebecca Humphries.
But some cruel comments made during his comedy set show that he lacks little remorse for his actions.
Addressing the audience - who according to The Sun booed him when he took to the stage - he said: "I will tell you this and we will stop talking about it. But look, I don't really need to explain myself but I will anyway."
"I was coming towards the end of my relationship, I was getting on with this girl. You spend a lot of time with your dance partner on the show and we went for a drink and one thing led to the other. Most of you have seen the result."
Seann then confessed that he wasn't sure that he had done anything wrong despite the negative attention he was receiving.
He said: "I actually started to think to myself, 'Hang on, have I actually done anything that wrong?'"
His comments won't go down well with those who have since supported his ex-girlfriend Rebecca online following the scandal.
She was praised for her strength in handling the very public break up and penned a scathing open letter to Seann accusing him of 'gas lighting' her throughout the relationship.
On the other hand, Katya's marriage to husband Neil seems to have remained unscathed by the drama and the pair appear to remain loved up and regularly share photos of themselves looking happy on social media.