Bonfire Night 2023: How to help keep your pets safe and calm from fireworks
3 November 2023, 16:50
Is your pet struggling with the loud noises and bright lights from your local firework displays? Here's how to calm them down and keep them safe.
For many people Bonfire Night is a great time to come together with friends and family to sit around a fire and watch the spectacular firework displays.
Sadly, for our dogs and cats this time of year can bring with it extreme stress as the bright lights and loud bangs from fireworks can cause them to become panicked and confused.
We have to remember that a dog's hearing is twice as sensitive as a human's while a cat's three times as sensitive, making the shock even more disturbing to them.
While plenty of concerned animal lovers have been calling for the displays to be banned altogether, experts are now advising ways make this week as comfortable as possible.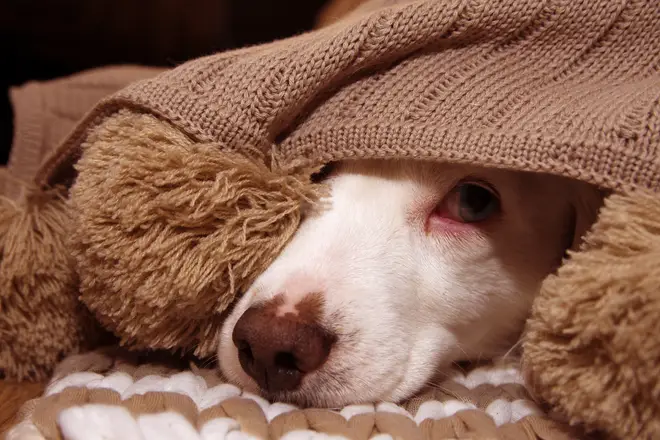 And online retailer PurePetFood.com came up with some handy tips to help your pets stay calm this Guy Fawkes night.
How to keep your pets safe on Bonfire Night
1. Update your pet's microchip
Some cats and dogs might panic and run off when they hear loud fireworks bang, so making sure they'll be able to be returned safely is very important.
2. Fill up their water bowl
Nervous dogs in particular pant more and therefore get thirsty quickly.
3. Take them for a walk
Make sure your dog has had a walk while it's still light as they might not want to go outside when the fireworks start.
4. Keep doors and windows shut
As well as reducing the sound by shutting all doors and windows in your home, drawing the curtains will also help to block out any flashes of light.
5. Create a den
Try using all your pet's favourite cosy items such as blankets, toys or clothing to make a quiet den in the corner of the room.
6. Use distractions
You can put on the TV or radio to try and distract your dog from the outside noise.
7. Let them hide
Don't try and stop your furry friends from hiding under the bed or behind the sofa as this could cause them more stress.
8. Act as normal as possible
To make your cats and dogs as relaxed as possible, be 'calm, happy and cheerful' yourself.
9. Don't leave them alone
If possible, keep your pet company when the fireworks are going off so you are there to comfort them.
10. Bring any outdoor pets inside
Pure has also advised that any small animals that live outside, like rabbits and guinea pigs, should be taken indoors.
A spokesperson said: "If you can't bring their hutch inside, you should turn its enclosure around so that it faces a wall or fence instead of the open garden, and cover it with thick blankets and tarpaulin to block out the sight of fireworks and muffle the sound of the bangs. But remember to leave enough ventilation!"
For more information, you can also visit the RSPCA guidelines.
We also recommend the Classic FM Pet Classic playlist to help keep them calm and relaxed this Bonfire Night, avaliable now on Global Player.
Read more: