Royal Caribbean Icon of the Sea: Inside the world's largest cruise ship
11 July 2023, 16:46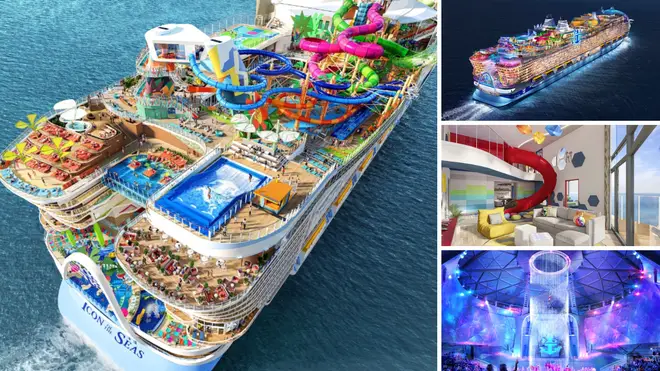 The Royal Caribbean cruise ship, called Icon of the Sea, has a 55-foot-tall waterfall, seven swimming pools, 28 different room choices and 40 places to eat and drink.
Royal Caribbean has released new pictures of Icon of the Sea, which will become the world's largest cruise ship ever.
The Icon of the Sea will set sail for the first time in January 2024, setting off from Miami.
The cruise ship can hold up to 7,600 guests and is the home of seven different swimming pools, 40 bars and restaurants, six record-breaking waterslides, a rock climbing wall and even a surf simulator.
The Icon of the Sea has 28 different room types, including the three-story Ultimate Family Townhouse – which comes with a slide – as well as the Panoramic Ocean View rooms and suites.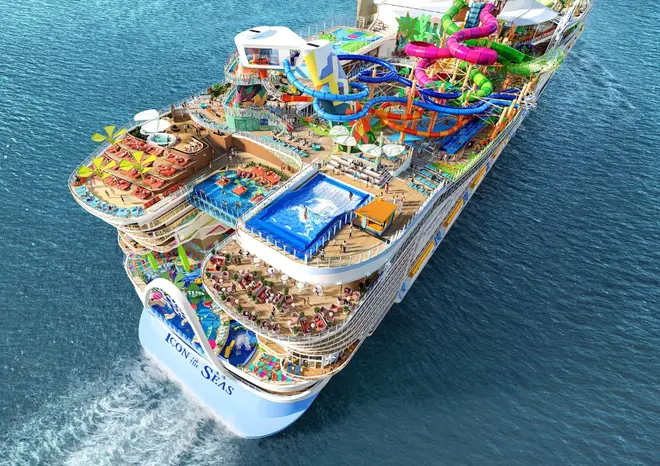 One of the stand-out features of the ship is the AquaDome, which will feature a 55-foot-tall waterfall.
And while the slides are enough to keep guests busy for days, there's also 15 bars and entertainment venues located on the ship, as well as the first suspended ship infinity pool.
The cruise ship will hold around 10,000 people altogether (including crew) and will measure 20 decks high and 1,198 feet long.
The Icon of the Sea will weigh 250,800 gross tons, which is five times as big as the Titanic, which weighed 46,328 tons.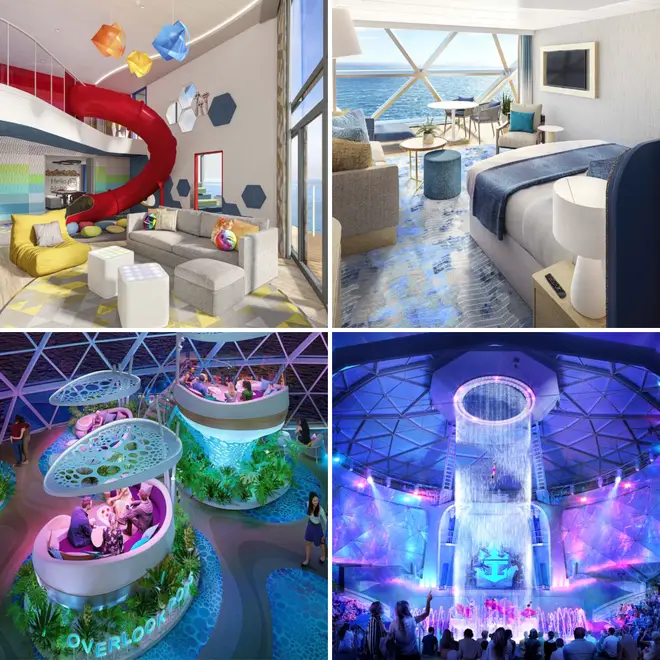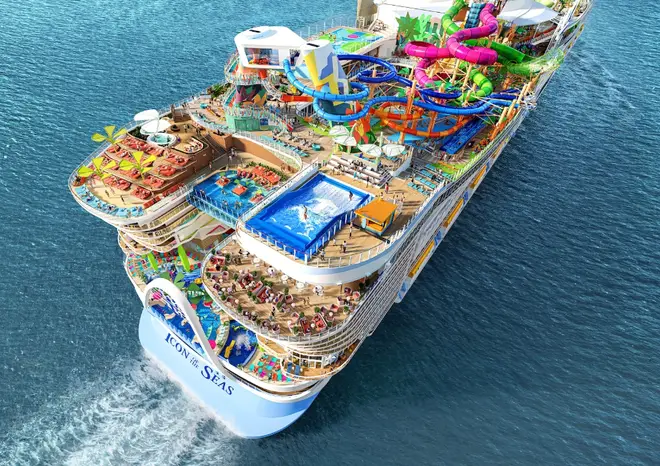 The cruise ship may sound like a kid's dream-come-true, the Icon of the Sea also caters to people looking to relax and enjoy the vast views from the ocean with The Hideaway.
The Hideaway will hold the largest pool at sea and is described as "the ultimate beach club experience".
For thrill-seekers, the ship also features Thrill Island which includes Frightening Bolt (the tallest drop slide at sea), Pressure Drop (the first open free-fall slide at sea), Storm-Chasers (the longest mat racing slides at sea), Hurricane Hunter (the first family raft slide at sea), and Storm Surge (the first suspended family raft slide at sea).
Icon of the Sea are starting with cruises from Miami, debuting from the homeport in 2024.
Read more: