Why is Coleen Nolan not on Loose Women? Why she quit and expected return after Kim Woodburn row
2 November 2018, 11:54 | Updated: 2 November 2018, 14:22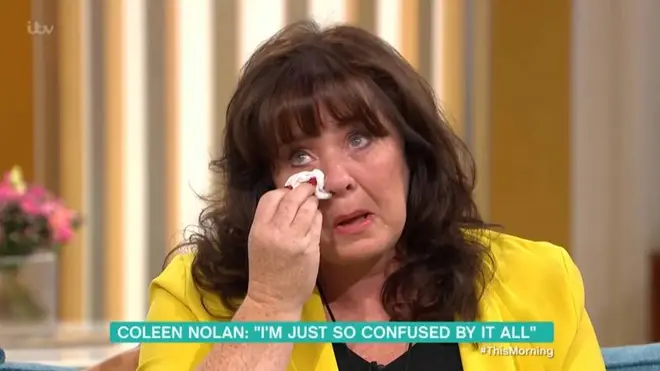 Coleen Nolan made the decision to step down as a panelist on Loose Women in the wake of her row from Kim Woodburn.
It's been weeks since Coleen Nolan, 58, last appeared as a panelist on ITV's Loose Women, following her row with Kim Woodburn. And it's had ITV viewers asking why she's not on the show?
Coleen, who was married to Shane Ritchie, announced in September 2018 that she would be taking a break from the ITV talk show 'effective immediately' after she was accused by viewers of "bullying" the How Clean is Your House star.
Coleen also post-poned her solo tour and all upcoming work commitments until a time comes "when she feels stronger" to return.
Coleen and Kim Woodburn feud
After a historic feud that started when both women starred on Celebrity Big Brother in 2017, Kim appeared on Loose Women in August under the impression that Coleen was going to make amends.
Ofcom received over 7,000 complaints with many calling for Coleen Nolan to be fired from the Loose Women panel after Kim, 76, stormed off set after she was mocked as she opened up about harrowing childhood abuse.
A spokesperson for the broadcast regulator told Heart: "We  have received 7,015 complaints. We are assessing these complaints against our broadcasting rules, before deciding whether or not to investigate."
The former How Clean Is Your House star also called for Loose Women bosses to axe Coleen, 53, and her fellow panelist and sister Linda Nolan for 'ambushing' her on TV.
She told The Sun Online: "I was ambushed, it was disgusting. It was like a circus and I was there for some cruel entertainment. I want Coleen and her sister fired."They could have stopped that show. The one who had the ear mic could have stopped it. But they did nothing to curb it."
Coleen Nolan apology for Kim Woodburn 'bullying'
Following the controversy, Coleen appeared on This Morning to issue a tear apology, after revealing she had been targeted by cruel trolls in the wake of the fight.Coleen tearfully told Holly and Phil: "I honestly I don't know what to say. If I could go back in time, I would change the whole thing. It was never meant to be like that, I thought Kim was coming on to make amends."It didn't go that way obviously from the moment she came out. It was genuinely shocking for the both of us."I didn't want anyone to be distressed. It's been the worst week of my life."
When is Coleen returning to Loose Women
There is no word yet as to whether Coleen will return to Loose Women, but it was reported in September that he co-stars are desperate for her to join them back on the panel.Co-star Nadia Sawalha revealed that Coleen will be coming back, however it wasn't yet clear when that date would be.Speaking to the Daily Star, she said: "Everybody's in contact with her. Everybody's supporting her, and we can't wait to have her back on the show."On whether Coleen would return, she added: "Oh God, yes. Yes [Coleen's coming back]. I don't know [when], I'll probably find out tomorrow (Thursday) because I'm on the show then."