David Beckham TROLLED for kissing daughter Harper, 7, on the lips
28 November 2018, 08:26 | Updated: 28 November 2018, 08:35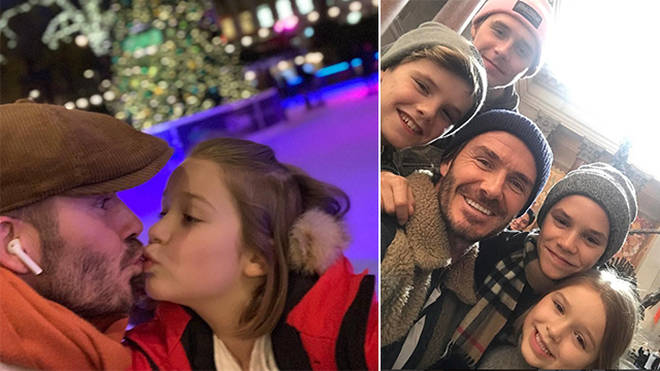 Becks was trolled over uploading the father-daughter image, with the likes of Piers Morgan and Rebekah Vardy getting involved in the debate.
David Beckham, 43, has come under fire for posting a picture on his social media page of him kissing seven-year-old daughter Harper on the lips.
The former pro footballer had taken only daughter ice skating and marked the occasion by uploading the image with the caption: "Christmas is coming. Let's go skate."
David, who has been married to Victoria Beckham for 19 years, was bombarded with comments criticising his parenting.
One troll wrote: "I don't care what anyone says if a dad kisses a child on the lips it's completely wrong", whilst another put: "I feel like a kiss on the cheek is better than that n the lips. The lips is just weird."
READ MORE: David and Victoria Beckham buy Harper a £7000 pony for her birthday
However, most fans leapt to David's defence, with one commenting: "I kiss my kids on the lips, I kiss my family on the lips, absolutely nothing wrong with it. Anyone having a problem with this beautiful, innocent picture has serious issues!!!"
A second wrote: "Beautiful picture, when your little girl is all grown up she can look back at all the pictures of her daddy and treasure this one, big middle finger to the haters for trying to ruin an innocent photo!"
A third added: "Brilliant picture. I kiss my 9 yr old daughter on the lips when i get home from work and she is waiting for me at the door. Absolutely nothing wrong with the daddy and daughter bond. David ignore all the jokers and just enjoy life."
WAG Rebekah Vardy also stood up for the father-of-four, revealing that she does exactly the same with her children and argued it was 'totally normal'.
However, one Piers Morgan had something to say about her comment...
Wow.... read it all now! I kiss my children on the lips all the time! It's not weird, disgusting or anything else it's NORMAL... anyone who says otherwise needs help! https://t.co/v9bqaCJyl6

— Rebekah Vardy (@RebekahVardy) November 27, 2018
It's not the first time that David has shared an image of him kissing Harper; last year he uploaded a sunset selfie highlighting their affectionate daddy-daughter bond.