Peter Andre defends David Beckham kissing Harper by locking lips with Piers Morgan
28 November 2018, 10:54 | Updated: 26 November 2019, 09:21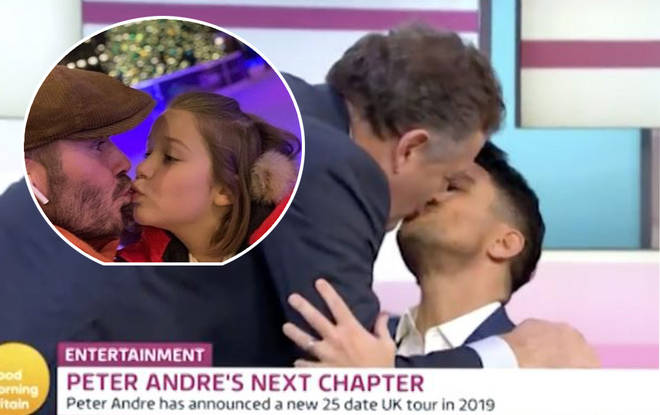 Peter Andre locked lips with Piers Morgan on Good Morning Britain in defence of David Beckham following his controversial kissing photo with Harper.
Peter Andre has defended David Beckham after he was trolled by critics for kissing his 7-year-old daughter Harper on the lips.
The -year-old singer, who is father to Theodore and Amelia with wife Emily along with Princess and Junior from his relationship with ex Katie Price, defended kissing kids on the lips after Piers Morgan branded it "weird".
Slamming Beckham's critics on Good Morning Britain, he said: "I agree with some of the points that if you're going to put it on social media you'll open yourself up. But they're taking the innocence out of everything."
When asked if he kissed his children on the lips, Peter added: "I probably don't now but when they were little kids, yeah, but to me it's taking the innocence out of everything."
In an act of defiance, Piers walked over to Peter and planted a smooch on his lips but the Mysterious Girl singer was more than happy to play along as he quipped: "There's nothing wrong with that. That's love."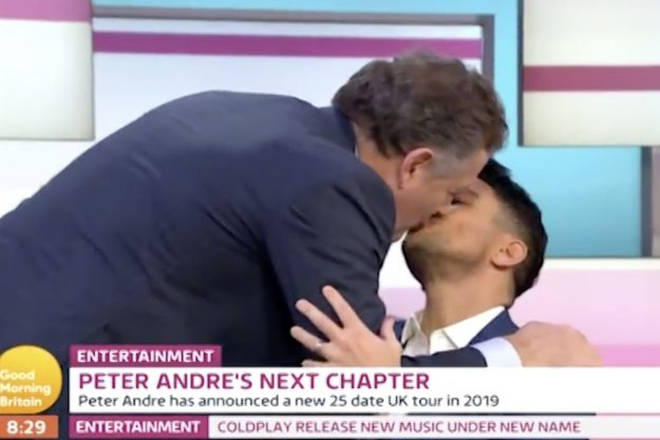 David, who is also father to Brooklyn, 19, Romeo, 16, and Cruz, 13, with wife Victoria, was targeted by trolls who thought the picture was "inappropriate".
Taking to the comments section, one user said: "I don't care what anyone says if a dad kisses a child on the lips it's completely wrong smh."
Another wrote: "She's your daughter. Why are you kissing on her lips..?..that's ur wife kiss...", while a third shared, "I feel like a kiss on the cheek is better than that n the lips. The lips is just weird."
Read more: Why is Victoria Beckham not going on tour with the Spice Girls? Detials revealed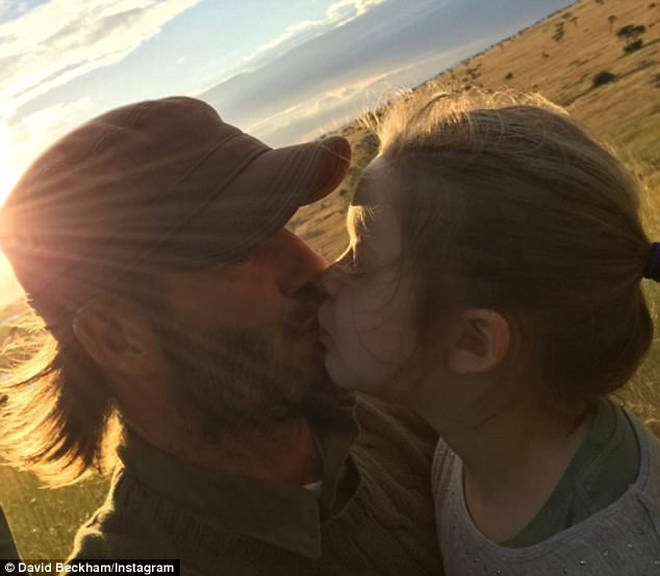 However, David's fans rushed to his defence claiming the interaction with his daughter is completely normal.
"It's a beautiful photo of a loving father. Why do people have to ruin something so innocent," one fan commented.
Another added: "This is sooo beautiful and sweet. I am almost 30 and usually kiss my parents and my closest friends on the lips... To all the haters.. If you don't like it, just don't comment...the "anonimity" of the internet doesn't give you a permission to be rude to a celebrity that decides to share part of his/her personal life with you."
It wasn't just fans weighing in on the debate as Leicester City WAG Rebekah Vardy also spoke out on Twitter, saying she kisses her children on the lips 'all the time'. 
This isn't the first time Beckham has been slammed by trolls as she was critisicsized for kissing Harper in another selfie as they cuddled up for a selfie during a family Safari trip in Tanzania.
Hitting back, David wrote: "I kiss all my kids on the lips.
"Brooklyn maybe not. Brooklyn is 18, so he might find that a little strange, but I'm very affectionate with the kids."