Rebecca Humphries pens scathing response as she dumps Seann Walsh on Twitter
9 October 2018, 08:10 | Updated: 9 October 2018, 11:08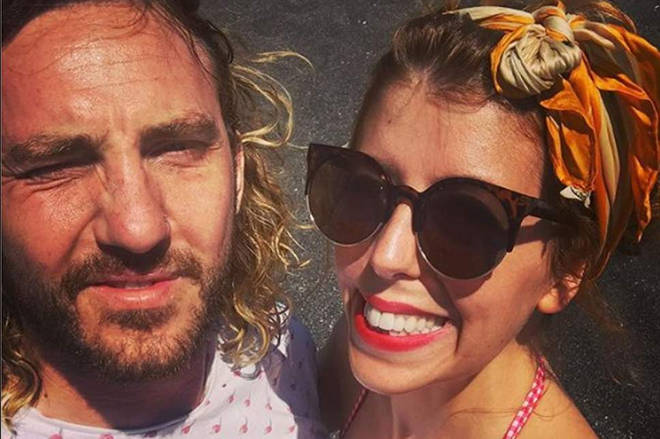 Fans have praised Rebecca for her 'brilliant' response in the wake of photos of her ex-boyfriend Seann Walsh and Katya Jones kissing.
Seann Walsh's heartbroken girlfriend has broken her silence, declaring, "I'm not a victim."
Rebecca Humphries, 32, posted a lengthy statement to Twitter after the publication of photos that showed her boyfriend of five years passionately kissing his Strictly Come Dancing partner Katya Jones.
The actress spoke out to state that she "is not a victim" and revealed she has moved out of the London home she shared with the comedian after he was caught cheating on her last Wednesday... which also happened to be her BIRTHDAY.
Rebecca revealed she was sat alone at home as her partner partied with his Russian dance partner.
She also claims she confronted Seann on several occasions about his relationship with Katya but he "repeatedly and aggressively" denied her suspicions.
Her letter on Twitter read: "My name is Rebecca Humphries and I am not a victim.
"It's incredibly good of Sean and Katya to apologise in the media. I have received nothing, other than the support of my family, friends and a host of strangers on the internet who all wanted to make sure I was OK.
"I was alone at home when Sean texted at 10pm saying the two of them were going for one innocent drink.
"We spoke and I told him, not for the first time, that his actions over the past three weeks had led me to believe something inappropriate was going on.
"He aggressively, and repeatedly, called me a psycho / nuts / mental. As he has done countless times throughout our relationship when I've questioned his inappropriate, hurtful behaviour.
"But this whole business has served to remind me that I am a strong, capable person who is now free; and no victim. I have a voice and will use it by saying this to any woman out there who deep down feels worthless and trapped with a man they love.
"Believe in yourself and your instincts. It's more than lying. It's controlling. Tell some very close friends who, if they're anything like my wonderful network, will swoop in and take care of the logistics and of you.
"I'm not sorry I took the cat though"
😹😹😹👏🏻👏🏻👏🏻
Well done Rebecca Humphries - you've won Twitter and our hearts. And he can do one. https://t.co/Lnm480QWuD

— Falling and Laughing (@fallinglaughing) October 9, 2018
"It's important also to recognise that in these situations those who hold power over you are insecure and fragile, and their need for control comes from a place of vulnerability. I think it certainly does in Sean's case. Despite everything, I hope he gets what he wants from this. I'm not sorry I took the cat though."
Fans and celebrities flooded her comments with words of encouragement and support, with many praising her eloquent and dignified response.
A situation recognisable to so many of us. You took more than the cat with you, you took your pride, your dignity and your self worth. Sending you so much love and support x

— Myleene Klass (@KlassMyleene) October 9, 2018
I'd never heard of Rebecca Humphries (clearly I live on Mars or something) but I'm a bit in awe of her now. Definitely glad she's got the cat. https://t.co/015DdrtJzb

— autismand (@autismand1) October 9, 2018