'Scrounger' mum boasts about £7k Disneyworld trip - that she paid for using GoFundMe
5 December 2018, 16:53 | Updated: 5 December 2018, 18:11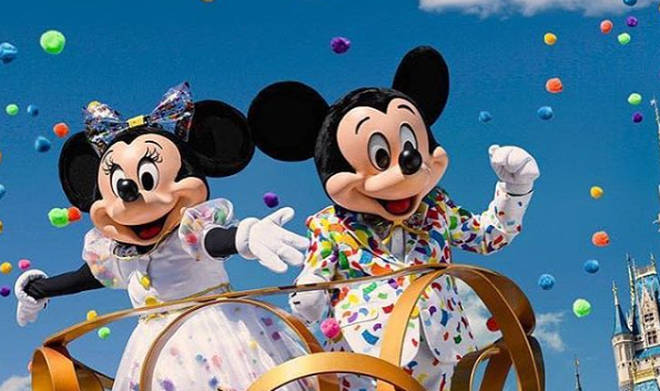 Nikki Smith set up a GoFundMe page to raise money to take her kids to Disneyland - and she shamelessly bragged about how good it was.
A mum who begged strangers to pay for her to take her kids on a luxury holiday to Disneyland has been slammed for BRAGGING about the £7k freebie.
Nikki Smith, 33, caused controversy when she set up a GoFundMe page pleading for members of the public to chip in for a trip to the Florida resort for her and her girls.
She was branded a 'scrounger' after asking the public for money for the holiday back in March 2017, and was forced to take the page down after only receiving £10.
Read more: Outrage as skint dad pleads for £2,000 to give his five kids a 'Christmas to remember'
However, she subsequently reactivated it and managed to raise a whopping £7,000 for the family holiday, which she used to take her daughters to Disneyworld in Orlando, Florida, this summer.
The money went on a two-week stay in the resort's hotel, and she revealed that she spent the "remaining money in gift shops and on souvenirs." 
She gave an update about the trip back on her original fundraising page, writing: "To all of the wonderful kind people who donated to my campaign , I wanted you to know we made it to disneyworld!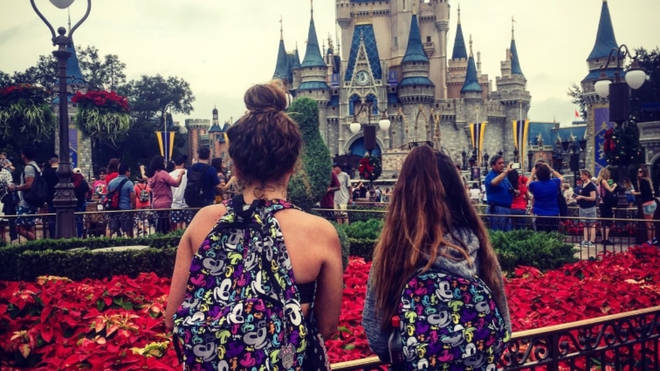 "We have been back a few days and the memories we have made will fill us with smiles and happiness for all time .
"What an adventure, you have blessed my daughters lives with your kindness and every single one of you who helped make my girls dreams come true, I owe you everything.
"Thankyou from the bottom of my heart . You have made our happily ever after."
Nikki first set up the campaign because she couldn't afford to work more hours 'because of childcare', but she wanted to 'show them how much I appreciate and love them'. 
In her original post, she wrote: "I nikki have been blessed with the most amazing , kind , loving and caring daughters , they are my best friends and my life , my girls are 10 and 12.
"They are so helpful , animal loving and rays of sunshine , I want to show them how much I appreciate and love them , I work 2 nights a week at our local hospital as this is all I am able to do ATM because of childcare and contract hours.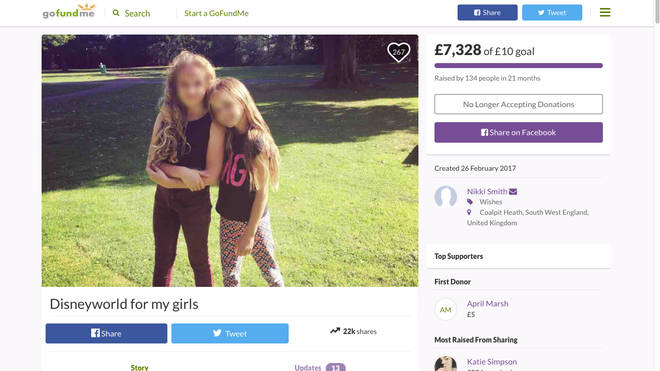 "They watch a lot of YouTube videos where children are surprised by their parents with a holiday to disneyworld and they get tears in their eyes watching it, they love anything Disney and I know that I would never be able to get them there on my own, by the time I save up they would be to old to enjoy it :( .
"We lost 2 very special people in our lives these past couple of years and this really would give them so much to look forward to , please help me to make my daughters dreams come true xxxx.
"The money so kindly donated would provide my 2 children with the trip of a lifetime !! I would surprise them with their dream holiday to Disneyworld in Florida  !! Me and my 2 daughters would stay in a hotel in disneyworld for 2 weeks in summer 2018 ( will update donors by email with pictures ) and any remaining money after booking the hotel , flights and park tickets will be used for them as spending money in the gift shops and for souvenirs :) xx".
NOW READ:
A grandmother wants to charge £17 EACH for Christmas dinner
Mum claims all 20-something mums are obsessed with taking selfies of their kids
Desperate mum resorts to hiring a professional to teach husband how to do chores