Paul O'Grady's grandson carries touching tribute to Lily Savage at star's funeral
21 April 2023, 08:49 | Updated: 21 April 2023, 08:59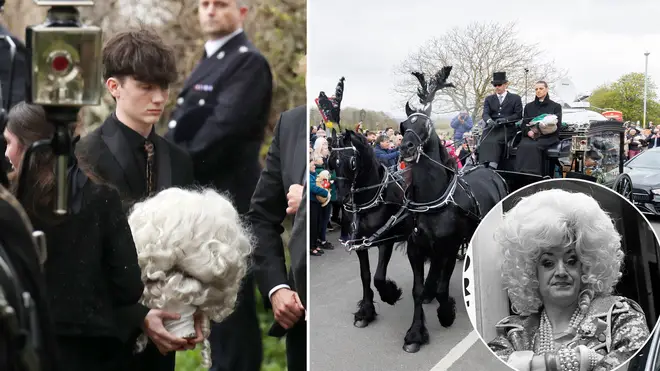 Paul O'Grady's grandson took along a sweet tribute to his drag character Lily Savage.
Thousands of people lined the streets this week to celebrate the life of TV icon Paul O'Grady.
The comedian sadly passed away earlier this month after suffering a sudden cardiac arrhythmia at the age of 67-years-old.
And his funeral was the perfect way to tribute his vibrant life, with husband Andre Portasio making his way through the crowds on a horse-drawn hearse.
Among the personal touches, there was a sweet tribute to his drag persona Lily Savage carried by his grandson.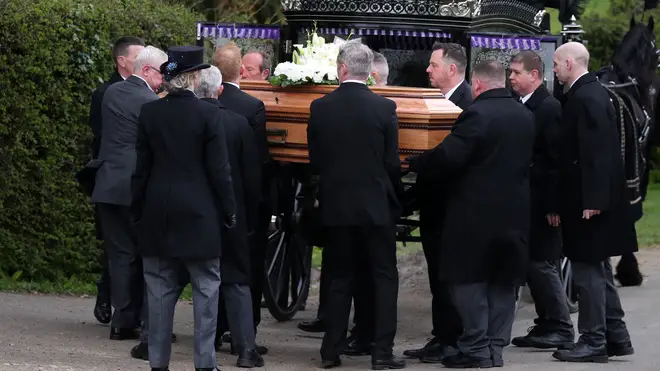 The star's daughter Sharyn Mousley entered with her son who was clutching on to his famous wig.
There were also plenty of nods to Paul's love of animals, with Andre carrying their Maltese Conchita on the way to the church in Kent.
As well as this, there was also a tribute to his late dog Buster, who fans will remember appearing alongside him on his chat show before he was put down in 2009.
The private funeral service was held at St Rumwold's Church in the village of Bonnington in Kent on Thursday afternoon, conducted by Reverend Canon Roger Martin.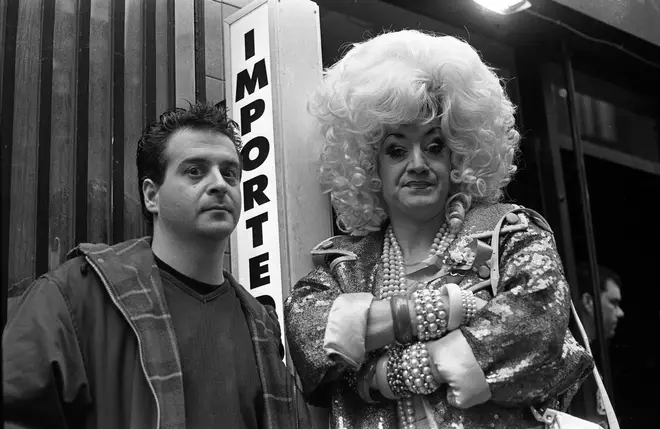 Details have since been shared, with The Salvation Army Band playing songs such as Tomorrow from the musical Annie.
Other tunes also made a nod to his appearances on Desert Island Discs to his radio show.
During the funeral, the eulogy was given by his close friend and fellow entertainer Julian Clary before there was a period of reflection where Rhapsody Op 43 Variation No 18 by Sergei Rachmaninoff played.
Battersea Dogs & Cats Home also paid tribute to Paul with a guard of honour at his funeral, with a spokesperson describing the late comedian as the "beating heart" of the charity.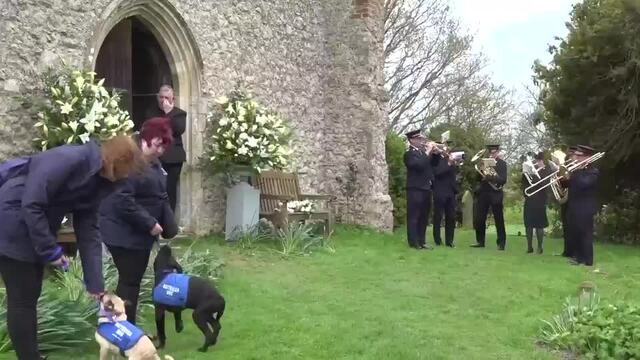 Battersea Dogs wait for Paul O'Grady's funeral cortege at church
Three puppies from the rescue centre were also on hand to greet friends as they arrived at St Rumwold's Parish Church.
Fans will know Paul became an ambassador for Battersea in 2012 after the success of ITV's multi-award-winning For The Love Of Dogs.
Following his passing, the charity set up a "tribute fund" which has so far raised more than £270,000.