My Mum Your Dad's Martin H supported by viewers after breaking down in tears
21 September 2023, 15:50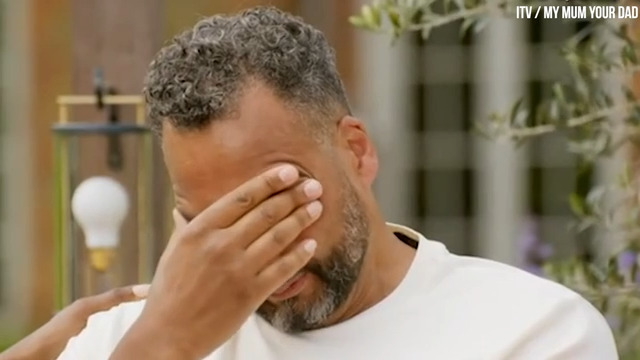 Martin H breaks down in tears on My Mum Your Dad
My Mum Your Dad's Martin H was left emotional as he was forced to confront his self-confidence issues.
My Mum Your Dad viewers have taken to social media to support Martin H after he broke down in tear during a recent episode of Davina McCall's hit dating show for single parents.
Martin H has not had an easy time in the retreat, struggling to find a connection with one of the fellow single parents which is reciprocated.
During Wednesday's episode of My Mum Your Dad, Tolullah told Martin H that she had more of a connection with Martin M and therefore would not be exploring their romance.
This came the day after the pair enjoyed their first date together and even kissed, leaving their kids - who were watching the whole thing - ecstatic.
Sadly, it was not meant to be as Tollulah emotionally told Martin H how she felt about the other Martin.
Martin H has been praised for handling the situation with "grace" as he told Tollulah: "No matter what happens with you and Martin M, you will leave this retreat knowing that there's somebody out there that does think you're fantastic."
Tollulah then started to cry as she admitted: "I felt so tearful when I made my decision."
Later in the episode, Martin H started to speak more openly about her feelings during a session with a relationship expert.
He started by saying: "I will always first and foremost be a dad, I believe I've done it well, they all seem to like me, but I came in here with some doubts about myself."
Becoming visibly emotional, Martin H went on: "I have a catalogue of failed relationship including a 25 year marriage.
"I'm always going to be told no and be the kid who doesn't get the girl. But I've now learned maybe I am worthy."
People took to social media to show their support for Martin H, with one writing: "Martin H deserves someone special. How can these ladies not see the man that he is. The fact that he is an amazing dad and loves his kids says it all. He is a gentle giant and there is definitely someone out there for him he is a true gentleman."
A second commented: "Honestly this guy is something else. His emotional intelligence and grace is next level. Martin you are so deserving of love and more. Keep being you."
A third wrote: "He's such a gorgeous man ❤️ He'll have his pick when he leaves the show! ❤️."
Meanwhile, things have got very complicated with Martin M, Tollulah and Monique.
During his time in the retreat, Martin M has found himself drawn to both women, however, the 'love triangle' has left the children and fellow participants questioning the single dad's actions.
Speaking about him with Janey, Natalie said: "I'm not saying he is leading anyone on, but the way I hear Mon and Tolullah talking about their interactions with him, I think both of them feel like there is attention towards both of them."
Janey added: "They're both not going to take any nonsense."